Is there a living, breathing, human being (or non-human for that matter) who doesn't like love Cookie Butter?  Does this person even exist?  IF so, do not.. I repeat, do NOT trust them!  If anyone can resist the smooth, thick, rich, sweet, spreadable cookie goodness that IS cookie butter.. they are simply too detached from reality to be your friend…lol.
I got my hands on a jar of this cookie crack butter and I've never been the same.  I'd lie, cheat, and steal to get my hands on the last jar of this stuff… and not even feel ashamed.  
That being said, I knew that I could totally take this incredible stuff and make it even more incredible, by um.. doing what I do best~  frying the crap out of it.  🙂  
Oh YEAH~ If cookie butter is good,..  warm, melty, crispy-crunchy-coated cookie butter is BETTER!  And once again.. here we are!
Crunch through the light, flaky, crispy outer shell, and out will explode pour the most magnificently warm cookie buttery luscious lava of your life.  ~ Grab napkins…Make LOTS!
What you'll need:
Cookie Butter .. one tbsp. per bomb
Small wonton/egg roll wrappers.. one per bomb
oil for frying
powdered sugar for dusting
Directions:
Scoop out 1 tbsp. of the cookie butter and place them onto a sprayed pan… into the freezer for 1 hour to over night.. (keep frozen until right before frying)
Place one of the frozen cookie butter balls into the center of the wrap, and brush the edges with egg wash.. (egg mixed with a splash of water)..
Gently seal the wrap around the cookie butter, making sure to use the egg wash and seal it up very well!
Fry them up, a few at a time, in the hot (350 degree) oil, until evenly golden.. this goes VERY fast!
Let them cool for just a couple of minutes..
BUT, serve them warm.. with a nice dusting of powdered sugar..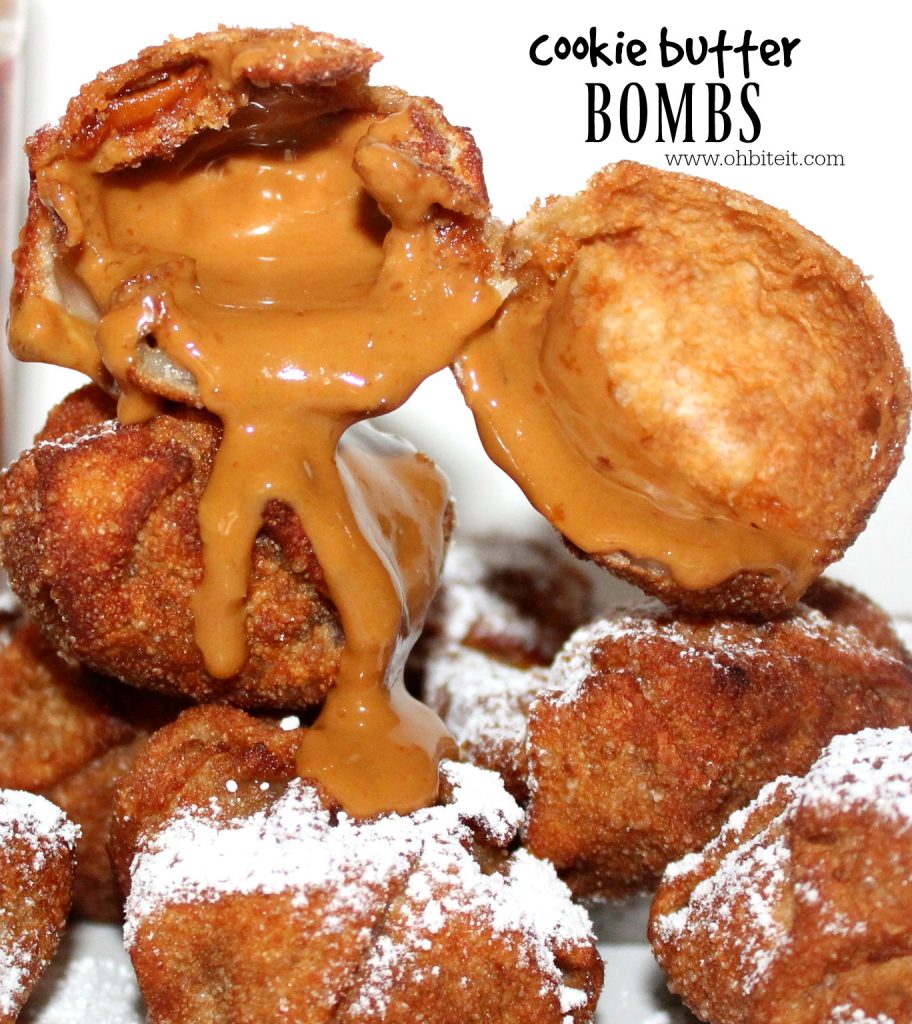 …and then it's cookie butter-BOMBS away!  ~Enjoy! 🙂