Sshhh!  If you listen closely you can hear the faint knock of football season at the door, uh,, the kitchen door to be exact!  And NOW is the time to get that menu-planning started, so when the time comes, you're not tackled with a ton of  "what are you making for the game?" questions that have NO answer.  It's time to huddle up, and figure out a 'game-plan'  
::LET'S DO THIS:: 
This season, I want to create ALL new and exciting game day snacks.  Snacks that are easy to whip up, and even easier to eat.  I'm talking about traditional flavors, in a non-traditional style.  Starting with these spicy, easy-cheesy, beautiful bombs! 
Think of these as buffalo chicken wings on steroids.  Spicy wings that we all know and love, with a warm explosion of creamy blue cheese on the inside.  That's right~ no dip required.  No drips, no mess, no stains… and let's be honest.. LESS dishes to wash.  
Each bite of these babies is everything we know and love about our favorite game day goodie, all wrapped up in a 2 bite masterpiece.  Who is the MVP VIP OG of game day snacks?  //…  YOU ARE!  
~Make LOTS!
What you'll need:
1 lb. of skinless chicken tenders
2 cups of buffalo wing sauce
1 8 oz. block of room temp. cream cheese
1 cup of fresh blue cheese crumbles
1 cup flour
1 cup seasoned bread crumbs
2 eggs
oil for frying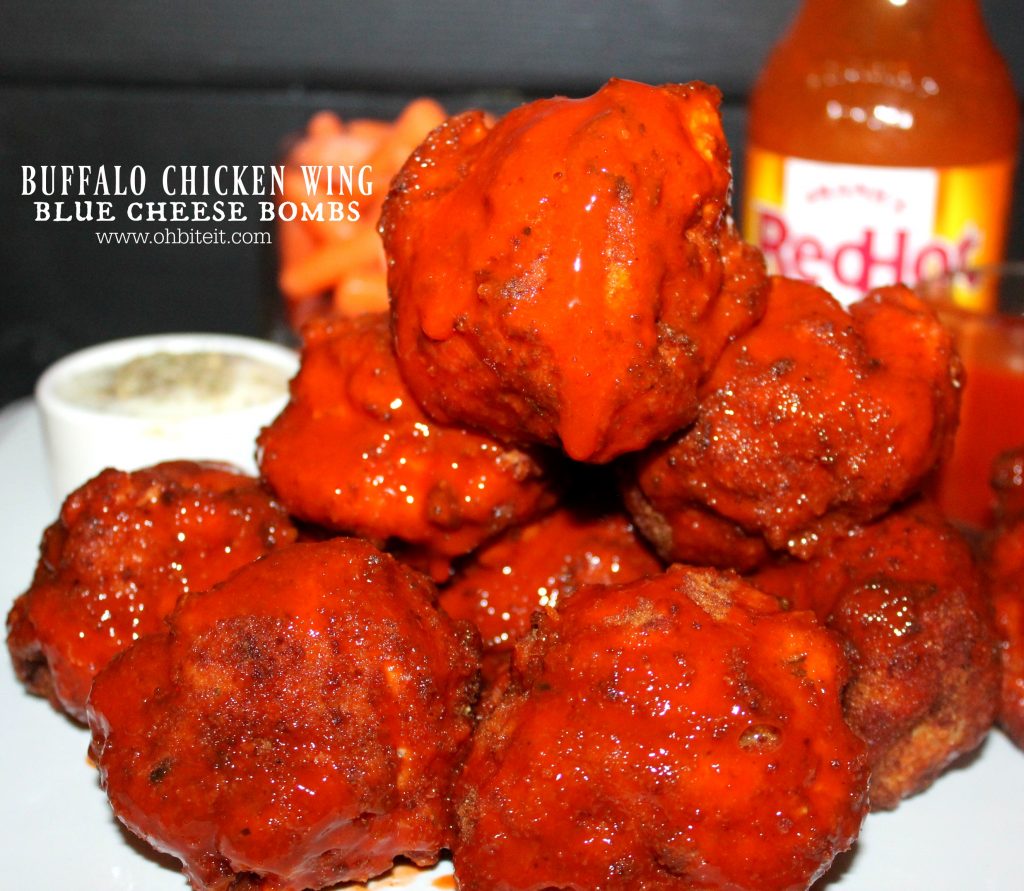 Directions:
 Set up 3 bowls, one with the flour, one with the eggs, and one with the bread crumbs..
 Mix together the cream cheese, and the blue cheese..
Scoop out approx. 1 tsp. of the cheese mixture, and freeze them for at least 1/2 an hour..
Gently pound out the chicken tenders, so they're even and thin…
Place one of the semi-frozen cheese balls in the center of one chicken tender…
Roll the chicken up around the cheese, and secure with a toothpick.  Then toss it in the flour.. making sure to coat evenly..
Then into the eggs…
And into the bread crumbs…
Now it's time to fry.. into the hot (350 degrees) oil, for approx. 4-6 minutes, or until the chicken is fully cooked.
Then it's time for the FUN part~  the SAUCE TOSS!  ..yep, toss those cheese filled babies all around in that Hot Wing Sauce.. be generous!
And DIG IN!  ~Enjoy!  🙂