What do normal people do when they have a bag of frozen meatballs in the freezer, and time on their hands?  I'm just curious.. like, do you all ever think about whipping out some hot oil and frying those babies up? .. or is that just me? 🙂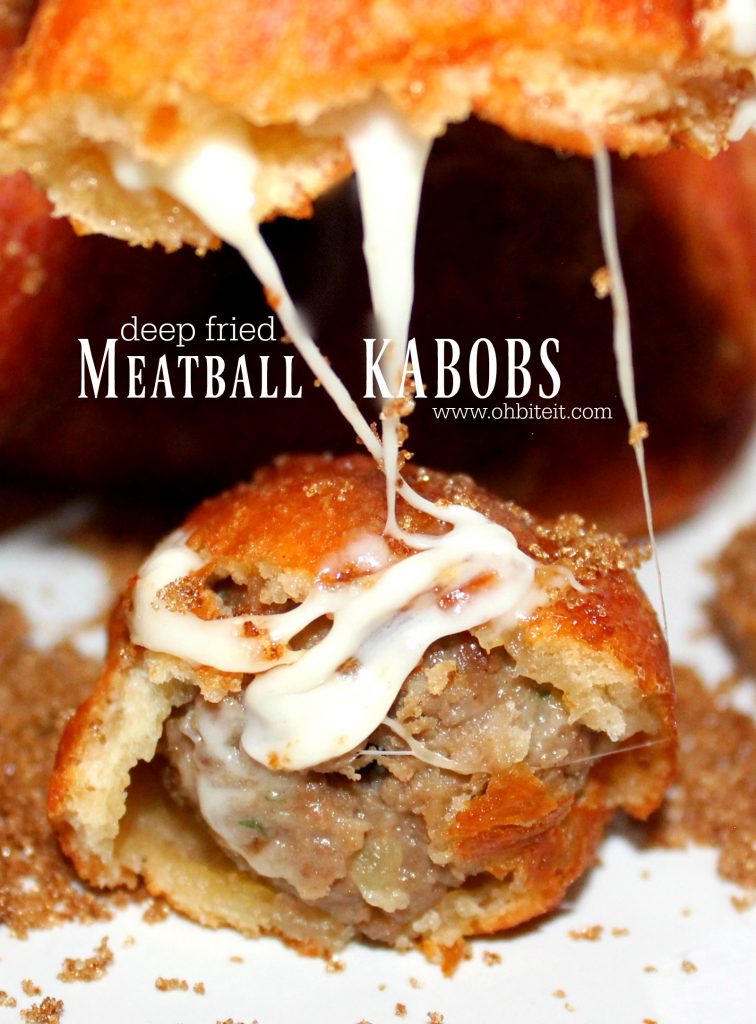 Not only did I want to simply fry them up, but I felt the need to take it waaay one step further!  So in typical 'me fashion', I poked those meaty babies with a stick, filled them with cheese, a tiny bit of brown sugar for a sweet and savory kick, and then uhhmm wrap them in dough, all before plunging them deep into the hot oil .. because, uh..ME.
So that's exactly what I did.. and that's exactly why you're here.  So hello!    
~Welcome to your next reason to have your friends and family over for game night!  You. Are. Welcome!  😉
What you'll need:
mini meatballs, I used store-bought frozen italian style meatballs
1 container of pillsbury seamless dough.. or you can use regular crescent dough and seal up the seams.
mozzarella cheese sticks.. one per kabob
1/4 cup brown sugar..optional
oil for frying.. I used veg
Directions:
Alternate 3 meatballs on a stick with one inch of cheese stick.  Place it onto some of the dough, and sprinkle it with some of the brown sugar.  **The brown sugar is only to add a sweet & savory contrast of flavors.. you don't need to add it if you don't want to.
Now, fold the dough over and all around the meatballs, making sure that they are well sealed.
Fry them in the hot  (350 degree) oil until they're evenly golden on all sides.  While they're warm, top them with a little more of the brown sugar, if you'd like…
Serve them up, and DIG IN!  ~Enjoy!  🙂