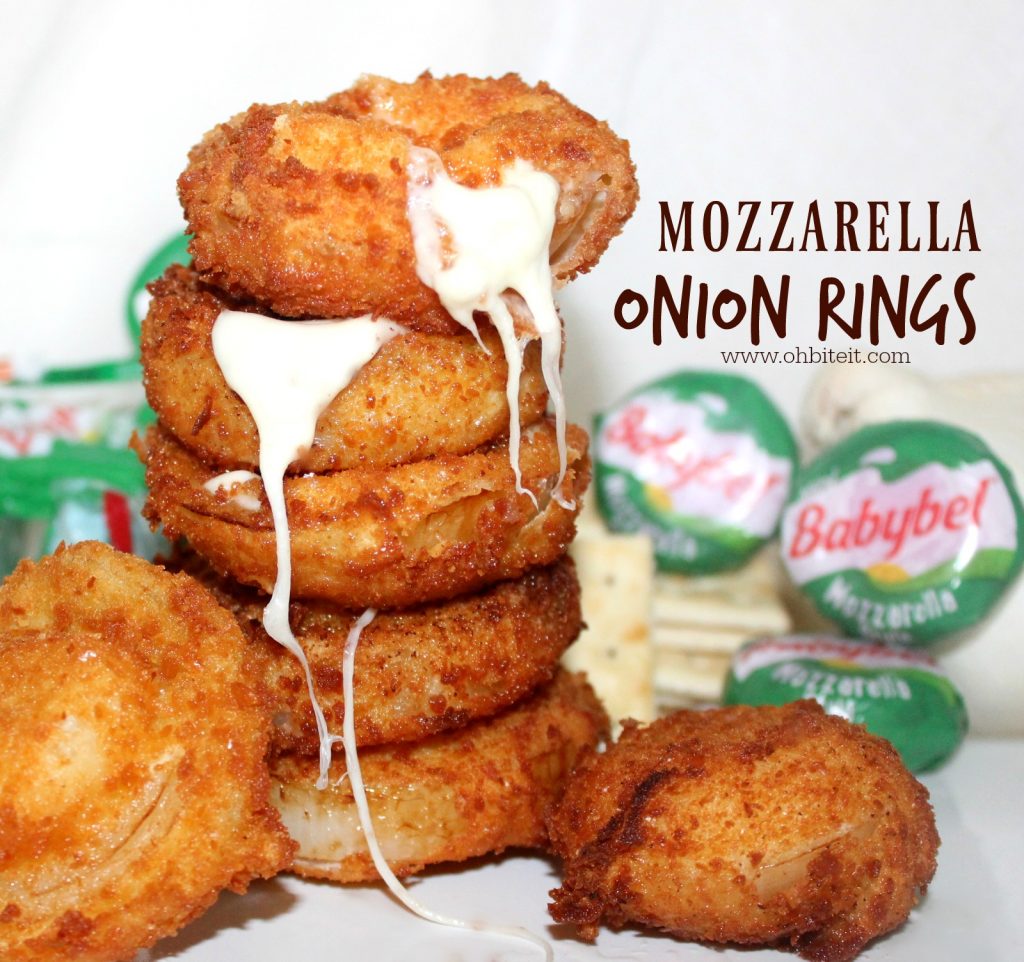 Have you ever had one of those light bulb moments, where you wonder how you've made it 'this' far without ever trying something so seemingly obvious?  Well.. this is one of those moments!  How I've never thought to stuff a mini wheel of cheese inside onion rings, coat them in salty cracker crumbs.. and deep fry them to a golden crisp until now, is a mystery.. but better late than never.. right?!  RIGHT!
If ever there was a culinary union meant to collide.. THIS is it!  <3 
Not only do these bursting beauties taste amazing, with the toasty/salty cracker-crumb-coated, deep fried onions, and the uhhmmm..exploding mozzarella center, but just LOOK at these babies.. O M G!  LOOK!  
One deep dunk into some cool, creamy Ranch dressing, and whatever was left of your willpower is all but gone – like.. Buh-bye!  
Make these for game day.. or movie night.. or date night (only if you REALLY like your date lol).. and you will be an instant onion ring hero!
Make LOTS!
What you'll need:
2-3 large white onions
Babybel Mini Mozzarella.. one per onion ring
1 sleeve of saltine crackers
1 cup flour
2 eggs
oil for frying
ranch for dipping
Directions:
In a food processor, or with a zipper bag and muscles.. crush up the crackers into a fine crumb…
Slice the onions approx. 1/4″ thick, and place one babybel mozzarella into the center, trying your best to match the onions with the cheese for a snug fit.. Take a moment and giggle to yourself about how the cheese looks like PacMan.  Place them onto a sheet pan.
..then place them into the freezer for at least 20 minutes or so…
Prepare 3 shallow bowls.. one with the flour, one with the beaten eggs, and one with the cracker crumbs.
Generously coat the FROZEN stuffed onion rings first with the flour…
Then into the egg…
And then into the crumbs.. coat them very well with the delicious crumbs..
Place them back onto the sheet pan, and back into the freezer for another 45 mins or so…
Heat the oil to 350 degrees, and fry them up one at a time, until evenly golden, and slightly drippy cheese peeking through…
Serve them super warm/hot…
With some ranch for dipping…
And sink down deep into cheesy onion ring BLISS!  ~Enjoy!  🙂