***YOU CAN SCROLL TO THE BOTTOM OF THIS PAGE FOR CONTEST INSTRUCTIONS IF YOU'D LIKE!***
OMGOSH!!  Happy National Breakfast MONTH!  That's right~ the entire month of September is dedicated to the "most important meal of the day"..BREAKFAST!  
And thanks to the incredibly delicious & nutritious KRUSTEAZ Protein Buttermilk Pancakes, we are celebrating in style around here!
Just when you thought you've seen every single breakfast recipe/idea known to mankind.. like a bolt of delicious lightening, I get this idea sent to me from only God knows where, and now .. behold: PANCAKE ENCHILADAS! 
Yes, it's true!  I've taken pancakes to levels off the charts, and that morning meal will never be the same.  
Imagine, if you will, a magical land far, far, away.. where unicorns run free, the kids let you sleep in, your boyfriend puts the toilet seat down,, AND pancakes are snuggling succulent sausage links, inside layer upon layer of cinnamony, cream cheesy, mascarpone-filled/mozzarella-topped gloriously gooey, melty goodness.  Can you see it?  
Well, of course you can.. because here it is!  It's real, and it's spectacular!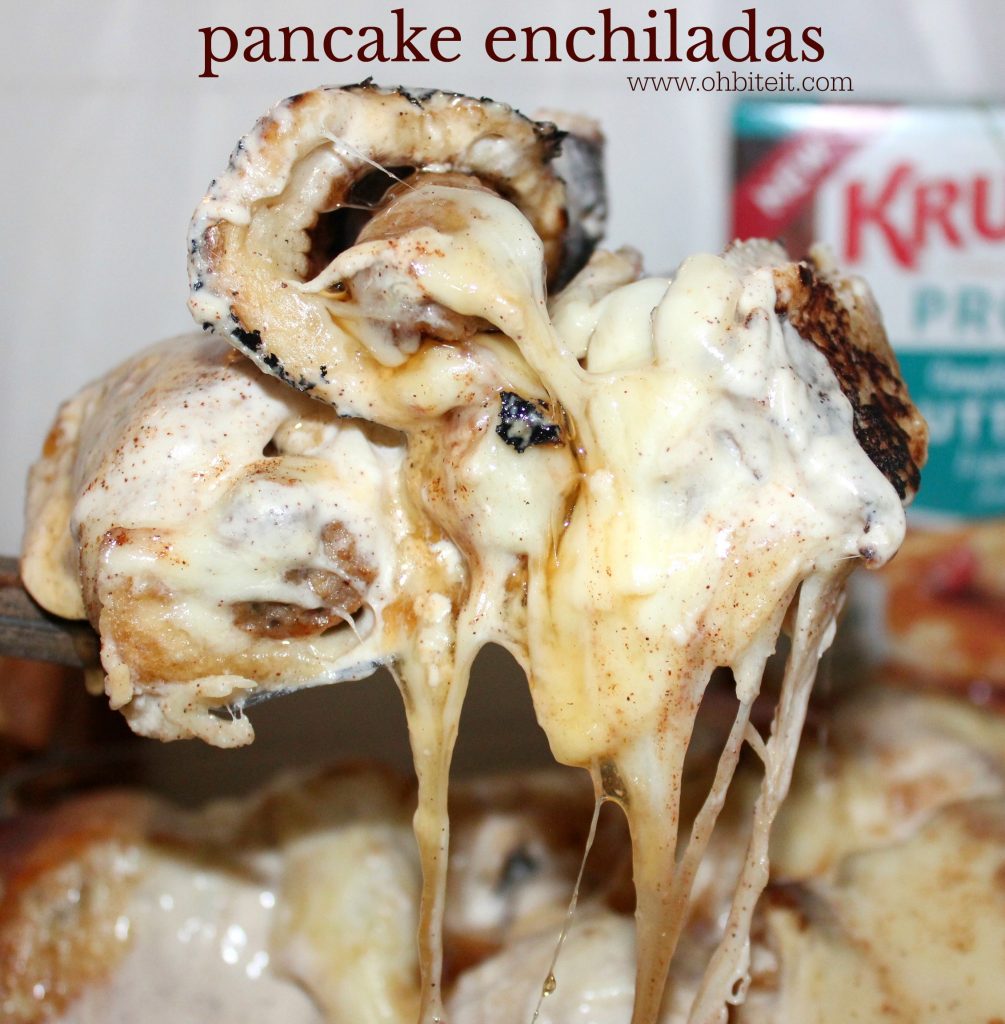 What you'll need:
A 2.6L oven-safe glass dish
1 – 20 oz. box of KRUSTEAZ Protein Pancake Mix.. Or reg. pancake mix will work as well.
2 (12 count) boxes of FULLY COOKED sausage links (Maple or Original)
The SAUCE & Toppings:
2 – 8 oz. containers of soft (room temp.) Cream Cheese.. if available, Brown Sugar Cinnamon flavor is great!
1 – 8 oz. container of Mascarpone cheese
1 – 1 lb. block of soft Mozzarella cheese
1/4 cup cream (approx amount)
1 dash of cinnamon.. to taste
Maple syrup for topping!
Directions:
In a food processor, or blender add the cream cheese, mascarpone, cream, and dash of cinnamon…
blend until thick… Set aside!
Using the whole box of pancake mix, mix up the batter (according to the box instructions).
Make 12 (6″) pancakes and cut them evenly in half…
Roll up one sausage link inside each pancake half…
Place 6 of the pancake rolls, seam-side down, in the bottom of the dish,,,
Now, top them with a generous layer of the cream cheese mixture…
Top that with an even layer of mozzarella slices, and another dash of cinnamon…
Repeat that process for one more layer..
Making sure to top the whole shebang with the remaining mozzarella, and another dash of cinnamon…
Bake it at 350 degrees for approx. 30-45 minutes, OR until it's HOT, GOLDEN & BUBBLY!
Serve it up nice and warm…
And then do what comes naturally~  like, uhh.. DIG IN!  ~Enjoy!  🙂
And NOW for your AMAZING GIVEAWAY!
ALL of this pancake goodness can be yours~  it's TRUE!!  Just look at this prize package!
Simply Go over to the "Oh, Bite It Facebook Page right HERE > OBI >> And follow the simple instructions on this KRUSTEAZ CONTEST POST! If you don't have facebook, simply leave a comment here, and you will be entered to win! ~THAT'S IT!  🙂
**One of you will be chosen as the winner, one week from today on Sunday, September 10, 2017!!  GOOD LUCK!
And be sure to follow KRUSTEZ all across social as well.. and share the delicious LOVE!
*This was a compensated post, however all opinions are my own.