Where, oh where do I begin?  
Get comfy friends, between this to-die-for recipe, and the incredible, Italian handcrafted Lagostina Lasagnera cookware that made it possible.. there's a lot to chat about.  And you're not going to want to miss a thing.. trust me!  🙂  Let's just say… one of these top-quality 'Lasagnera' pans, sold in Williams-Sonoma a ($199.00 value) will be one of yours.. so get ready.
Let's start with this cookware.. and end with the recipe, shall we?!  Okay.  
I'm sure most of you are well aware of Lagostina!  If not, let me just say that when you think of the definition of quality cookware, ..this time-tested brand far exceeds that definition!  Check this out (YES, you're looking at a hand crafted cherry wood lid) :
    Hand crafted in Italy
·         14" x 8.5" Lasagna pan made of 18/10 stainless steel
·         Cherry wood & stainless steel lid features double wall construction
·         Aethetically pleaseing to move from oven to table serving
·         Ergonomic and elegant cast stainless handles
This recipe seriously wouldn't have been possible without the exceptional quality of Lagostina. I'm talking about sticky syrup, baked sugar, and melty cheese.. ALL TOGETHER in one pan.  And let me just say.. after baking, serving, and cooling off, ..not ONE spot of stickiness remained… washing it clean took 2 minutes, and was effortless.  This isn't just cookware, it's a work of art, bling for your kitchen.  From oven to table, class meets function and beauty meets practicality in one deliciously incredible culinary collision.
Now for the recipe:
I really wanted to put this cookware to the test, so I combined all of our typical sticky snacking food nightmares (syrup, sugar, & cheese) into what turned out to be an absolutely amazing dish.  This 'Lasagnera' pan is so versatile that it can be used for both classic Italian dishes as well as non-traditional fare as well.  From savory to sweet, there's no amount of creativity that this pan can't bring to life.  As proven here, with this savory/sweet oh-so-succulent one pan wonder!
Each buttery biscuit is stuffed with seasoned sausage, creamy cinnamon-swirled cream cheese, and melty mountains of mozzarella.  Oh Lawd.  We're not done, nope!  As if that wasn't enough, I drizzled the whole shebang with buttery syrup and generous cinnamon sugar sprinkles.  
Sink down deep between the warm, fluffy, buttery biscuit layers to find savory sausage, melty mozzarella, and creamy cheese.. HEAVEN on a plate!
Everything we know and love about classic french toast flavors, have been taken to levels never seen before!  You're one pan, 15 minutes, and only a small handful of ingredients away from this epic goodness.  
What you'll need:
2 cans of pillsbury grands flaky layers biscuits (8 count).. you will have a few left over
2 – (8 count) boxes of Jimmy Dean FULLY COOKED sausage patties.. you will have a few left over
1 lb. block of soft mozzarella
1 – 8 oz. block of cream cheese.. room temp.
1/2 cup cinnamon/sugar mixed to taste
1 stick butter.. melted with 1/2 cup of syrup
Directions:
In a small bowl, combine the melted butter with the syrup…
in another small bowl, mix the cream cheese with the cinnamon, just until it's swirled…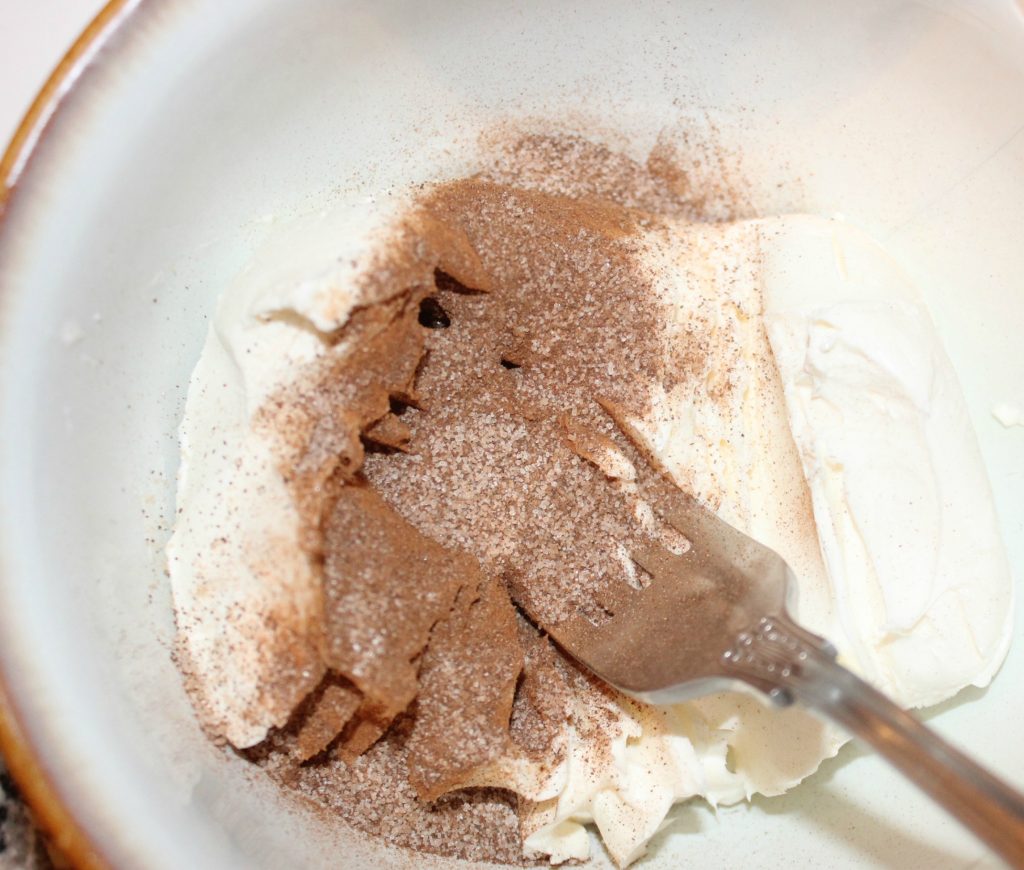 ..and pour a small amount into the bottom of the pan, spreading it evenly just to coat.  RESERVE THE REST OF THE BUTTER!
Split each biscuit gently with your fingers, and carefully spread an even layer of the cream cheese onto the bottom half…
Top it with one sausage patty…
Slice the mozzarella into approx. 1/8″ thick slices…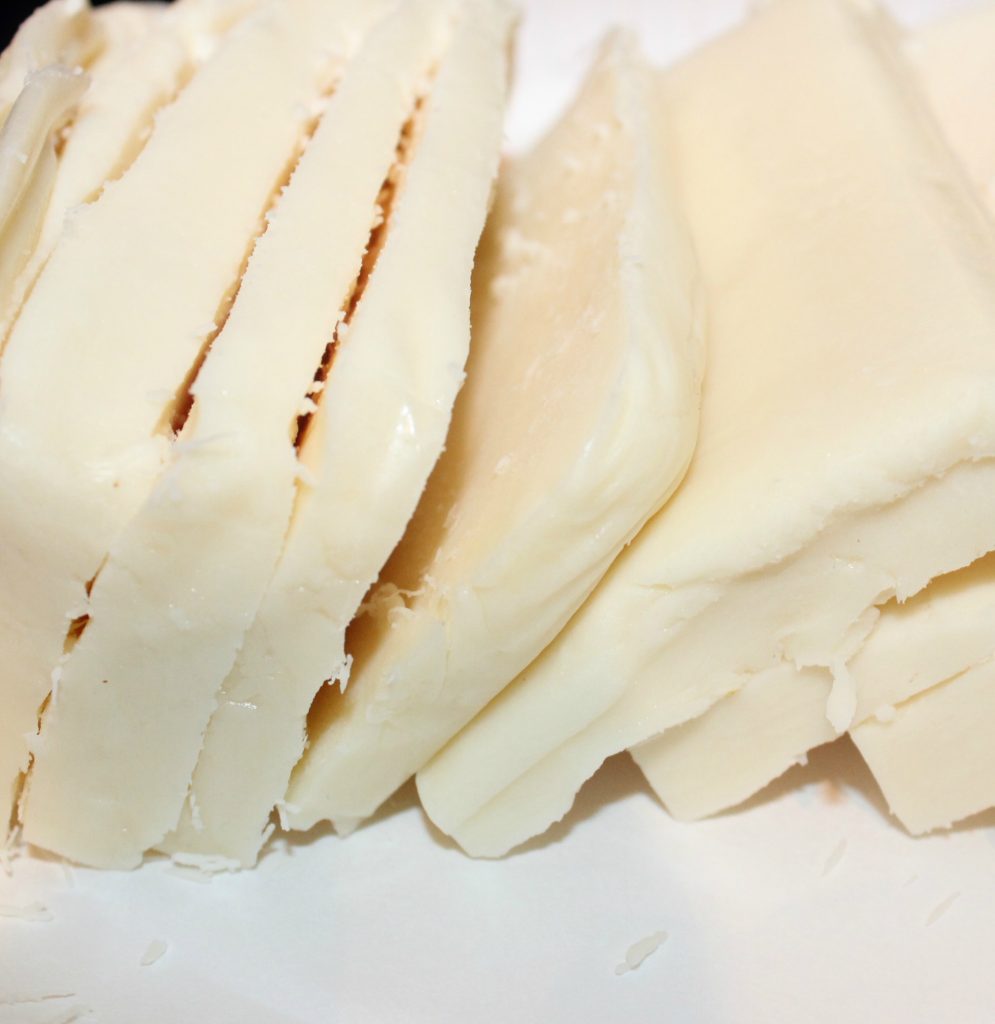 And a add a slice of 2 of mozzarella on top of the sausage…
Place the top half of the biscuit onto the cheese, and place them into the pan…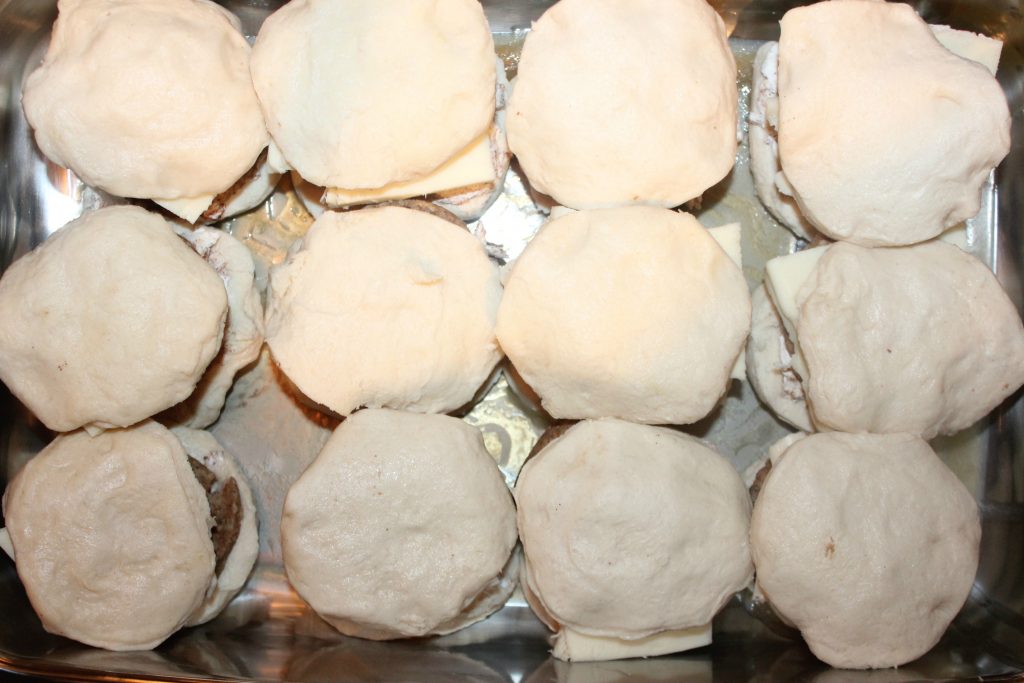 Bake uncovered at 350 degrees for approx. 8-10 minutes, or until the tops are slightly golden, then remove and drizzle the reserved butter/syrup mixture all over the tops….
Now cover, and continue to bake for another 8 minutes or so, until the biscuits are fully cooked, and the cheese is melted.  ***(keep in mind, the bottom half of the biscuit will never be as dry and fluffy as the top half… if this bothers you, simply omit the bottom half of the biscuit from the recipe.)***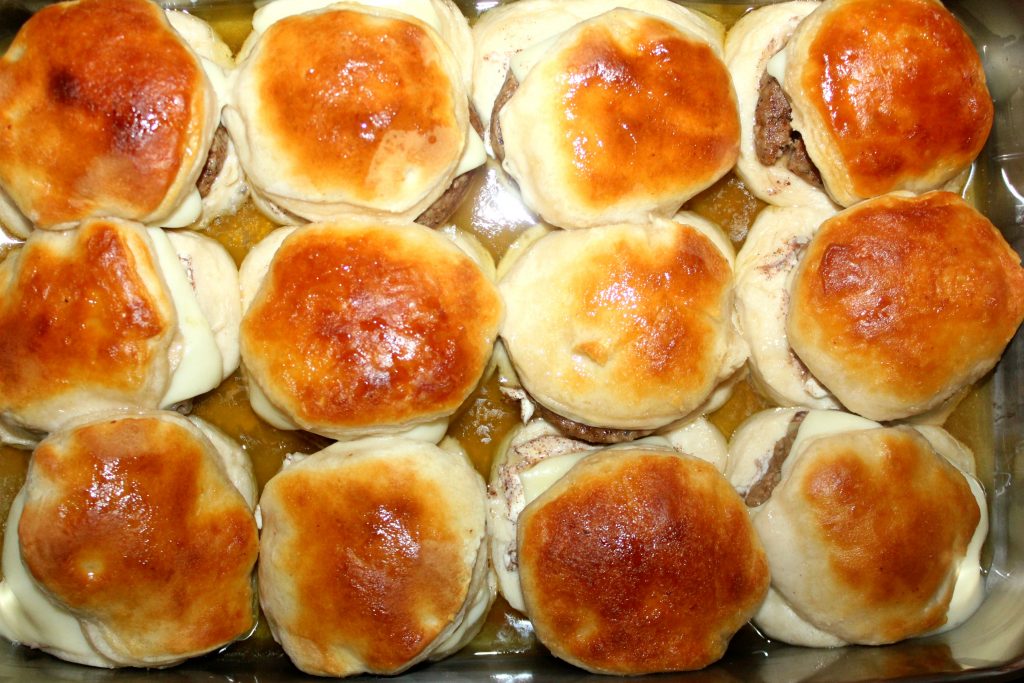 While they're warm, sprinkle the tops with some cinnamon/sugar …optional.
Serve nice and hot…
…with a drizzle of syrup just to drive home that authentic french toast experience!  ~Enjoy! 🙂
FOR A CHANCE TO WIN ONE OF THESE AMAZING, BEAUTIFUL PANS..  follow Lagostina on social media right here, and comment below " I followed "  >>
LAGOSTINA ON FACEBOOK > LAGOSTINA ON INSTAGRAM > LAGOSTINA ON YOUTUBE > LAGOSTINA ON PINTEREST
.. THAT'S IT!  One of you will be the chosen winner by Sunday, OCTOBER 1, 2017!  **GOOD LUCK!
*I received one Lagostina pan in exchange for this post .. all opinions are my own.