When I saw this Risottiera for the first time, and actually held it in my hands, I realized that I had never seen a more beautiful piece of cookware in my life.. ever.  Not only is this a gorgeous piece of bling for your kitchen, but it's also the BEST quality you can imagine.  Handcrafted in Italy, this pot will go from stove to table with ease, and serve as your centerpiece as well.  
~Form and function in all its glory!
"Hand crafted in Italy, the Heritage range is a collection of items dedicated to classic, universally renowned Italian dishes. Each piece is specially designed for a particular dish, an invitation to explore the many and varied flavors of the country's regional cuisine. 4 qt. Risottiera is designed to make the perfect Risotto.
The low profile casserole is ergonomically designed to reduce fatigue from constant stirring. The wooden lid becomes a trivet for flawless oven to table serving. *Please note the lid of this pan is not dishwasher safe."
To put this to the test, I didn't hold back…  I'm talking, cheese, sticky pasta, bacon, and did i say .. cheese?!  It held up like a champ, evenly cooked everything to perfection, and cleaned up in moments to back to brand new condition.  The artwork better known as the "lid" was the star of the show, as you could hear literal gasps from the guests, as I placed it on the table.  
~Check out this crowd pleaser of a recipe here:
What you'll need:
1 Linea patrimonio la risottiera / casserole pan 4 QT.
2 cups of uncooked elbow macaroni
2 cups stock.. either veg or chicken
1 cup cream or half/half
1/2 cup butter
1 med/lg. onion
2 tbsp. chopped garlic
2 potatoes.. peeled, and cubed
12 oz. bacon
4 cups shredded cheddar and/or mozzarella
2 –  15.25 oz. cans of corn with their liquid.. NOT DRAINED (only one can shown)
1 tbsp. nutmeg
salt and pepper.. to taste
parsley for garnish and topping.. optional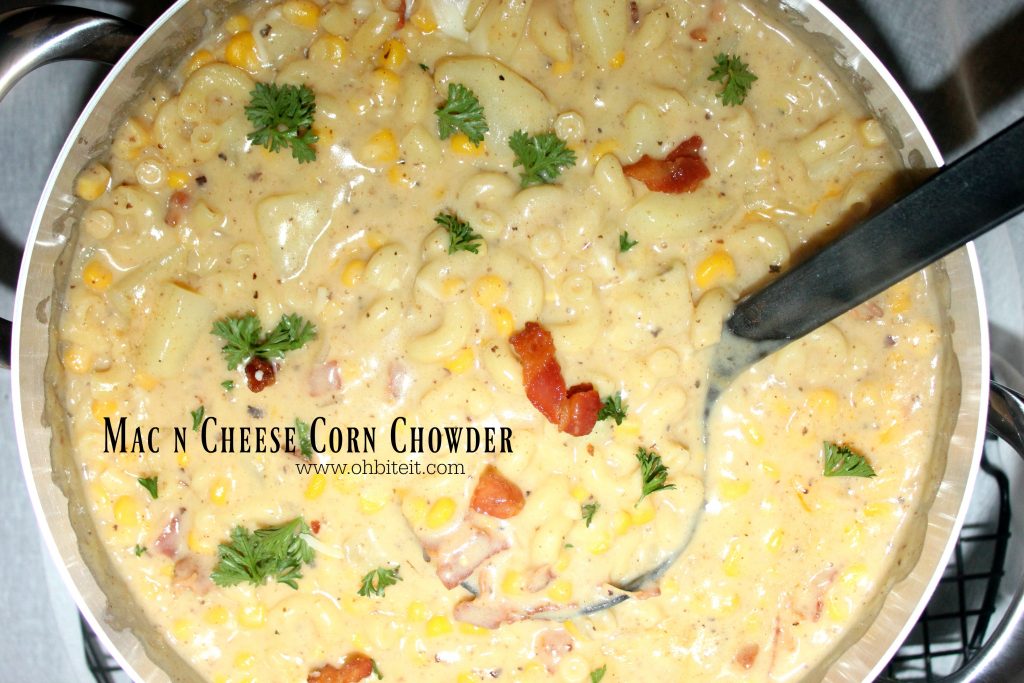 Directions;
Serve it up piping hot! 
And DIG IN!  ~Enjoy! 🙂