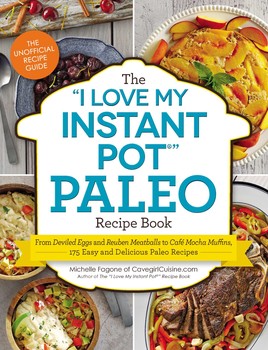 With the never-ending meal plan choices, and diets that come and go, it's nice when new recipe options for a time-tested meal plan comes along to offer up convenience as well as variety! That's exactly what this book offers, with tons of delicious fast, and impressive paleo meals.. ready in an "instant" by utilizing one of the BEST appliances of 2017.. the Instant Pot. 
With 175 paleo recipes and photographs throughout, this cookbook is a must-have for Instant Pot fans who follow the Paleolithic diet and want fast, healthy, and delicious meals the whole family can enjoy.
Based on the diet of our ancestors, the Paleo diet is highly effective for losing weight and improving overall health. And now it's easier than ever to create delicious, satisfying dishes using fresh and simple ingredients with the Instant Pot—the must-have kitchen appliance that can speed up cooking by almost six times while using seventy percent less energy than traditional cooking methods.
In The "I Love My Instant Pot" Paleo Recipe Book, popular blogger and founder of Cavegirl Cuisine, Michelle Fagone shares how to make satisfying, whole-food dishes for every meal with the only device that can replace a slow cooker, rice cooker, and stockpot.
Check out the holiday free menu here : HOLIDAY MENU 
"We all love gathering with family and friends for the holidays. But at a busy time of year, preparing a meal for guests can go quickly from a dreamy holiday scene to a kitchen nightmare! The "I Love My Instant Pot®" Free Holiday Menu takes the stress out of holiday entertaining with a full menu of easy-to-prepare holiday classics."