Ohhh Lawd~  are you sitting down?  If not.. grab a chair, because this is one flavor-filled ride that will have you spinning!  As if cookie butter wasn't good enough.. as if cheesecake wasn't good enough, all on their own~ they've done had a baby, .. and this baby is amazing! 
If looking at it isn't doing the trick, just imagine everything we know and love about cheesecake, with the added amazement of a buttery Biscoff cookie crust, and deep, dark, decadent swirls of thick and rich cookie butter.. topped with a melty & sweet, white chocolate frosting! I'll give you a moment to catch your breath. 
Kissed with a scoop of sour cream to balance out some of the sweetness.. this cheesecake will be the MVP of your holiday dessert table.. and maybe even every table after that.
DO IT! … GO!
What you'll need:
1-14oz. jar of Biscoff Cookie Butter
2-8oz. blocks of cream cheese.. room temp.
2 eggs
1 cup sour cream .. divided
1/2 cup sugar
A few reserved Biscoff cookies for decorating the edges of the cheesecake… optional
The crust:
2 tbsp. butter .. melted
2 cups of Biscoff cookie crumbs
The topping:
1 cup of either white frosting, or marshmallow cream.. slightly warmed up for ease of pouring.
Directions:
In a food processor, or with muscles… crush up the cookies into fine crumbs…
Add in the melted butter and blend until incorporated…  press it into the bottom of your parchment lined pan, and set it aside.
Now, into the food processor (no need to clean it), add in the jar of cookie butter, one block of cream cheese, one egg, mix until blended.. 
Then to that, add in the sour cream, and pulse until blended… add that mixture into a separate bowl, and set aside. THIS IS THE "DARK FILLING" BOWL!
Wipe out the food processor and, add in one block of cream cheese, one egg, 1/2 cup sour cream, and the 1/2 cup of sugar, mix until blended.. put in a bowl, and set aside… THIS IS THE "LIGHT FILLING" BOWL!
You will have 2 bowls of filling.. a light and a dark…
Line the bottom of the pan with some parchment paper, press the wet cookie crust evenly into the bottom.
Now, start layering the filling onto the crust, one scoop at a time, alternating the dark and light,..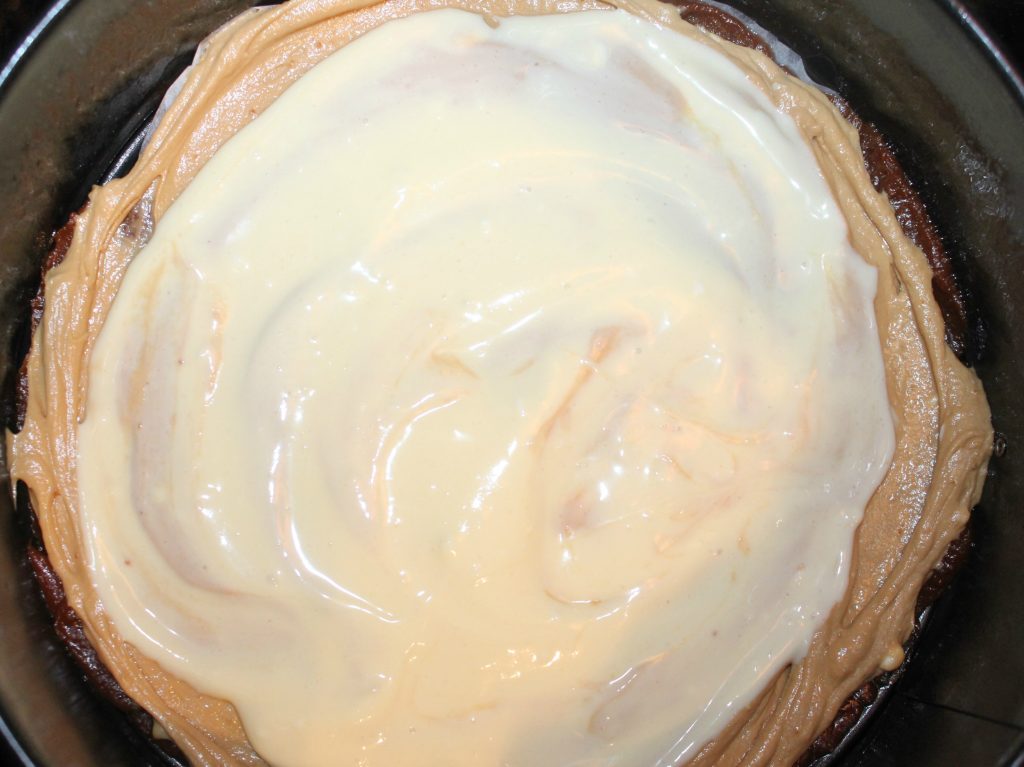 Keep layering until both bowls are empty…
Bake it at 350 degrees for approx 45 minutes, or just until it starts pulling away from the sides, and is firm all the way through.
Let it cool for a few minutes…
Release it from the pan, and top it with the warm frosting of your choice… and some cookie crumbs.
Then serve it up…
And DIG IN!  ~Enjoy! 🙂