OOhhh, do I have a tasty tower of treats to share with you!  Not just one delicious delight, but many-many yummies!  Grab a comfy seat and get ready to feast your eyes on these babies!
First I give you Snikiddy!  If you're not familiar with Snikiddy, check this out!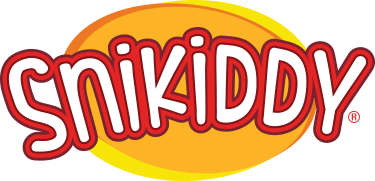 BE BOLD. HAVE FUN. PLAY.
Founded in 2006 by Mary Schulman and her mother Janet, Snikiddy® creates products for families actively looking for healthier foods to satisfy their snack cravings.
Where does the name Snikiddy® come from? We're glad you asked! It's short for persnickety (meaning choosy or picky), a nickname a teacher gave to Janet and her siblings because their mom always packed them healthy lunches.
The name stuck – and that's why our better-for-you snacks don't scrimp on any of the flavor (and fun!) kids, tweens and teens are looking for! All we make are simple, wholesome products, so you can let them Be Bold, Have Fun, and Play!
SNACK HAPPY WITH SNIKIDDY!
PLAYFUL GOODNESS
Snikiddy was born from the imaginations of two moms who wanted to create better snacks that didn't scrimp on the flavor and fun they knew their growing broods — and friends — would love.
And because we make them from simple, delicious ingredients, Snikiddy's the trusted, go-to snack for your whole family to enjoy!
Next up is Country Archer Jerky Co.  OMG~ feast your eyes on this!
AS GOURMET AS JERKY GETS
At Country Archer, we make healthy food for people who care enough to get things done — and we've been doing it for nearly forty years. Although our jerky has been around since 1977, it's been a bit of a hidden gem, sold mostly in roadside stands. Our current owners, Eugene and Susan Kang, discovered it on a road trip to the Grand Canyon and enjoyed it so much, they decided to track down the original owner. A butcher by trade and artisan by craft, Celestino Mirarchi was definitely a doer. In fact, he was so busy making jerky, he couldn't devote much time to selling it. The trio became business partners and made it their mission to share the tasty secret with the rest of the world.
Today, Country Archer's line of healthy jerky and meat snacks are sold nationwide. And although the company has grown, we're still paying homage to Mirarchi's decades-old tradition by making our snacks in small batches at our California facility using healthful ingredients and protein options like grass-fed beef, antibiotic-free turkey, and pork. Whether you reach for them in your pantry, backpack, desk or lunchbox, we hope Country Archer products make it easier for you to eat healthfully, while doing the things you love.  You can find some for yourself, right HERE!
Now we move on to Good Health Snacks! 
This brand is the owner of THE BEST PRETZELS I'VE EVERRRRR HAD, and I'm not exaggerating at all.. these pretzels are sent by angels from heaven, I'm sure of it!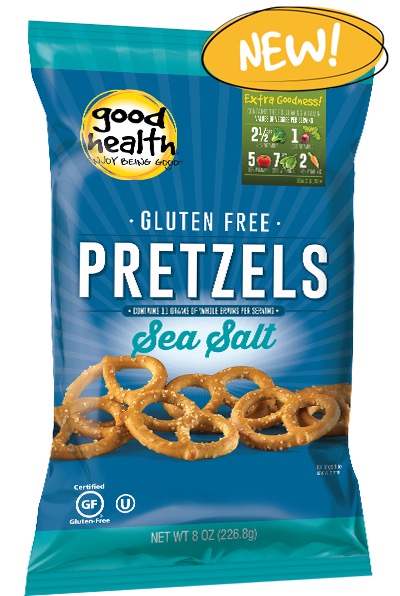 We're all about
Making better choices
Since 1994, our mission here at Good Health® has been to provide tasty, innovative snacks you crave, by creating crispy, crunchy choices for every occasion… snacks like our category-creating Veggie Chips, air-popped Half Naked® Popcorn, steam-popped Crisps and Olive Oil and Avocado Oil Potato Chips.
As a trailblazer in common-sense snacking, we're passionate about making life — and good snacks — even better. That's why we'll never stop creating exciting new ways to help you…
Enjoy Being Good!

®
POPCORNERS is up next and Whoahhhh… if you like salty, crunchy.. good for you snackage, today is your lucky day!
THE BETTER CHOICE.
So many flavors, so little time. Do you go Cinema Style or maybe Carnival Kettle? Or White Cheddar. You do like cheese. You could grab a couple bags of Salt of the Earth and Sweet Heat Chili for balance, but you've also had your eye on Sweetly Salted Caramel for a while. And who can forget Smokin' Jalapeno? The answer's simple: all of the above.
Now we've got Earnest Eats!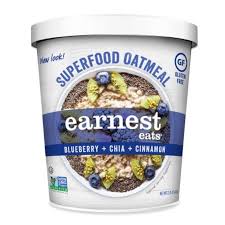 We put Good In our superfood oatmeal because we believe that foods should be fully transparent, unadulterated and whole. Our native flavors sing their own greatness and because we know our bodies need real deal nourishment from powerful whole food ingredients, we've consciously made our foods with ingredients like supergrain blends, nutrient rich coffee fruit & detox support herbs, just for you
Now it's time for Bare.. yes, Bare.. the leading brand for all things nutritious and delicious snacking!
Our snacks are born of the belief that simple is more satisfying and downright delicious. We slice real fruit, sprinkle with a dash of seasoning, and bake it up slowly for a one-of-a-kind crunch.
There's no extra stuff. Nothing artificial. Just simple snacks with an out-loud crunchiness that show how delicious living life a little more simply can be.
at bare, we believe the less you add, the more you actually taste. Find it HERE!
Last but NOT least is Ian's! 
TRUST

MADE SIMPLE
You can trust Ian's for delicious food made with simple ingredients, no trans fats, no added hormones or antibiotics…ever! Ian's commitment to quality and care for gluten-free and allergy-friendly meals allows you to be confident in the meals you prepare your family. The delectable flavors in each bite of Ian's dinners, desserts and snacks offer a convenient solution for everyone to enjoy.  Find Them HERE! ,