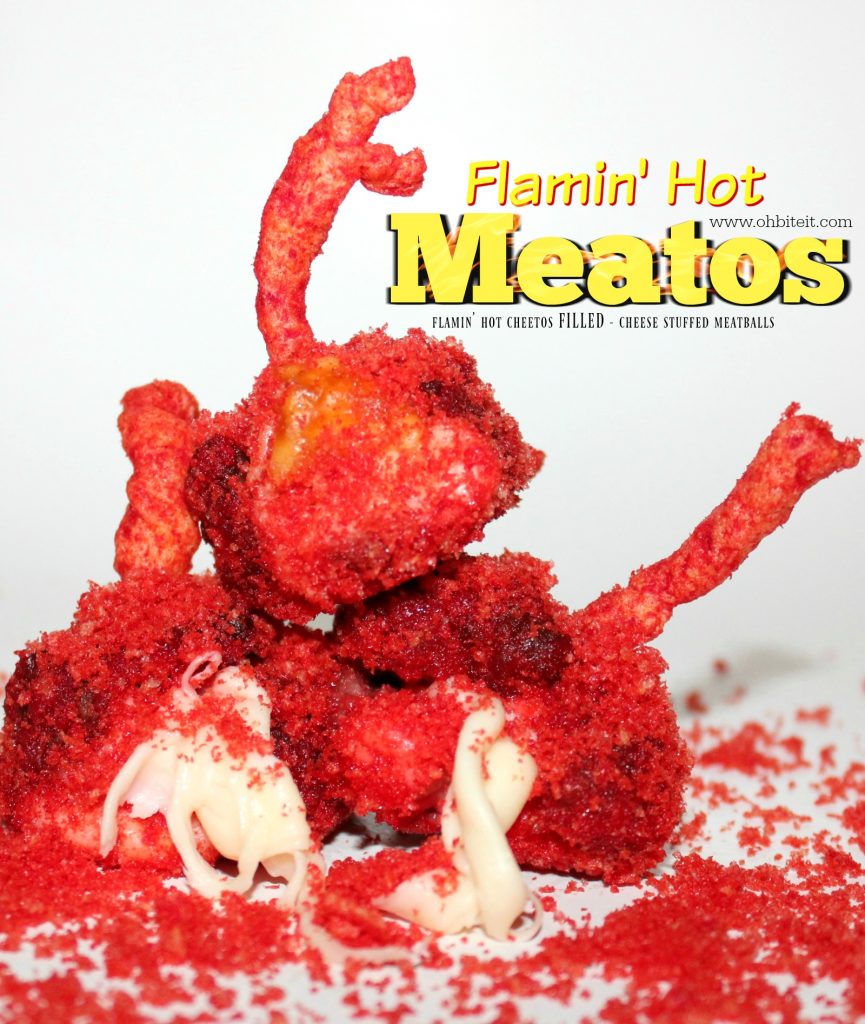 Oh, hello, and thank you for visiting.. despite the weird and wacky recipe I've so reluctantly provided haha.
Unless you've been living under a rock (a rock with no internet service), then you've seen the influx of Flamin' Hot Cheetos recipes floating around. And it doesn't look like those blistering hot babies are going anywhere…at least NOT today!
Sooo when I was menu-planning my next game-day snack-fest (yes, I menu plan each game day).. and mini meatballs came to mind, I thought.. hmmm, why not spice things up around here, and Cheetos those Meat-o's lol.  
… And here we are!  Collectively staring at a melty cheesy, cheeto-y, meato-y, flamin' hot helping of a super spicy snack that will have your family and friends screaming begging for more.  
Each flamin' hot meatball is stuffed AND coated with layers of crushed flamin' hot cheetos.. not to mention hot and melty mozzarella to cool the whole thing off, and a fiery fun edible hot cheetos 'toothpick'.. to get the whole thing into your mouth.  You. Are. Welcome!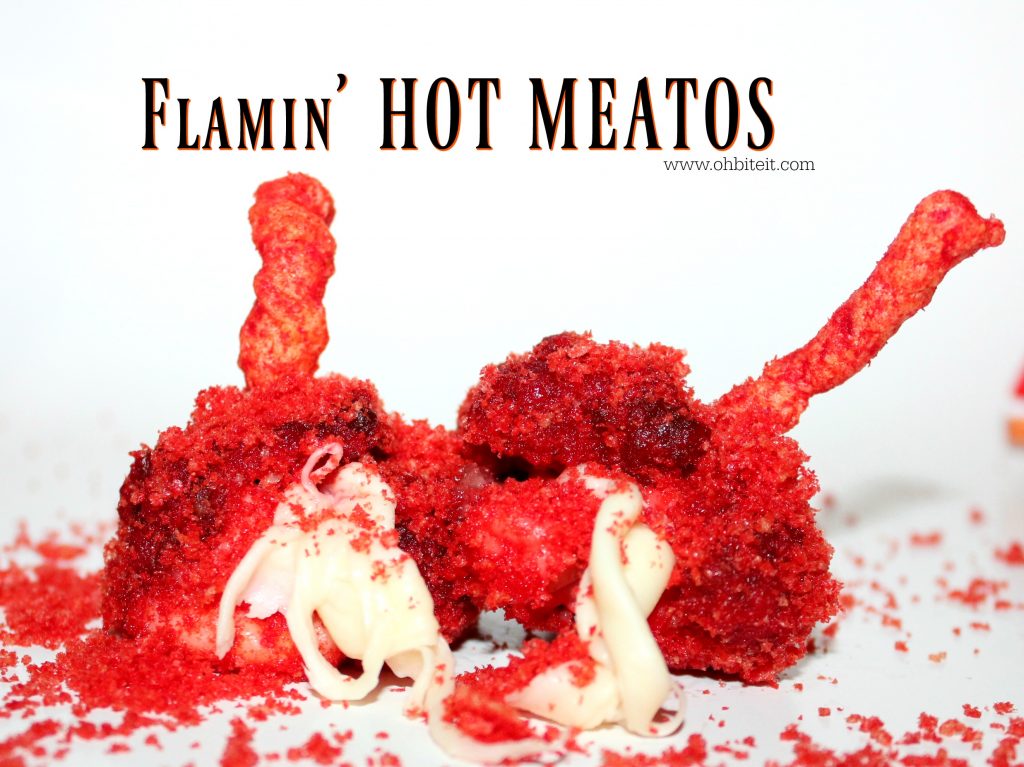 What you'll need:
1-8oz. bag of Flamin' Hot Cheetos PUFFS .. divided in half
Some Flamin' Hot Cheetos CRUNCHY for the "toothpicks"… optional
1 lb. LEAN ground beef
1 egg
Mozzarella,, cut into 1″ cubes
Directions:
Crush up the PUFFS and evenly separate the crumbs into to bowls.. set aside
Now into one of the bowls, add in the egg, and the beef…
Mix well to combine.. use your hands for the best results…
Prepare the cheese into approx. 1″ chunks…
Form the meat into small balls, and place a cube of mozzarella into the center… working the meat all the way around the cheese,,,,
Place them on a lined sheet pan, and bake them at 350 degrees for approx. 20-25 minutes, OR until they're fully cooked. **NOTE> (the cheese will ooze out during cooking, that's OK!  Just scoop it back inside, and as they start to cool..all will be right again after you roll them in the crumbs!)
Place the balls into the reserved PUFF crumbs, and generously coat them..
Insert a CRUCHY Cheeto "toothpick" into each ball for hand-to-mouth ease….
And serve them up nice and warm..
And GOOEY!  ~Enjoy! 🙂