I think it's safe to say that 2017 was the year of the pickle.. wouldn't you agree?  
I mean, I think I've seen more pickles this year than I have seen in my entire life, thanks to the internet..lol
…not that there's anything wrong with that, I do like pickles, but jeez!  Those tasty tart treats show no signs of slowing down ~ I predict a pickle population of epic proportions deep into 2018.  
And hopefully we can start pickling the new year right here!
I've traded that typical cucumber-pickle-tang for a whiskey infused, sweet & sassy, totally beautiful winterized blend of fabulously flavored fall fruit!  
Yep~ I've pickled the good old apple!  And let me just say.. if you don't like pickles, OR if you don't like apples… everything you thought you knew about yourself is about to change!  .. Trust me!
This blend of flavors is as amazing as it is effortless! ~  Sweet, slightly cinnamony, and spicy.. with a kick of whiskey and a hint of fresh herbs, balances out the crisp apples, and in an about an hour, you'll be snacking on a crunchy, whimsical addition to your pork chops, ribs.. apple pies, and/or ice cream.  
Not to mention that these jars are beautiful, and make the perfect & unique fall-hostess gift!  ~Make LOTS!
What you'll need for 2 jars :: increase the ingredients accordingly for more!
2 med./lg. apples
2 standard size jars with tightly sealing lids
1 cup water
1/2 cup sugar
1/2 cup apple cider vinegar
1 cup fireball whiskey~ you can use any cinnamon flavored alcohol you'd like, or even omit the alcohol, and simply increase the water!
A spiralizer to slice the apples,,, or simply slice them super thin with a good knife. ..A spiralizer is a super fun and handy kitchen item, found here… >> SPIRALIZER! (NOT SPONSORED.. I just love them)
Infuse with ::
cinnamon sticks
star anise
whole cranberries
fresh rosemary sprigs
Directions;
Slice up the apples.. as thin and ribbon-like as you can (pick out any seeds)…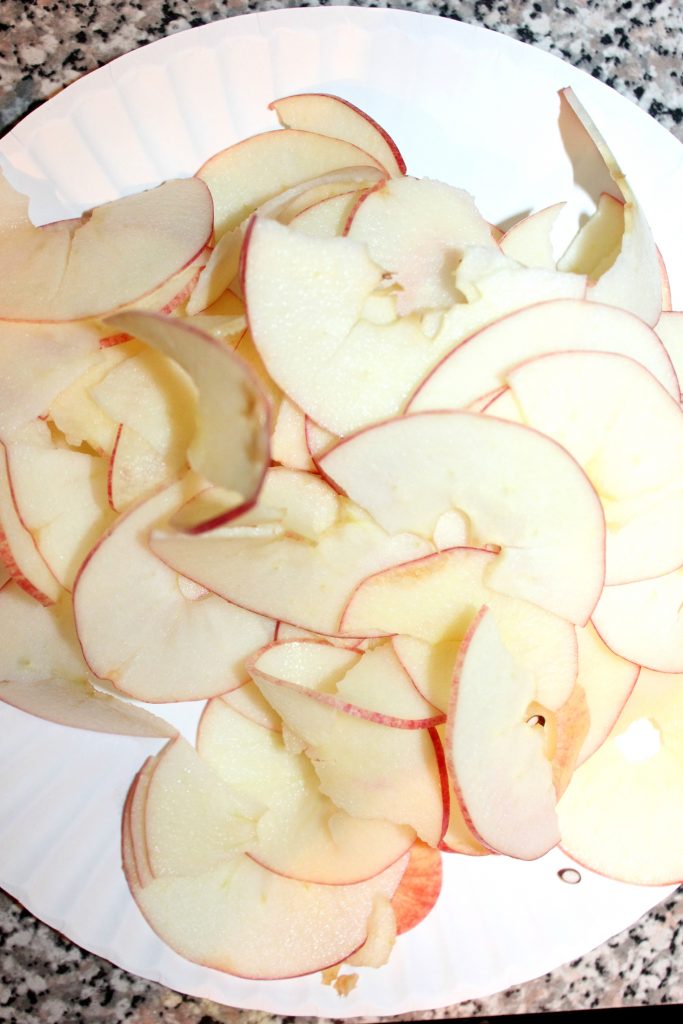 Place them equally portioned into the 2 jars…
Add in the aromatics.. tucking them into the apples, so it looks pretty…
Now, in a large bowl, combine the sugar, water, vinegar…
AND fireball..
stir well to combine.
Pour the liquid evenly between the two jars…
Seal the jars tightly with their lids, and place them in the fridge for at least 1 hour to as long as you'd like to munch on the pickles.. they only get more flavorful over time, but the apples still seamed to maintain a nice crispy crunch.
NOTE :: For long-term refrigerated storage of the pickles, flip the jars over now and then to evenly distribute the liquid, keeping all the pickles super flavorful.
Serve chilled as a side to any meal, or on top of warm apple pie, and/or ice cream.. OR just as a snack right out of the jar~  they're delicious!  ~Enjoy! 🙂