#LoackerLove
Loacker is made with love, craftsmanship and only the finest ingredients, deep in the heart of the Dolomites. With an uncompromising approach to high quality ingredients, Italy's #1 wafer cookie is sure to become America's!
Over time, the family business founded by Alfons Loacker in 1925 has developed from a small regional confectioner to a globally known brand with products that delight people in more than 100 countries. All Loacker products are made and packaged in the heart of the Dolomites according to the highest quality standards.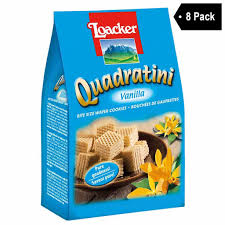 In addition to the two production sites, Loacker operates seven Loacker Points, consisting of the Loacker Moccaria and the Loacker BrandStore. The Heinfels site also boasts Loacker's World of Goodness with an interactive exhibition and a Pastry Workshop.