HAPPY National Nutrition Month!!
That's right.. an entire month dedicated to that thing our bodies love > NUTRITION!  Sometimes the thought of eating nutritious foods sound horrible, but I'm about to change your mind.  Well, Wholly Guacamole is about to change your mind!  Even though guacamole can be deceptively delicious.. don't let the flavor fool you.  Wholly Guacamole has taken that incredible, fresh guac flavor and made sure that it's also nutritious!  
Take a look at this.. and then give it a try~ you will LOVE it!
It's simple, really.
Don Bowden wanted better guacamole.
He wanted people to rave about it at his Mexican restaurants. And he didn't want to use a bunch of preservatives in order to keep enough on hand.
So Don found a better way make guacamole. It's called High Pressure Processing, which uses water pressure instead of heat to keep things wholesome and nutritious. If it sounds complicated, the results are simple: Great tasting guac, from hand-scooped Hass avocados, ready when you are.
That's how the WHOLLY GUACAMOLE® brand was born.
Now fast forward to your kitchen, where Don's restaurant innovation gives you delicious, guacamole whenever you want it. So dip a chip. Spread some on a sandwich. Or take a Mini on the go.
Any way you use it, WHOLLY GUACAMOLE® products are real, wholesome and delicious.
WHOLLY GUACAMOLE TRAYS & MINIS FAMILY
Hand-scooped Hass avocados. A bunch of tempting flavors. Add 'em to your salad, create the perfect veggie dip or enjoy them on their own. Always ready to eat, and without a preservative in sight.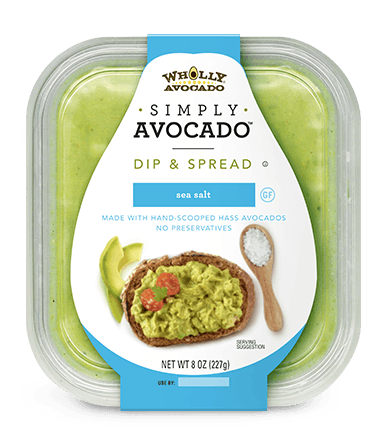 Simple ingredients. Super flavor. This handy snack is always ready to dip, spread and enjoy any time of day.