we're all about trufflin' love
At Andrea's Truffles™, we create delicious, artisanal truffles in small batches using only the finest ingredients. Our beautifully handcrafted truffles include a combination of exceptional and delectable flavors to give each one its own distinctive twist. Take a bite and you'll fall in love!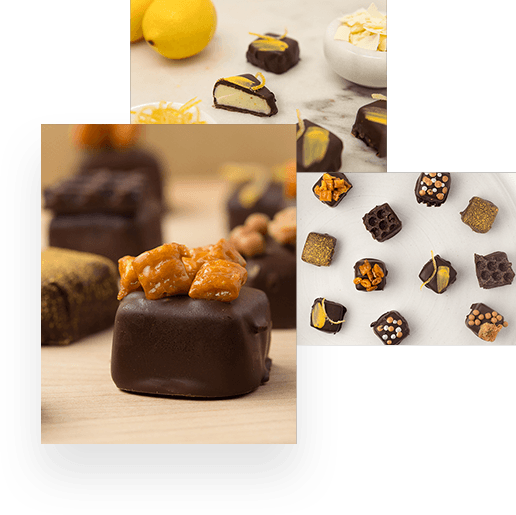 making the best truffles is andrea's™ legacy
For over five years, Andrea's™ mission has been to create the finest, best-tasting truffles made from quality ingredients collaborating with San Diego chefs, breweries, and local stores.
A true native of San Diego, Andrea graduated from the California Culinary Academy in 2000. In 2011, she began her home-based business creating handmade truffles. Andrea's Truffles™ quickly grew as popularity of the distinctive chocolates spread throughout the San Diego area. Andrea is excited to have her truffles featured in some of her favorite local businesses, and often collaborates with breweries and restaurants to bring her customers super fun and unique tasting events.
Today, Andrea's Truffles™ is joyfully continuing its charge to discover and create exceptional chocolates. Their truffles are made in small batches with choice ingredients and lovingly handcrafted to ensure each one leaves as a tiny, delicious work of art.
only the finest ingredients
We pride ourselves on using pure and local ingredients in our truffles to make sure they are their absolute trufflin' best. We've also elevated our flavor game to give our customers a unique and undeniable taste experience.
Our truffles include locally-sourced ingredients like our lemon and vanilla-infused creme fraiche topped with homemade candied lemon made with citrus from actual San Diego produce suppliers; or, our cognac ganache truffle crowned with complementing, savory sparkles of local sea salt hand-harvested from San Diego Scripts Pier.
We believe that amazing truffles start with the amazing ingredients, and that's why Andrea's Truffles™ is committed to using only the best.
we make a good pair
We love collaborating with local artisans and combining our powers to produce amazing tasting experiences. One that might surprise you? Beer. Pairing our truffles with craft brews has been a major success and has become our signature.
We work with local San Diego breweries, Mike Hess Brewing Company, Mission Brewery, Monkey Paw, and South Park Brewing to match the perfect flavor profiles of their beers and our truffles to create a unique experience.
What is the magic behind this unexpected flavor combo? The richness of our chocolate strikes an unexpected balance with the crispness and carbonation of beer. Some pairings just make sense, like the smoothness of a stout with the creaminess of our Peanut Butter Crunch Truffle; while other might delight you, such as how well our Apple Pie Truffle goes with a good pilsner.
Want to join us at a tasting event? We'd love to see you! Check out our news page or follow us on Facebook for the latest on our upcoming events.