Say "Hello" to a Better Mayo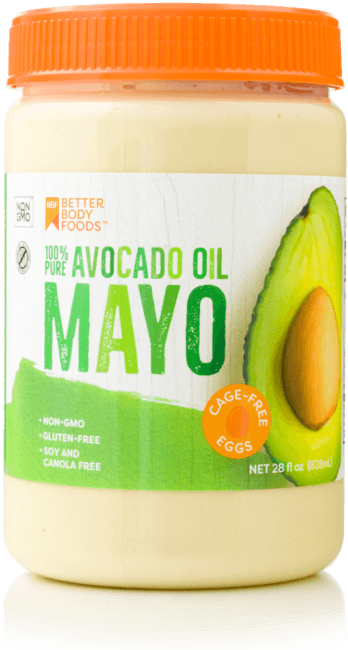 I recently had the good fortune of trying out not only a new and delicious mayo, but an actual healthier version! Better Body Foods has brought us one of the best tasting, and healthy mayos on the market.  It's creamy, flavorful, and the flavor varieties offer something for everyone!  From sandwiches, to salads, to dips… and everything in between, you are covered!
Goodbye, boring mayo. Our Avocado Oil Mayo combines cage-free eggs with rich avocado oil for a creamier, more flavorful spread. Build a better sandwich, potato salad, or the freshest, tastiest sauces and dressings, all from a naturally carb and trans fat-free food*. Ready to swap out that old mystery mayo? Say hello to the fresher, zingier Avocado Oil mayo!
Avocado Oil MAYO With Chipotle and Lime
Healthy + Tasty,
sitting in a tree…
Go ahead. Carve them into your kitchen table.
Avocado Oil MAYO With Lime
A while back, our founder Stephen got the word from his doctor about his blood sugar. And the word was "Yikes."
Naturally, he decided to make some lasting changes. Get healthier. But… not give up flavor.
So, when a friend introduced him to agave, he said 'Yum!' Then he said, 'That's it!' Then he was out the door. To Mexico, land of agave. And then to Asia, for life- and cooking-changing coconut oil, coconut flour and coconut palm sugar. And that was just the start.
Today, lots of people are saying 'Yum, that's it!'
And Stephen and the gang are working away in a certified-organic operation at the foot of the Rocky Mountains. There, whenever they say "Yum! That's it!" you get deliciously better foods like the world-famous, low-fat peanut butter powder, PBfit®. You know, the kind of foods you and your family actually want to eat.
And that's something worth committing to—even if you're not into carving up your kitchen décor.