Out of all the knocks on my door, I can safely say… that when Butcher Box came knocking, it was the BEST knock EVER!
I never knew that a monthly meat subscription box was something I needed, and quickly turned into something that I can't live without.  Not only is it convenient, but the quality is second to none.  I'm talking about top quality meat, ready and waiting for your table.  This is a life changer!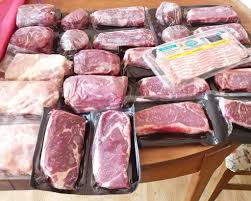 AN IDEA IS 

Born
One night, our founder Mike Salguero ended up in someone's living room picking out his very own $400 pile of meat from a cow share. Not just any cow, either – a 100% grass-fed cow. He was instantly hooked on the pure, natural taste, and was thrilled to discover the health advantages grass-fed beef has over ordinary grain-fed beef.
Mike Salguero and family.
So why wasn't everyone eating it?
Mike learned that not everyone has access to grass-fed beef, or their exposure is limited to products like ground beef. Currently, only 1% of the total beef consumed in the United States is 100% grass-fed. Our goal is to make grass-fed beef (and now, heritage breed pork and organic chicken) more accessible than ever before.
ButcherBox
BECOMES A REALITYAs with many start-ups, the ButcherBox office began as a stolen seat or two in cafes around Cambridge, and at one point, a closet – until finally, we were able to set up shop in our Harvard Square location. It's been humbling to grow at such a rapid pace and become the leading online source of grass-fed beef.
The ButcherBox team comprises of fascinating individuals who trust each other like family. We want our customers to feel the same way. With over 10,000 families serving ButcherBox in their homes for dinner, we are honored to be part of the experience.
Here at ButcherBox, we work tirelessly to connect families with the foods they want to eat by establishing a friendly neighborhood butcher, always open, online.
Taste
When it comes to meat, we look for great tastes and textures, just like you. Every cut that appears in your box has been personally taste-tested by us. Because we have access to the whole animal, we introduce you to cuts that you would never find at your local grocery store, but end up loving. The incredible quality of ButcherBox meat starts with our commitment to raising animals humanely, as nature intended.We keep it simple by giving you real meat.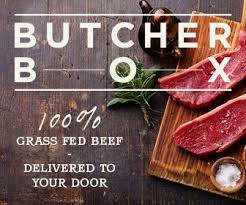 CHOOSE YOU PLAN~