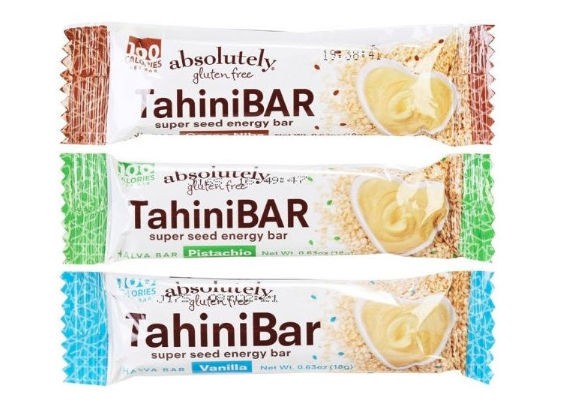 The newest Absolutely Gluten Free product taps into two of today's hottest food crazes: tahini and energy bars. Absolutely Gluten Free's 's 100-calorie TahiniBars™ are gluten- and dairy-free, vegan, and made with natural sesame seeds, a.k.a. "super seeds." These grab-and-go bars are available in Vanilla, Cocoa Nib, and Pistachio flavors, making gluten-free living tasty and convenient.
These  incredible TahiniBar can be ordered on Amazon and retail for about $2.99 – $3.99 for a 7-BAR pack. They are also available at many supermarket chains, health food and independent grocers. YAY us! 
Who knew gluten free could be so delicious?
At Absolutely Gluten Free we're committed to providing delicious items that just happen to be gluten free.  Absolutely Gluten Free Crackers, Flatbreads and Pizzas are so good everyone will want to eat them!
About Us
Gluten free and delicious don't always go hand in hand, and when we develop our products we always say to ourselves, why do we have to choose one or the other? At Absolutely Gluten Free we make delicious items that happen to be gluten free. With that in mind, we try a lot of gluten free products, and not every item we test is a hit. How do we know we get them right? When we gave them to friends and family the question we got most often was "are you sure this is Gluten free??"
 
Our answer? …ABSOLUTELY!
Questions or comments?  We'd love to hear from you, Contact Us
Drop us a line!
Gluten free isn't a movement, it's a community and we're a part of it.  Do you have a great GF recipe, send it over. Having trouble finding Absolutely products, let us know.  Gluten Free event you think we should be at, we'd love to hear about it.  Have a video of your dog dancing the Cha-Cha while you play the accordion – better keep that one to yourself…
Whether you're on FaceBook, Twitter or Pintrest, we'd love to hear from you!