SVELTE PROTEIN SHAKE
Svelte protein shakes provide you with the lasting nutrition you need for your active and busy day through the highest quality organic ingredients

Delicious banana flavor

Quick, healthy way to add protein to your diet

Organic, gluten-free, vegan, and kosher

Proudly made in Northern California
As one of the biggest music acts of the late '60s and '70s, Oogie entertained and moved millions across the world with his songs of love, hope, and promise for the future.
Then near the height of his popularity, Oogie stunned the world and left the stage, shunning the limelight and disappearing into private life. Never completely forgotten, he became a mystery, and over the decades has grown into a legend. You can learn more about Oogie here.
Now living a quiet life in the mountains of Colorado, Oogie re-emerges into the public consciousness not through song but with his other passion, food, and a line of healthy, better-for-you snacks full of flavor.
"It's another way to spread love in the world," Oogie says. "Music and food are just two different ways of reaching people, communicating with each other, sharing a commonality."
Colorado, USA
All Oogie's Popcorn is made in Colorado, USA. In Colorado, we're always among the healthiest states, and we take our health seriously: we're the tops in physical activity. Our outdoor recreation opportunities and amazing weather make this the kind of "work hard, play hard" place we love to call home.
So when it comes to healthy food, we're tops, in that, too. With our new look, we've taken an already healthy snack and made it even healthier. The result is top-quality snacking in amazing flavors, with some of the lowest fat and calories in the popcorn category!
Fresh, healthy, gourmet, natural… in Colorado we live by those words and if we can help you bring a little piece of Colorado to your neck of the woods, then so much the better!
Back on the 1980's shag carpet of the living room floor, our Mom introduced my sister and me to the power of Yoga. Despite memories of bad leotards and headbands, I have since that time, been captivated by the transformative power of Yoga and it's sister science, Ayurveda- the ancient Indian science of life and living.
This passion led me to Varanasi, India, where for 5 years I lived studying Ayurveda and Yoga philosophy.  During my time there, I experienced many health challenges. One time in particular, I was miserable with a bad cold and a friend introduced me to an amazing instantly dissolving Ayurvedic beverage. I was sold at the first zesty sip and it became my go-to remedy anytime I felt like something was coming on.
Whenever I'd travel home, I always brought that same awesome herbal drink mix to friends and family in the States. They were hooked too!! There was nothing like it here, so wanting to spread the healing wisdom of an Ayurvedic remedy that was effective and easy to use, I moved back to the States and started Herbal Zap. Our first product Herbal Zap Immune Support was that exact same formula I fell in love with in India!
Gleeful greetings to you! We're so happy for the opportunity to introduce ourselves and our company, Verve, Inc.
Verve is an independent, certified woman-owned business, dedicated to linking world communities and creating environmentally and socially responsible products. Verve is based in Providence, RI, in a newly rehabbed, solar-powered building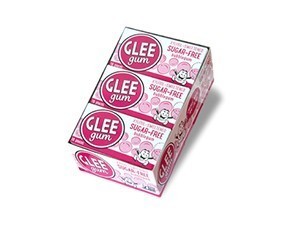 Verve's products include Glee Gum, an award-winning natural chewing gum line, Glee Gum Pops, the only natural gum-filled lollipops on the market, and Make Your Own Candy Kits, a line of educational activity kits for kids. The pops and kits are packaged with the help of supported employment.
Our Double Chocolate 4.4.8 Bars combine cocoa and chocolate chips with the power of gluten-free oats and brown rice to bring you a hearty and decadent, daily dose of this favorite flavor. Your energy level will thank you when you choose this delicious snack, with 4g protein, 4g fiber, and only 8g sugar!
It all started in the small bakery of a natural foods market on Main Street in Glastonbury, Connecticut. My customers with Celiac Disease would visit the bakery and tell me about the lack of good tasting gluten free options available to them. Upon learning this, I believed that nobody should have to suffer due to any kind of food allergy or dietary need. From then on, my mission became creating delicious and FEARLESSLY UNIQUE gluten free products that were good for you and great tasting- while still being safe for my celiac customers!
AUDACIOUSLY PREMIUM ingredients, BAKESHOP DELICIOUS recipes, and HAPPY customers were our inspiration from the beginning— and are still the cornerstones of Bakery On Main today. We are a FIERCELY ETHICAL company that believes in integrity and feels that HAPPY and HEALTHY should be harmonious. We strive for that in everything we bake in our dedicated gluten free facility where we use only natural, NON-GMO Project Verified ingredients that are also dairy and casein free. 
Our passion has always been to bring our customers delicious baked products made with clean and natural ingredients. Our goal is to make you happy while helping to clean up our food supply and provide everyone with products that can be trusted by those who need it and delicious to everyone who tries it! We hope that enjoying our products makes you as HAPPY as it make us to make them for you! 
Thank you!  
Michael Smulders
Founder & President
About OrganiCare
CUROXEN's parent company is OrganiCare. Scientific validation is our hallmark, and our team has decades of experience developing disruptive consumer products that are compliant with FDA standards. We believe that scientific study and FDA compliance are vital steps to proving our products effective and safe for consumers.
Our Mission
OrganiCare's mission is to create all-natural and organic OTC healthcare products that are safe, effective and simply better than the petrochemical-based industrial products used by most consumers today.
We stand by our mission to:
Dispel the notion that all-natural and organic products are not as effective as their drug and chemical-laden counterparts
Avoid the unnecessary use of drugs and chemicals when a natural alternative exists, especially when that alternative is stronger, safer and smarter
Raise awareness of antibiotic overuse to help stem the tide of antibiotic resistance, which is a global health problem recognized by the United Nations (UN), Centers for Disease Control and Prevention (CDC), U.S. Food & Drug Administration (FDA) andWorld Health Organization (WHO)
Create healthcare products proven to be highly effective without causing allergic reactions
Based in Austin, TX, OrganiCare was founded in January 2016 by two serial entrepreneurs, each with their own incredible track record of business success.CEO, Caroline Goodner was founder and CEO of two genetics companies and CEO of a consumer products company specializing in health and wellness products for new moms.
Chairman, David Shockley is a biologist focused on the technology and innovation side of the medical device industry. However, disruption in a mature market space takes more than a mission statement. OrganiCare is well positioned to lead the charge. The company has spent years developing their first product to hit the US market, an all-natural and organic first aid ointment, CUROXEN.
Medical Advisor, Eleanor Piel Womack, MD attended Harvard University and Harvard Medical School. Dr. Womack is Board Certified in Internal Medicine as well as Anti-Aging & Regenerative Medicine. Learn more about Dr. Womack and her practice.
Italian Roots, All-American Ingenuity
CUROXEN's unique formula is based on an Italian university discovery, which identified a unique process for combining the antibacterial, healing effects of pure olive oil with life-giving oxygen to create a highly effective yet natural cure for minor wounds, cuts, scrapes and burns.
Now, in partnership with a leading homeopathic medicine company in Italy, CUROXEN is manufactured under strict Good Manufacturing Practices per U.S. Food and Drug Administration (FDA) guidelines to create an effective and innovative natural product backed by science. Furthermore, CUROXEN is registered in the FDA National Drug Code Directory.
The Fix Hot Sauce journey first started with a deep passion for hot sauce. This love turned into action after our founders' life-changing trip to Vietnam. We witnessed the difference that authentic, farm-fresh, and non-processed ingredients made, and our minds were blown. We used to be interested in average bowls of pho served with your average hot sauce. We want more. We all deserve more.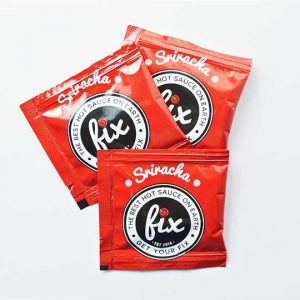 From this moment, our mission was to bottle the natural ingredients and premium bold flavors of South Asia. Starting with a Huynh family recipe, we turned into mad mixologists and stripped the sauce down to it's core components, sourced and tried over a dozen new ingredients, and tested and tweaked over 100 different recipes. We tested our batches with our (incredibly patient and supportive!) friends, family, and chef advisors until we found our winning recipe.
OUR SIGNATURE FIX HOT SAUCE WAS BORN.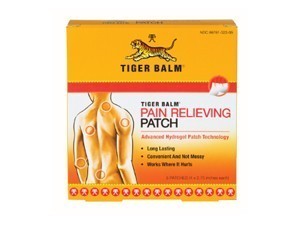 CONVENIENT PAIN RELIEF
Stick it to the pain.
Combining Tiger Balm's blend of herbal ingredients with the cleanliness of a patch, Tiger Balm Pain Relieving Patches provide strong and convenient pain relief for hours with minimal odor. They're not messy or greasy, and will not stain clothing. The ventilated hydrogel patch contours to your body to deliver optimal comfort and relief, and the pull-and-peel protective film makes it easy to apply and painless to remove.
Tiger Balm Pain Relieving Patch is also available in a large size for larger body parts, especially the lower back.
Both sizes come in a reusable zip pouch for convenient storage and use.
TIGER BALM PAIN RELIEVING PATCH USES
For temporary relief of minor aches and pains associated with: 
Muscle and joint aches
Pain in the lower back and larger body areas
DRUG FACTS:
Active Ingredients: Menthol (24 mg/patch), Camphor (80 mg/patch), 
and Capsicum Extract (16 mg/patch)
Inactive Ingredients: Aluminum glycinate, eucalyptus oil, glycerin, kaolin, mentha oil, polysorbate 80, propylene glycol, sodium carboxymethylcellulose, sodium polyacrylate, polyacrylic acid solution, sorbitol solution, hydrotalcite, water
Warnings: FOR EXTERNAL USE ONLY
Use only as directed
Avoid contact with eyes and mucous membranes 
Do not apply to wounds, damaged or irritated skin 
Do not bandage or cover with wrap or use heating pad
Do not use 1 hour prior to bathing or 30 minutes after bathing
.
Stop use and ask a doctor if:  
 – Condition worsens  
 – Severe skin irritation occurs
 – Pain persists for more than 7 days
 – Pain clears up and then recurs a few days later
If pregnant or breastfeeding, ask a health professional before use. Keep out of reach of children. If swallowed, get medical help or contact a Poison Control Center immediately. 
Other Information: This product may cause allergic reaction in some individuals. Store in cool dry place away from direct sunlight. 
Directions:
Adults and children 12 years and over apply to affected area; change patch 1 to 2 times daily
Children under 12 years, consult doctor
How to apply: 
Clean and dry affected area 
Cut open pouch and remove patch 
Remove protective film and apply directly to area of pain
Apply to affected area not more than 3 times daily
Wash hands with soap after applying patch
Reseal pouch containing unused patches
Uses: For temporary relief of minor aches and pains associated with arthritis, backaches, stiffness and muscle strains