But First:  THE BEST GRILL EVER!

The Fuego Element Grill
Fuego Element is the brainchild of visionary industrial designer, Robert Brunner, former chief of design at Apple and designer of Beats by Dr. Dre headsets. Just like the aforementioned brands, we see things a little bit differently than the rest. From design to performance the Fuego Element is like no other grill on the market.
The Fuego Professional Grill
The Fuego Professional Grill is based upon the original award winning Fuego Element design with added user friendly features. We started with the base design of the Fuego Element then thought about how to improve your cooking experience. The answers came from vast amounts of customer feedback and market research – the result is our latest model, the Fuego Professional Grill.
The Fuego Professional F24C launched November 2017. It stemmed from the award-winning grill design by Robert Brunner, former chief designer at Apple (designer of Beats by Dre) of the Fuego Element F21C (launched almost 10 years ago).

Assembly takes 30 minutes or less with only 20 fasteners

Ability to heat up to 500°F in just 5 minutes

It has a dual zone burner that allows for direct/indirect grilling

Compact 24" x 24" footprint (with the lid closed)

Ergonomic-friendly hinged lid, strategically placed at a 45-degree angle to avoid reaching over the fire

Rolls smoothly on four industrial casters (two of them locking)

Has a hinged door to store the propane tank, and closes shut with a perfect door clasp

525 sq. in. of grilling space (including the 110 sq. in. warming rack) — fits 20 1/
Customer Support
We invite you to check out our customer support section at the link below. It offers many helpful guides and videos to walk you through any issues you might be having.
Please reach out to our friendly support staff via email at [email protected] or 888.883.8346
Just look at this beauty!
And Now: FUEGO 'FIRE' DOGS!
As you probably know, Fuego means fire… so it's only right that I create a super hot, super delicious, uhhh..super HOT recipe on this gorgeous FUEGO grill!  
And that's what I did!
Oh YEAH~ I present to you "FUEGO DOGS"… aka FIRE DOGS!  
YEP, these aren't your typical grilled hot dogs, oh nooo~ these babies feature fire, fire in the form of spice ..and flame!
I've taken a slightly spicy Anaheim Chile and stuffed it with a beautiful blend of beef and HOT chorizo, shredded mexican cheeses, and crushed tortilla chips for substance and flavor. I grilled these babies up FUEGO style, and then snuggled them into a tender, hot sauce coated bun, and topped them with some Mexican Crema, cilantro, and fresh jalapeno slices for even more umm….. FUEGO!  
So basically we have FUEGO ON FUEGO here friends.  Enjoy!  
~Thanks Fuego!
What  you'll need for 12 FIRE DOGS:
A FUEGO GRILL!  >> found HERE!
12 hot dog buns
12 chile peppers
1 lb. ground beef
8 oz. chorizo
2 cups shredded cheese.. I used a mexican blend
1 cup crushed corn/tortilla chips
2 tbsp. chopped jalapeno, plus one sliced jalapeno for topping.. optional.
1 egg
hot sauce.. your fave
mexican crema .. for garnish
cilantro .. for garnish
Directions:
crush up the chips until they're finely, and evenly crumbled…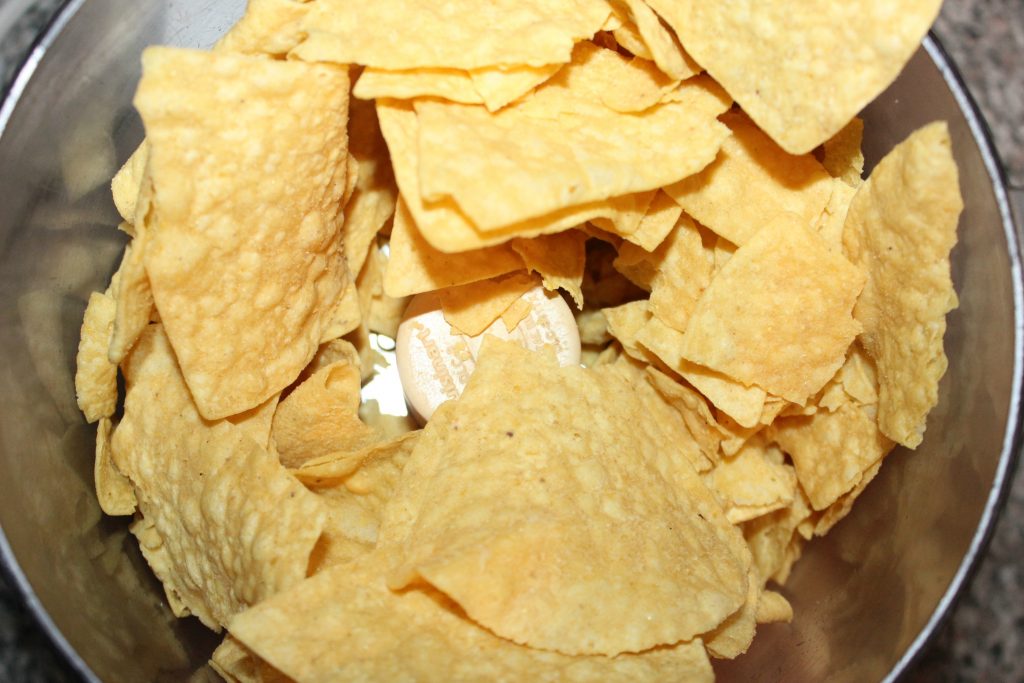 In a large bowl, combine the beef, chorizo, 1 cup of the cheese, egg, chopped jalapeno, and crushed chips… mix until evenly combined…
Now, carefully cut off the stem end of the pepper, and remove the inside seeds etc… fill them up with the meat mixture, making sure to press the meat down into the pepper, so it's nice and filled…
Grill them up until they're nice and charred on all sides.. **Side NOTE** If the pepper gets cooked before all the meat, simply place them in a 350 degree oven for approx. 10-12 minutes, OR until the meat is fully cooked thru!
While the peppers are cooking.. brush the inside of the buns with some hot sauce…
Place the buns onto the grill for a few seconds to achieve the beautiful grill marks on the outside of the buns.
Top the warm peppers with the other 1 cup of cheese…
and simply place the stuffed peppers into the buns…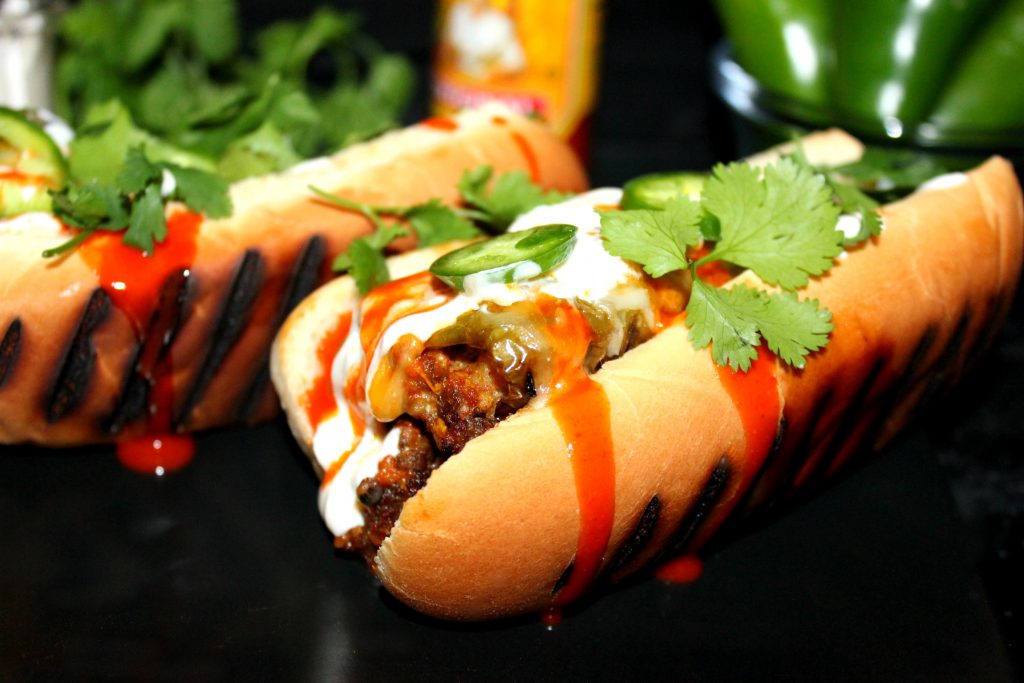 Top them with all the crema, hot sauce, sliced jalapenos, and cilantro that you can handle…
Remember to share…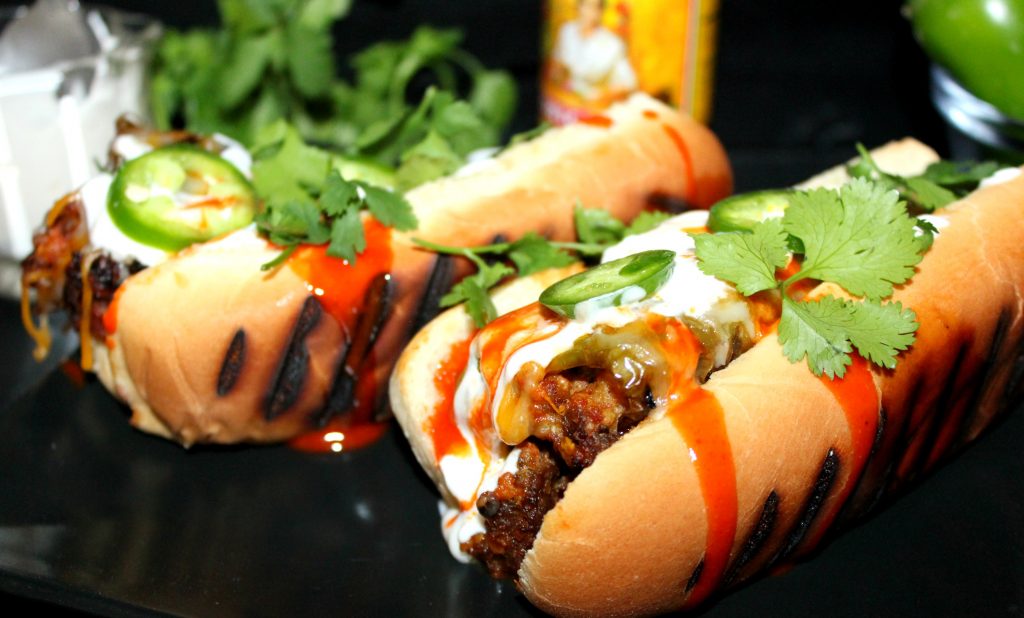 Annnd, dig in!  ~Enjoy! 🙂
CHECK OUT FUEGO ON SOCIAL AND SHARE THE GRILLIN' LOVE!

**This was a compensated post, however all opinions are my own