Do you like popcorn?  Do you like corn dogs?  Do you like to be SO extra that it literally annoys everyone you've ever known, currently know, or will ever know?  If you answered yes to any of those questions, stay right here.. this recipe is for YOU!  😉
Please don't expect to find any reasonable answer to the obvious question of "why in the world did you do this?".. because there isn't one.  I pretty much just liked the play on words.. the amazing mash-up of delicious flavors was purely a bonus…haha.
That's ok, I'll take that bonus one crispy, popcorny, corn doggy bite at a time.
All kids and most immature adults will absolutely love these whimsical weenies.  Not only do they scream fun just by looking at them, but the crunch and nutty flavor that the popcorn adds to the corn dog is seriously special.
I'm pretty sure that I'll be adding popcorn to many more unsuspecting dishes in the very near future.  😉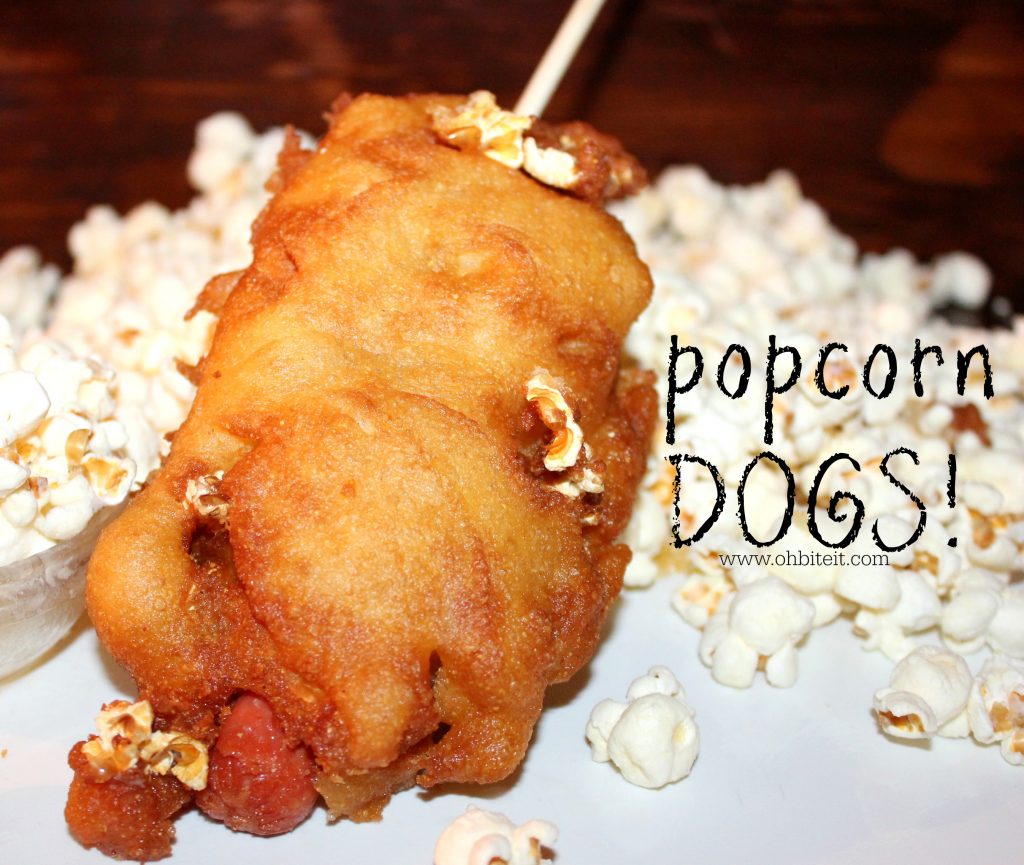 What you'll need:
6-8 bun length hot dogs
4-6 cups of popped popcorn..either store bought or freshly popped at home will work
The BATTER:
1-8.5 oz. box of Corn Bread mix.. such as Jiffy  (I show 2 boxes, but only needed one)
1 1/4 cup all-purpose flour
1/4 cup white granulated sugar
1 tbsp. baking powder
dash of salt
1 egg..beaten
1 1/2 cup buttermilk or regular milk
1 tbsp. veg oil
1 tbsp. honey
wooden skewers
oil for frying.. either veg or canola
Directions:
set your popcorn aside..
Now in a large bowl, combine the corn bread mix, sugar, baking powder, and salt….
In a med. bowl combine the milk, egg, and honey… Then pour the wet ingredients into the dry, and combine very well… it should be like a thick pancake batter…
Evenly coat the hot dogs with the batter… BE SURE TO RESERVE THE REMAINING BATTER!
Then coat them with the popcorn.. not all the popcorn will stick, just smush as much as you can on there…
Place them onto a parchment lined sheet pan, and into the freezer for at least one hour…
When your oil is fully heated to 350 degrees, take out the hotdogs from the freezer.. YOU WANT TO KEEP THEM FROZEN UNTIL THE LAST SECOND BEFORE FRYING THEM!
Dip each frozen hot dog into the remaining batter…
And directly into the oil, fry them for a few seconds, until they're evenly golden on all sides…
Then serve them and watch those faces light up with a mix of curious confusion..lol  ~Enjoy! 🙂