I'm not from the South, but sometimes I feel like I should've been!  Actually, it's probably best that I'm not because I'd probably turn into a Biscuit from eating so many of them, among all of the other great Southern foods that I dream about on a daily basis!
I just can't resist a fluffy, warm and tender Biscuit.  Especially when they're lightly Sugared, super fluffy, doughy pillows of delight.  Ohhh, and then topped with a cascading flow of the most decadent Chocolate "Gravy" that will totally knock your socks off..and possibly other clothing items too..lol!
But, it's the amazing sugar that makes these uhh.. AMAZING!
All-u-Lose is the calories! Allulose Crystalline

7 oz. Plastic Bottles – Crystalline has a Sugar Taste and Texture

Made with Non-Metabolizing Allulose – Just .4 Net Carbs per teaspoon.

Non-GMO — Gluten Free — Diabetic-Friendly — Sugar Alcohol Free — Supports Weight Loss — Does not have an impact on blood sugar levels.

Enjoy the richness of sweets without the guilt or unhealthy effects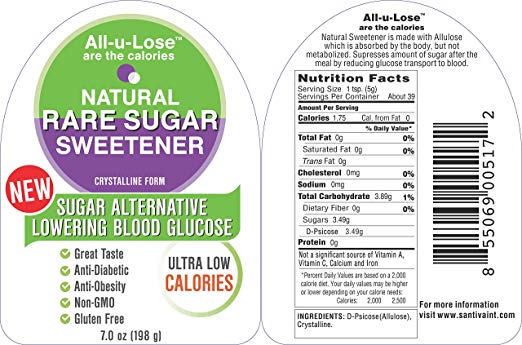 Change up your Dessert..Or Breakfast..Or Lunch..Or Snacks, with this simple, yet unique & elegant spin on an all-time favorite!
What you'll need:
1 can of Pillsbury Grands Flaky Layers Buttermilk Biscuits (8ct.)
1/2 cup Allulose Natural Rare Sugar Sweetener
1/4 cup melted butter..for dipping
For the Gravy:
1 cup Sugar
2-1/2 cups Milk
1/4  cup melted butter
1 tsp. Vanilla extract
2 tbsp. Flour
3/4 cup Unsweetened Cocoa
Directions:
Dip each raw Biscuit into the melted Butter and then directly into the Sugar….
Place them on a baking sheet and bake according to the package instructions…
Let them cool completely…
Make the Chocolate Gravy:  In a medium pot, slowly melt the Butter and then stir in the Sugar, Flour, Vanilla and Cocoa Powder until it's pretty much lump-free.  Pour in the Milk and mix to combine…
Let it simmer for about 15 minutes, or until it thickens up.
Grab a couple of Sugar-Crackled Biscuits and drizzle some of the warm Chocolate Gravy onto them…
Or you can serve them up on a big platter, family style.  YES, you'll have to share!
However you choose to eat them…you'll be a Biscuit Rock-star!  ~Enjoy! 🙂