Are you in need of new & exciting snacks?
Have you become bored with average chips, and dull dips?
Do you long for a simple, delicious, and whimsical bite that will also provide entertaining conversation?
Well, if you answered yes.. you've come to the right place! Behold the cutest culinary collision to ever grace your face game-day! I'm talking about adorable, bite sized bundles of everyone's favorite, "limited edition" delights..
uhh. the one, the only >> McDonald's McRIB! 
Yes, it's true.. you can now enjoy everything you know and love about the McRIB, all in one beautiful, couch-friendly, people-pleasing bite, WHENEVER YOU WANT TO! You. Are. Welcome.  🙂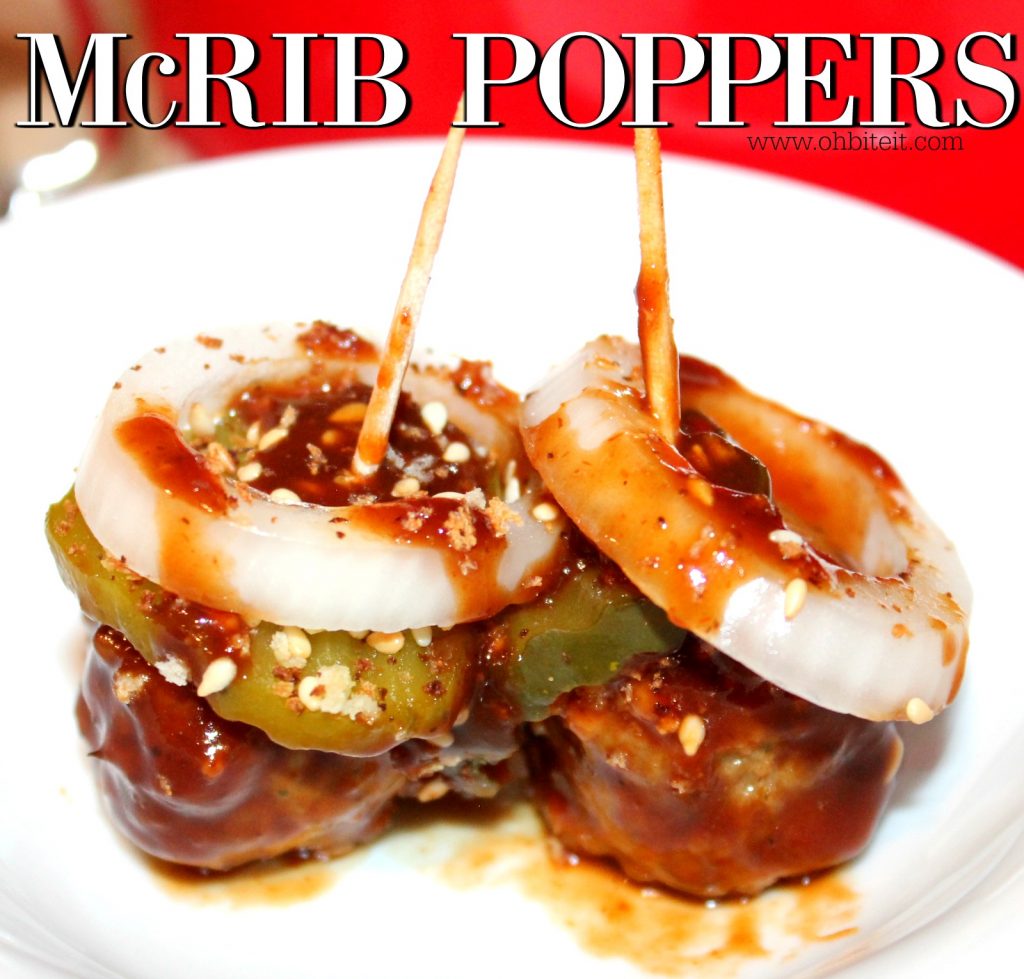 In a matter of minutes, and I mean literally only MINUTES.. you will be the MVP/VIP of game-day, any day.. or just LIFE! Prepare to be tackled the second you serve these babies.
What you'll need for 2 dozen poppers (increase ingredients accordingly for more):
24 meatballs (I used frozen)
1 cup BBQ sauce.. your fave
1 small onion, thinly sliced
1 cup of thinly sliced pickles
1/2 cup panko bread crumbs
1/4 cup sesame seeds
toothpicks
Directions:
Measure out the seeds and panko…
In a dry sauce pan, carefully toast the seeds and panko, just until golden… Watch closely, this goes fast! ..set aside.
In the same sauce pan, warm up the meatballs with the BBQ sauce.. add a splash of water if needed to keep it from getting too thick while the meatballs heat up…
Now top them with the sliced onions and pickles, and then the toasted seeds/panko..
Serve with toothpicks… and savor that bite-size McRib!
And DIG IN!  ~That's it!  ~Enjoy! 🙂