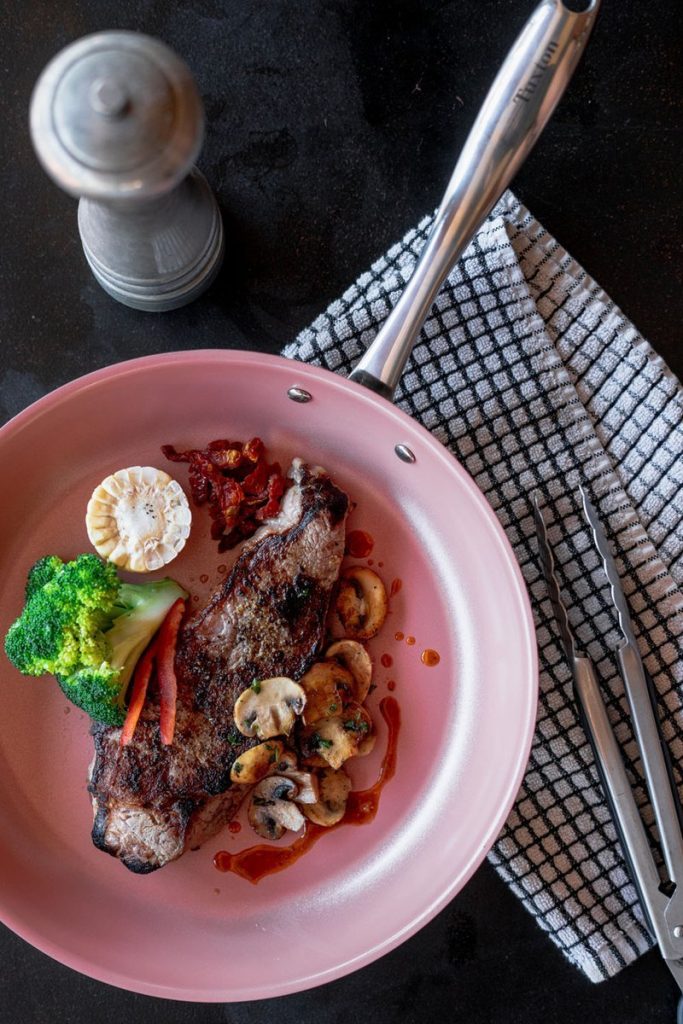 Beautiful form meets function with Tuxton Home's newest line of Concentrix durable, and gorgeous, ceramic cookware! Not only are these pans "bling" for your kitchen, they will also make cooking stress-free, and enjoyable, with quality meals at your fingertips! 
Concentrix 2-Piece Open Nonstick Frypan Set: A kitchen staple, the Concentrix 2-piece frypan set offers both quality and design. Designed with 6 color options, there is a perfect choice for any newlywed couple that likes to have fun when they cook. The set is designed for performance on the stove or in the oven; compatible with gas, electric or induction stoves. The duo is solid stainless steel body with cast steel riveted handles. The encapsulated base with a tuxCORE aluminum disc ensures even and quick heating. Organic ceramic-coated nonstick frypan is PTFE & PFOA free. Stainless steel vessels and nonstick ceramic coating are oven safe up to 500˚F. This set is dishwasher safe and easy to clean, complete with Lifetime Warranty.
Solid Stainless Steel body with vented glass lids and cast steel riveted handles. Encapsulated base with a tuxCORE aluminum disc ensures even and quick heating. Organic ceramic-coated nonstick frypan is PTFE & PFOA free. Stainless steel vessels and nonstick ceramic coating are oven safe up to 500˚F. Tempered glass lids are oven safe up to 350˚F.
Compatible with induction, electric, gas, halogen, and ceramic stoves
Premium fine-grain polished stainless steel surfaces are easy to cook with, easy to clean
Tempered glass lid with pressure-release air vents offer a safe, clear view of cooking contents
Flared rims allow for easy transfer of contents 
Stainless steel handles are securely riveted and positioned higher to prevent over-heating
TriPly encapsulated tuxCORE base ensures even heat distribution 
High performance professional stainless steel material resists rust and prevent corrosion
304 stainless steel is a non-reactive material, and does not alter the taste or color of food
Ceramic non-stick frypan coating is free of PTFE & PFOA chemicals
Measuring is made easy with volume lines etched in each pot
Stainless steel vessels and ceramic nonstick coating are oven safe to 500°F. Glass lids are oven safe up to 350°F
Easy to clean. Dishwasher safe: top rack recommended for lids. Lifetime Warranty
From your first apartment to your forever home, our industry-leading LIFETIME WARRANTY ensures you'll enjoy this item through years of dinner parties and home-cooked family meals.
All of our products undergo the same RIGOROUS QUALITY CONTROL process demanded by our professional clients. Trust the products the pros use and enjoy your items for decades to come.
We have passed all CA prop 65 and U.S. FDA requirements for lead and cadmium exposure to ENSURE YOUR FAMILY'S SAFETY. NSF Certification Pending.
Tuxton Home ceramic ware is made from a proprietary clay blend that is engineered for durability and a lifetime of usage. Our products undergo the same rigorous quality control process demanded for commercial grade dinnerware. Designed to survive in the restaurant sphere, our ceramics are found in the world's finest hotels & restaurants.
MICROWAVE, DISHWASHER, OVEN, FREEZER SAFE
Since the VITRIFIED china does not discolor, react with food, alter flavors or absorb any odors, our ZERO POROSITY surface means you can serve anything from coffee to curry & never worry about bacteria hiding in the clay pores.
Busy home chefs swear by our THERMAL SHOCK TESTED ceramic – which can go from freezer to oven to table & back again, without need for time-consuming resting periods.
Our products come with an industry-leading LIFETIME EDGE CHIP WARRANTY.. so rest assured! Our ceramics can survive rough handling, kids (or adults!) stacking the dishwasher, or routine trips from freezer to oven to dishwasher!
Ceramics Lifetime Chip Warranty

Use & Care:
Prior to using your new Tuxton product, wash each piece thoroughly with soapy water, followed by hot water rinse. Dry thoroughly.
Freezer To Oven Use
DO NOT place frozen dish in a preheated oven. Place the frozen dish in a cold oven and set the temperature, allowing the dish and oven to heat together. Make sure the center of your food is completely and uniformly hot before serving.