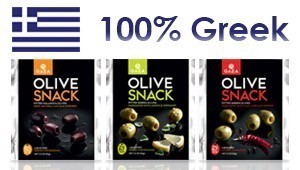 Kalamata Olive Snack Packs – Sea Salt & Vinegar – (10 ct. 1 oz. Packs)
$20
Delicious pitted Kalamata olives are packed in a convenient, single-serve, re-sealable packaging, allowing repeated safe openings and closings. Liquid-free and full of authentic Greek flavors, they're a healthy, low-calorie snack for any time of the day!
Certified Non-GMO, Gluten-Free, Vegan, Kosher, and MyClimate Project Neutral
Source of dietary fiber, copper, vitamin E, monounsaturated fat, and polyphenols
No preservatives or additives – Low salt content
These Halkidiki Green Olive Snack Packs are pitted and marinated with lemon and oregano. The olives are packed in an innovative re-sealable, liquid-free package which allows for repeated safe openings and closings.
Certified Non-GMO, Vegan, Kosher, and MyClimate Project Neutral
Great source of dietary fiber, copper, vitamin E, monounsaturated fats, and polyphenols
Low-calorie and heart healthy snack that's perfect for your on-the-go lifestyle