FIELDCREST40mm 3-hand quartz minimalist
COLOR & APPEARANCE
Maple is found all over the world, but the Hard Maple wood in our watches comes from Northeastern North America. Unlike our other woods that utilize the center heartwood of the tree, our Maple watches are made from the outer rings, known as the sapwood. The graining is typically straight with slight waves and has a fine, uniform texture. Maple is fairly easy to work with but care must be taken to not overheat the tools as maple is easily burned.
In a world where we have access to a timepiece in our pockets via cell phones 24/7.. it's nice when something comes along to change the game. Jord watches, and the quality they provide, are a collision of form and function that can't be denied. From dressy to casual, Jord watches are an effortless way to bring class and style to any outfit. The Hard Maple wood is durable, yet subtle, and works well on the wrist of either men or women, with every style and outfit beautifully! This has become my go-to timepiece… literally every. single. day!  🙂
FRANKIE
purpleheart & plum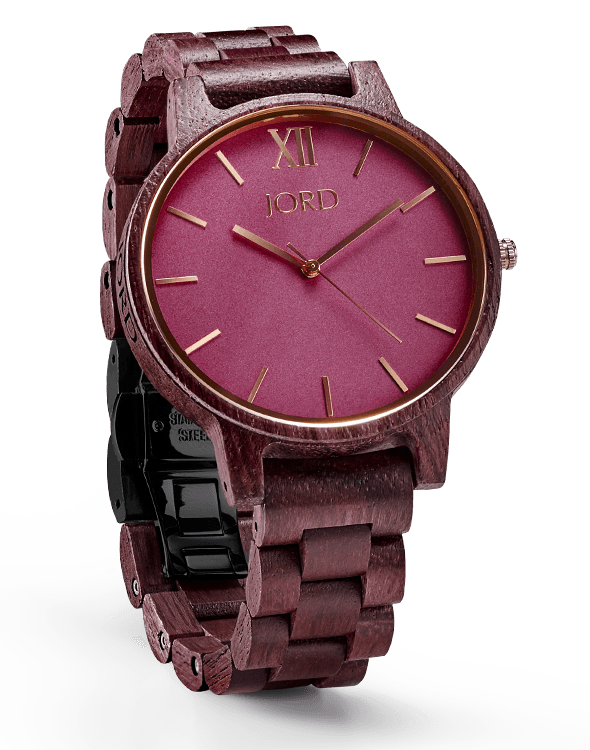 JOURNEY
JORD is run by artists, designers, marketers, and minders. We spend our days creating, considering, arguing, and hopefully agreeing. Then we'll scrap it all for the joy of starting new. We have fun. This is our journey.
EXPERIENCE
We are focused on creating timepieces that are modeled after a modern lifestyle. We value sustainability, efficiency, and experiential living. We make our watches for people who don't just have somewhere to be, they have somewhere to go.
TELLING MORE THAN TIME
The value of a watch is not in being able to tell how much time has passed, but in being aware of the need to make that time count. Moments are bigger than minutes and your watch should tell more than time.
Unique Wood Watches: A Gorgeous Conversational Piece
SOURCE
Northeastern North America
GRAIN/TEXTURE
Grain is generally straight, but may be wavy. Has a fine, even texture.
SUSTAINABILITY
This wood species is not listed in the CITES Appendices or on the IUCN Red List of Threatened Species.
Check out some of these amazing features:
– Most watch backplates can be engraved! All Cedar humidor presentation boxes are engravable, as well!
– The watches may be sized for the recipient
– Most watches have additional options for customization — mixing and matching faces and woods!
– Every watch comes with a one year warranty and options for return & exchange
– Free worldwide standard shipping!
ENTER TO WIN $100.00 of any watch!  >> ENTER

HERE!
Although this is a collaboration with JORD, all opinions are my own