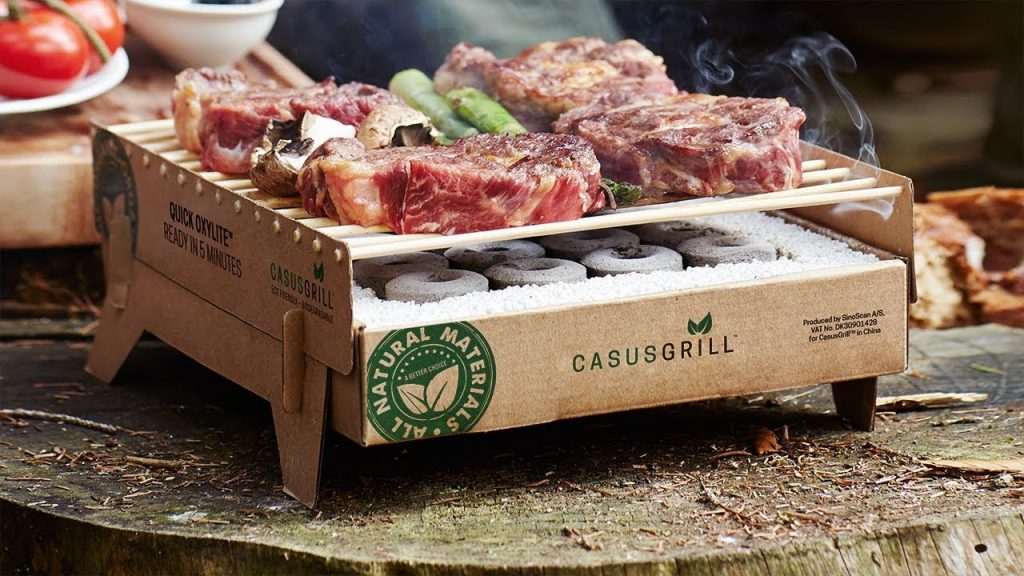 CasusGrill USA Exclusive Distributor
In a world filled with new & functional appliances, we are confident you will live and love the all-new, ingenious, instant, disposable, biodegradable CasusGrill!  We have employed 100% sustainable all natural elements like bamboo, lava stone and cardboard to construct a truly effective single-use grill that gives everyone the freedom to quickly and naturally grill their favorite foods into a delicious crispy BBQ finish anytime, anywhere in the great American outdoors.
CasusGrill OxyliteTM bamboo charcoal cakes are easy to light without the need for any lighter fluids and reach even grilling temperature in 5 minutes then stay hot for more than 60 minutes.  
Pure in form and simple to use, it will be your every occasion,sustainable, disposable grill.
PORTABLE
–

INSTANT

–

DISPOSABLE

–

 

BIODEGRADABLE + AMAZING FOOD
MAKE A BETTER CHOICE
• Ready To Grill in 5 Minutes
• Super Easy & Super Portable
• UP TO 50% Less CO2 Emissions
• No Flames & Minimal Smoke
• High & Even Grilling Heat
• All Natural Bamboo Grate
• 100% Natural Materials
• Lavastone Thermal Insulation
​
• Weight 2.2 LBS
• Biodegradable
• Eco-Friendly
• 12.2 X 9.2 X 2 Inches
• No Metals Or Chemicals
• No Lighter Fluid Needed
• 60+ Minutes @ 600 °F
• Grills Amazing Food