Product of the Year is the world's largest consumer-voted award for product innovation. Established over 30 years ago in France, POY currently operates in over 40 countries with the same purpose: Guide consumers to the best products in their market and reward manufacturers for quality and innovation.
I had the sheer luck to be able to try out the following list of winners! I was really hoping to choose a few favorites, and in all honesty, I just can't! They are ALL amazing, and it's obvious how they took the lead in this extremely competitive market.  I can genuinely recommend any and all of these products~ and CONGRATS to all of them!
2019 Product Of The Year Awards Show
On Thursday, February 7th, 2019, the Edison Ballroom was filled with a variety of surprises and celebrations for the 2019 Product of the Year Awards show. Starting with a strut down our red carpet and interviews conducted by NBC New York Live's, Sara Gore. A Cocktail hour sponsored by our research partner, Kantar, followed, which offered winning brands the chance to kick off the night with a celebratory toast and introductions to their fellow 2019 winners. A delicious dinner preceded a ceremony full of laughs, hosted by Ross Mathews and Ali Wentworth – and a surprise appearance from Kelleth Cuthbert (she became known as the Fiji Water Girl after her appearance at the Golden Globes) as our trophy presenter! An unprecedented 36 categories of product winners were announced, in addition to an Activation Award won by Just For Men, for best overall use of the POY seal from their 2018 win. A blast of confetti commenced our after party sponsored by Alcoholic Beverage category winner, Strongbow.
In the US, the Product of the Year seal is backed by the votes of over 40,000 consumers, serving as a shortcut for shoppers in the supermarket, saving them time and money. For manufacturers of the winning products, the award is a powerful marketing message proven to increase product trial, awareness, distribution and sales.
Product of the Year accepts entries every year from consumer packaged goods that demonstrate innovation and were launched within the previous year. Entered products are then placed into specific categories such as food, beverages, personal care, household care, etc. with a product then being chosen as a winner in its category through a nationally representative online study conducted by Kantar TNS.
Winning products are announced in February of each year and receive the right to use the POY seal in marketing communications for two years.
GLOBAL REACH
The Product of the Year seal proudly serves as the standard of consumer confidence in over 40 countries and growing. These are the countries where Product of the Year can be found today:
2019 PRODUCT OF THE YEAR WINNERS
AIR WICK ESSENTIAL MIST
Air Wick Essential Mist provides a new take on air care by utilizing Mist to fragrance your home. By transforming natural essential oils into Mist, we are bringing a more exciting way to experience fragrance. You can adjust the intensity levels to ensure just the right about of fragrance for any room. Discover Air Wick Essential Mist
RB
RETAIL PRICE: KIT: $14.99
RETAIL PRICE: REFILL: $5.59
GOLD EMBLEM ABOUND WHITE CHEDDAR FLAVORED BITE-SIZED QUINOA & RICE CAKES
At Gold Emblem abound®, we believe a healthy life should be a tasty life. We're all about our ancient grains, we added sprouted grain quinoa to brown rice to make our new bite-sized rice cakes. When we mixed in some zesty cheddar cheese flavor, they became a tasty sensation we just had to share. These crunchy little treats are whole grain, gluten free, and contain little cholesterol, making them one of our favorite savory snacks.
CVS Health
RETAIL PRICE: $2.79
Del Monte® Fruit & OatsTM is the first oatmeal with one full serving of orchard-ripened fruit*, ready to eat whenever, wherever! Our special blend of oats and chia seeds gives you 400mg of Omega- 3s and 20g of whole grains in every serving. It's delicious warmed up in the cup or straight from your cupboard, helping keep you satisfied until your next meal. *Each container has 1 serving (1/2 cup) fruit per USDA Nutrient Data.
Del Monte Foods Inc.
RETAIL PRICE: $2.69
JAVA HOUSE COLD BREW – DUAL-USE LIQUID COFFEE PODS
JAVA HOUSE® Authentic Cold Brew Liquid Pods are a revolutionary way to enjoy all the benefits of cold brew coffee served cold or HOT! We brew premium beans for over 12 hours in cold water to create an unbelievably smooth, less bitter, less acidic cup of coffee that has naturally 2X the caffeine. Simply run the pods through your single-serve brewer to enjoy hot. Peel, pour over ice, and add water to enjoy cold.
Heartland Food Products Group
RETAIL PRICE: $8.99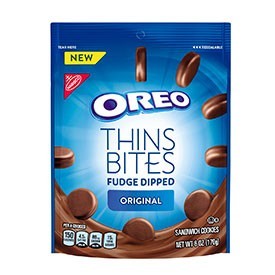 OREO THINS BITES cookies are thin and crispy bite-sized OREO THINS cookies made with OREO cookie's distinctive rich cocoa and signature crème that are covered in a smooth, thin coating of fudge. The delicious combination of a thin crispy cookie, signature OREO crème and a thin coating of fudge make OREO THINS BITES cookies the perfect bite-sized treat to munch on and enjoy. They are available in delicious varieties like fudge dipped Original and Mint.
Mondelez International
RETAIL PRICE: $3.30
Tic Tac Gum is built upon the strong equity and iconic features of the Tic Tac brand, offering everything you love about Tic Tac Mints, now in a GUM. The convenient, resealable, transparent plastic box allows for easy on-the-go consumption, for individual use or to share. The hard shell coating gives you a crunch from first bite and the little pieces make for easy and fun customizable consumption amount. Tic Tac Gum is available in 4 delicious flavors: Freshmint, Spearmint, Cool Watermelon and Cool Tropical
Ferrero USA
RETAIL PRICE: $3.69
HALLS Kids Pops are new products from America's No. 1 Cough Drop Brand that provide cough and sore throat relief or Vitamin C in a pop format for children. Varieties include HALLS Kids Cough & Sore Throat Pops (Cherry and Strawberry flavors) which provide effective temporary relief for coughs and sore throats, and HALLS Kids Vitamin C Pops (Orange flavor with other natural flavors) that have 100% Daily Value Vitamin C in each pop. HALLS Kids Pops – kid friendly flavors with real benefits!
Mondelez International
RETAIL PRICE: $4.99
PUREX CRYSTALS NEW & IMPROVED FORMULA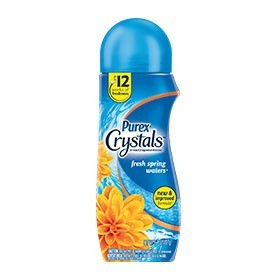 The Purex® CrystalsTM line has a new and improved easy-to-pour formula designed to refresh your laundry and renew your spirits. From the rejuvenating scent of Fresh Spring Waters® to the floral tones of Cherry Blossom & Ginger, Purex® CrystalsTM has an inspiring array of 8 different fragrances to brighten your everyday and deliver freshness that lasts up to 12 weeks. The Fresh Vibes variant also uses odor stop technology to help eliminate pesky food and body odors, so you can live your life to the freshest. Unleash your best self!
Henkel
RETAIL PRICE: $2.99
These soft and delicious gummy bears are so juicy, and so good. That's because they're made with real fruit juice and colors from real sources. Real Juice = Real Delicious. Not only that, but these bears have a brighter color and a Black Forest tree on their bellies making them the cutest, best tasting gummy bears with a clean label.
Ferrara Candy Company
RETAIL PRICE: $1.20