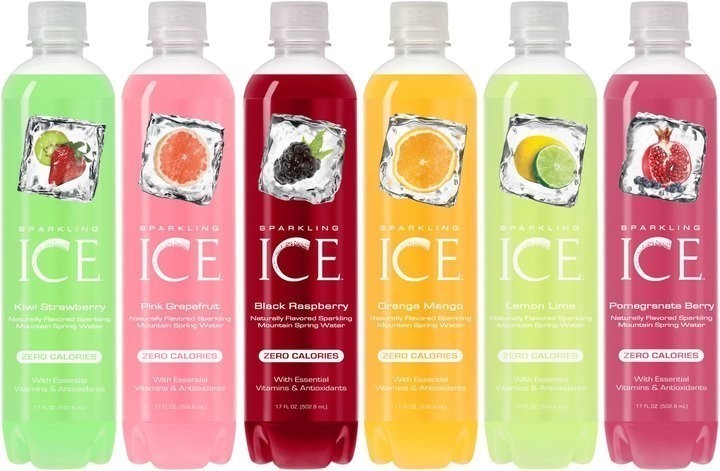 Sparkling Ice

®

is a

fruity

,

flavorful

sparkling water—without all the sugar. If you want to put a little

sparkle

in your sip, look no further.

Grape Raspberry
Juicy grape flavor mixed with the mouthwatering taste of raspberries. It's not just good, it's grape.
Black Cherry
Try your new favorite flavor today. It's sweet. It's juicy. It's Black Cherry.
Black Raspberry
This best-selling, succulent flavor makes for one sweet experience. We call it Black Raspberry, but you can call it delicious.
Pomegranate Blueberry
Enjoy a sweet twist of lush pomegranate and blueberry flavor. So delicious, it'll be love at first sip. Try Pomagranate Blueberry.
Cherry Limeade
Try Cherry Limeade – The sweetness of fresh cherries mixed with a hint of tangy lime create a flavor so out of this world, you can taste it from space.
Strawberry Watermelon
Luscious strawberry and sweet watermelon make quite the pair. In fact, we think they're getting married.
Strawberry Lemonade
Enjoy Strawberry Lemonade, the taste of juicy strawberries paired with sparkling lemonade. It begs the question: can there be too much of a good thing? We certainly don't think so.
Kiwi Strawberry
An irresistible blend of luscious strawberry and vibrant kiwi flavor. They go together so perfectly, we're surprised Mother Nature didn't come up with it first.
Pink Grapefruit
Try Pink Grapefruit and enjoy a subtly sweet and tangy flavor that tastes fresh off the tree. (Without, you know, having to climb a tree).
Peach Nectarine
Enjoy a Peach Nectarine today! We're not quite sure what the difference is between a peach and nectarine, but it doesn't really matter—we ended up taking the best of both and made sweet, juicy bliss.
Orange Mango
Do yourself a big flavor, and try the deliciously delightful taste of Orange Mango today.
Crisp Apple
Enjoy a Crisp Apple for flavor so refreshing, you'll want to dunk your head in water and go bobbing for this instead.
Coconut Pineapple
Transport yourself to the beach with tropical pineapple and tantalizing coconut flavor. (Mini umbrella not included).
Ginger Lime
Ginger Lime is a refreshing, full flavored sparkling water that kicks with spicy ginger and chills with lime.
Classic Lemonade
Try Classic Lemonade, the perfect summertime beverage. Actually, it's the perfect anytime beverage.
Lemon Lime
Lemon Lime, so divine! We brought a new, sparkling twist to this classic citrus combo. Try it today.