Tea Bags
The tea bag has been making teatime convenient since its invention in the early 1900s. Our bags are packaged in foil to retain freshness!
Our Mission
Our journey began in 1972 in a picturesque Victorian house in Portland, Oregon. Drawing inspiration from old tea folklore, we named our company after the small, valuable "stash" of tea that was often given to the captain of the ship tasked with transporting it around the world.
We continue to be inspired by a time when tea was nothing less than precious.
At
Stash Tea

, we carefully blend our all-natural teas to take you on wonderfully flavorful journeys. It's our mission to do what we love best—sharing happiness, one cup at a time.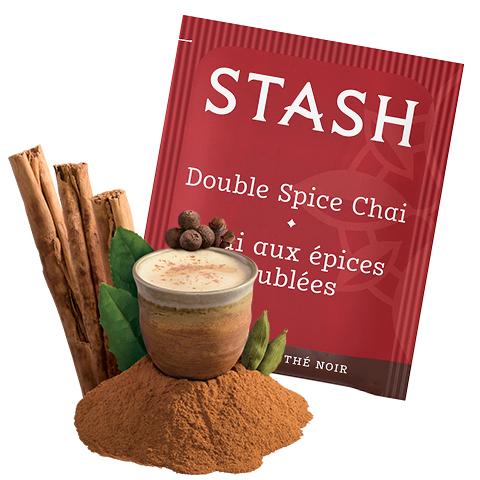 We sell to Grocery, Foodservice, Online Marketplaces, Natural, and Mass, as well as internationally in 40 countries.
Did you know that every element that steeps in your cup of Stash Tea, including the tea bag and string, is Non-GMO Project Verified?
We source only GMO-free ingredients and materials, ensuring a safe and healthy product for you and the environment.
Our concern goes beyond our main ingredients. While tea, herbs, and spices are not genetically modified plants, some of the other ingredients we use in our blends, like natural flavors, have sub-ingredients derived from potentially GMO sources. You can sip easy knowing that every component is free of GMOs.
Popular tea packaging is often composed of plastic that originates from GMO-corn. Our tea bags are free of plastics and made from sustainable, unbleached natural fiber and GMO-free cotton string.
Becoming a B Corp
It takes a whole community of people to make that perfect cup of tea. We partner with farmers and suppliers who also believe that "doing it right" means more than just creating great tea; it's sourcing the best ingredients with you and the planet in mind. We pride ourselves for being a Certified B Corporation and taking part in a movement that believes in the power of using business as a force for good. We became certified in 2017, making a public commitment to positively impact our employees, customers, community, and suppliers. Click here to read more about our B Corp certification.