Just in case you haven't heard of "Swineapples" until now, it's the delicious combo of Bacon AND Pineapple! Usually presented as one large, bacon wrapped pineapple, with a huge 'wow;-factor, and even bigger taste-factor.
Here, I simply cute-ified that amazing combo, by making them perfectly poppable for any party OR just.. you. 
Salty, sweet, succulent, and savory.. these bacony babies are the life of any gathering! Make LOTS!
What you'll need:
Pineapple Chunks .. I used canned.
Bacon
1/4 cup flour
1/2 cup brown sugar
1 dash of cayenne pepper.. to taste
oil for frying
CREAMY COCONUT DIP:
1/4 cup vanilla frosting
1-2 tbsp. coconut milk
1 tbsp. shredded coconut.. (sweetened OR unsweetened)
toothpicks!
Directions:
Place the pineapple chunks onto a paper towel to dry them. Secure 2 or 3 pineapple chunks onto a toothpick and wrap it with a half slice of bacon.. securing again with another toothpick…
Now dust them in the flour, set aside…
In a shallow bowl, mix the brown sugar and the cayenne pepper, set aside.
Fry them a few at a time in the hot (350 degree) oil, until the bacon is golden…
While they're hot, coat them in the brown sugar mixture…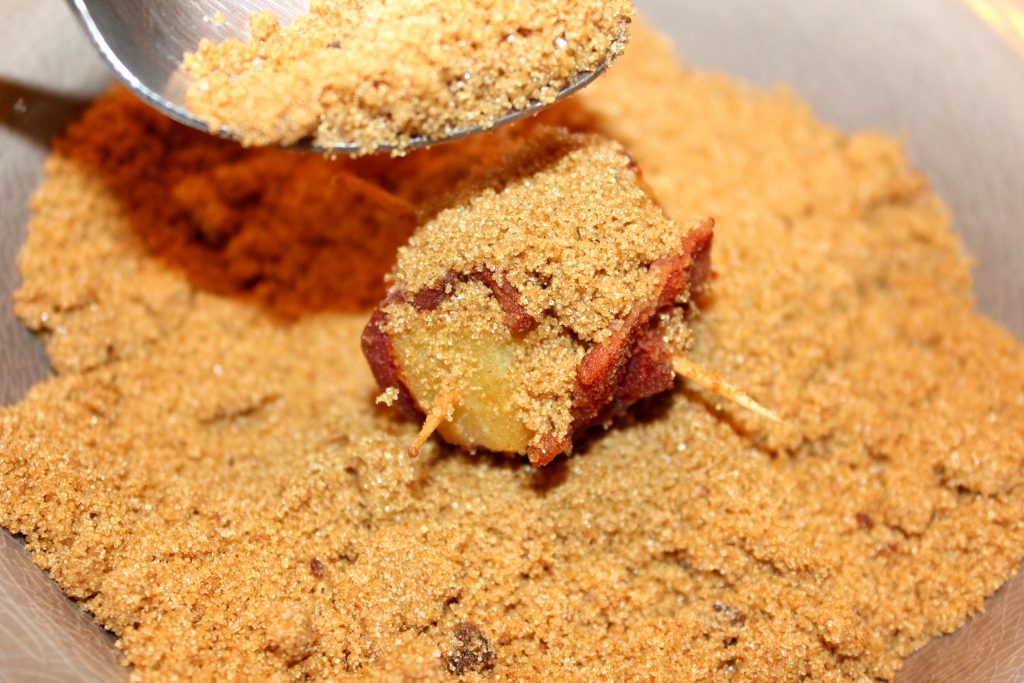 Serve them up, and make more.. you'll need them. ~Enjoy! 🙂