—
The Simply Delish brand has been a household favorite for desserts in the South African market for over 12 years.
COMING TO AMERICA
After many inquiries from customers in USA and Canada, Simply Delish explored opportunities to export their desserts into the USA by exhibiting at Natural Products Expo 2002.  The Simply Delish products were re-formulated as all natural, vegan, NON-GMO, Kosher and sugar free desserts exclusively for USA and Canadian markets.
NATIONAL DISTRIBUTION
The new Simply Delish All Natural products were a huge hit at Expo West with many of the health food buyers and distributors falling in love with their desserts.  Within three months, Simply Delish was sold nationally in every Whole Foods Market in the USA.
LAUNCHES IT'S PUDDING DESSERTS  

In 2003,  Simply Delish launched their non-dairy  Chocolate, Strawberry and Vanilla desserts.  These flavors could be combined with non-dairy beverages while maintaining the amazing taste and consistency.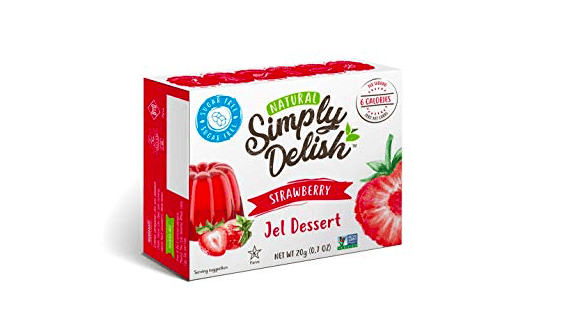 UNFLAVORED JEL DESSERTS
In 2004, after many customer requests, Simply Delish developed the unflavored sugar free Jel desserts for those customers who wanted to add their own fruit and flavors. 
ADDITION OF STEVIA
The Simply Delish development team has always looked to their customers for advice and in June 2016, Simply Delish upgraded their products with Stevia which has made an amazing difference to the taste and texture of all Simply Delish products. 
STRIVING FOR EXCELLENCE 
Simply Delish is manufactured to the highest standards and qualifies for FDA, Kosher & Halal certifications.  The company strives for excellence in customer service, trusting relationships with partners and empowering their staff members.
Simply Delish is now sold in USA and Canadian leading retailers, such as Whole Foods, Jewel supermarkets and over 1000 independent health food stores.
BENEFITS
No refrigeration required for setting
Gelatine Free (no animal derivatives)
Fat free
Suitable for vegetarians
No preservatives
Vitamin C enriched
Halaal
Kosher