Just when you thought you've tried every variety of chewy candy know to man, along comes along Numa to take deliciousness to a whole new level!
Each quality-packed chew, offers a smooth and creamy texture, with the most intense of flavors. It's the best of the best from all the candies you love.. yep, the NOUGAT! Let's not forget to mention, that Numa is also packed with all natural vitamins, and protein! 
Rooted in tradition, made for modernity.
The name "Numa" comes from the Chinese characters from daughter, "nu," and mother, "ma," as our product and company was inspired by my mother's handmade version of one of her favorite childhood treats, which I fell in love with.
From a young age, I suffered from a rare auto-immune disorder that doctors could not explain and medicine could not fix. One day my mother, Jane, said: 
"When I was younger, we didn't have fancy food, but we also didn't have strange disorders and diseases. Everyone ate their mother's cooking and got plenty of sun and sweat."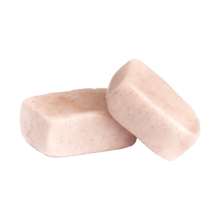 Inspired, I began to run self-experiments with my diet and exercise regimes – I quit sugar for a month, I exercised for 1-2 hours a day, I only ate vegetables and lean meats and would spend 1-2 hours a day cooking and miraculously, I saw improvement. But I realized this wasn't sustainable as I was also leading a busy life and loved sweets too much. It was then that my mother started hand-making these delectably milky and chewy sweet treats she grew up with and I realized not only how delicious they were, but also how nutritious and travel friendly.
Numa is inspired by tradition as we honor slower, timeless production methods and fresh, real ingredients, but our snacks are made with the modern human in mind. Toss them in your bag when you need to be the superhuman leading your busy, on-the-go, multi-faceted life or relax with one at home or in nature when you take that well-deserved breather.  
A few things make us unique: 

We can't live without sugar and we've come to accept that. Which is why we live by consuming the right natural sugars fit for our lifestyles. Enter maltose, an ancient natural sweetener distilled from fermented grains, perfect for our not-too-sweet cravings and chewy tendencies and known to some in Asia for having medicinal properties.

We couldn't find any sweet snacks in the grocery store that wasn't way too sweet or loaded with junk, let alone healthy. So we made one that is.
Numa's Milk Chews are inspired by an age-old Chinese recipe first made in times when artificial options did not exist. Today, many companies are creating the beloved snack with artificial flavorings, preservatives, and sugars. We spent months in the kitchen and consulted food scientists and chefs to ensure our Milk Chews avoid all of those. Thus we only use real, all-natural ingredients and absolutely no artificial ingredients, preservatives or production shortcuts.

Regardless of who you are and where you live, your concept of food stems from what your family, friends and community ate. As food is passed down between generations, we will see heirloom recipes constantly evolve and inspire spinoffs, just like with our chews. Numa Kitchen is a community for honoring beloved childhood foods through a more health-conscious lens.
Please give our milk chews a try and share the love if you like them. Don't hesitate to reach out to us anytime on the Contact Us page.
Happy Chewing,
Joyce and Jane (Nu and Ma)