DESCRIPTION
The Pearl Diver is a classic, silky cocktail with a storied past – and its very own glass style. Invented by the grandfather of Polynesian Pop, this infamous drink borrows from the 1930s novelty of the South Pacific, lending an exotic silhouette to the cocktail landscape with its ribbed stem and distinctive wide bowl. Viski's version retains the iconic shape, but updates and refines with a lead-free crystal construction.
Set of 2
Holds 12 oz.
Lead free crystal
Traditional 1930s design
Originated from Donn the Beachcomber Cafe
Our Company
True Brands is the leading designer and supplier of beverage lifestyle accessories worldwide. From our headquarters in Seattle, Washington we offer the very best on-trend products and branding at the best prices on the market. Our company is anchored by an innovative, future-driven product development team, cutting-edge in-house design and customization departments, sales representatives specialized in everything from national grocery chains to family-owned wineries, and the finest customer service team in the industry.
To top it all off, everything we do is backed by our 100% Satisfaction Guarantee. We hope you'll become one of our thousands of loyal customers, and we look forward to building a thriving, long-lasting relationship with you and your business.
Our Mission
At True Brands, we aim to offer the best product selection on the planet at the best prices on the market, backed by the best customer service in the industry. To do that, we've crafted a diverse family of brands, in which innovation, selection, exceptional quality and on-trend aesthetics intersect. As we continue to grow and evolve to cater to consumers' wide-ranging needs and tastes, we remain dedicated to the complete and utter satisfaction of our customers as well as to the happiness of our team. Oh yes, and we're also here to have a little fun along the way.
Pacific: Copper Bamboo Straws (VISKI)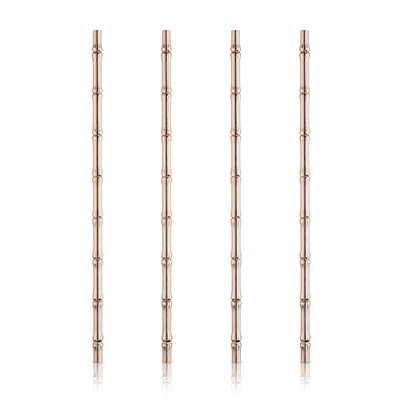 DESCRIPTION
At once familiar and totally new, Viski's tiki-inspired pieces draw on a melding of American and Polynesian cultures. These tactile, copper-plated straws feature a bamboo design that makes a subtly clever design statement.
Set of 4
304 stainless steel
Copper plated
Bamboo design
PKG: Hanging Card