We've had Chicken and Waffles, Chicken inside the Waffles, Waffles inside the Chicken and everything in between!  BUT, I wanted something sweet, savory and crispy too.  I found that basic Chicken and Waffles were very cake-like and 'bready', and I needed crunch…lol!  What better way to achieve maximum crunchumz than with Rice Krispies?!  I mean, they're basically flavorless so I knew they'd make the perfect clean slate crunch creation!
And WOW~  did they ever!  I think I'll give everything a Krispie Krunch from now on..haha!
These subtly sweet, tender and juicy chicken nuggets are so light, and so filled with flavor that the extra crunch is just icing on the Krispie Kake (okay, enough now with the K's, I'm starting to feel like a Kardashian..LOL!)  Each nugget is coated in honey-kissed waffle batter and rolled in Krispies…OMG~ yes, to. die. for!
The kids went BONKERS for these and the adults did too..shhh!  Make a giant batch, they stay crispy for a super LONNNG time, and make the perfectly unique little waffle-chicken-nugget mash-up!
What you'll need (feel free to modify this method for more or less)
1-2 lbs. chicken tenders
4-6 cups of Rice Krispies..give or take!
The Batter:
2 cups waffle mix
1 cup corn starch
1 tsp. baking powder
salt and pepper to taste
1 and 1/3 cup water with a squeeze of honey in it.
oil for frying..I used canola
waffle cone bowls for serving..optional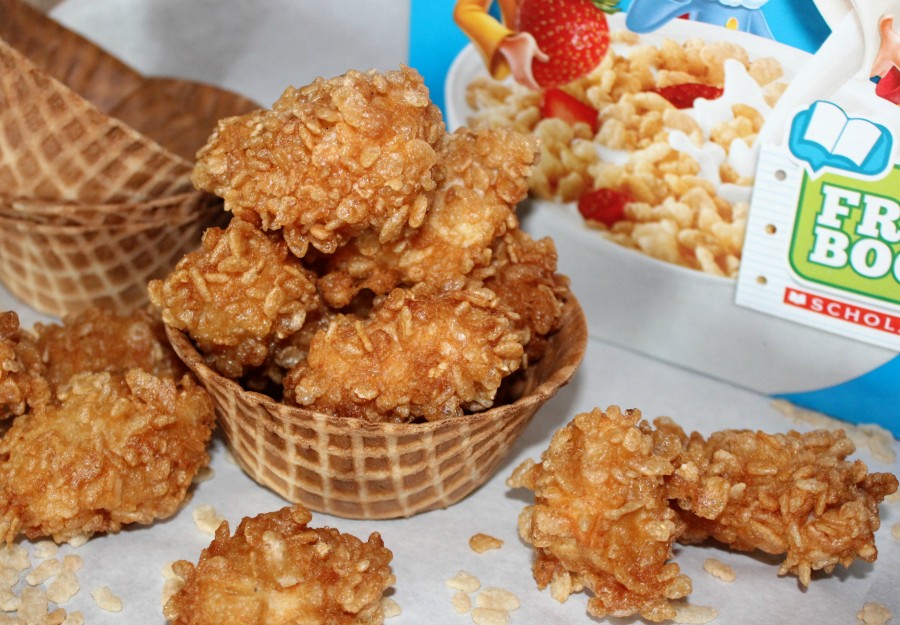 Directions:
Cut up the tenders into bite sized pieces…
In a large bow combine the waffle mix, corn starch, baking powder, s&p to taste.
Add the honey (just a squeeze or so) into the water…
Now add the water with the honey into the dry ingredients, and mix to combine…
You want a pancake-like batter to dip each nugget, making sure to coat evenly…
Then into the Rice Krispies, for a nice and even coating…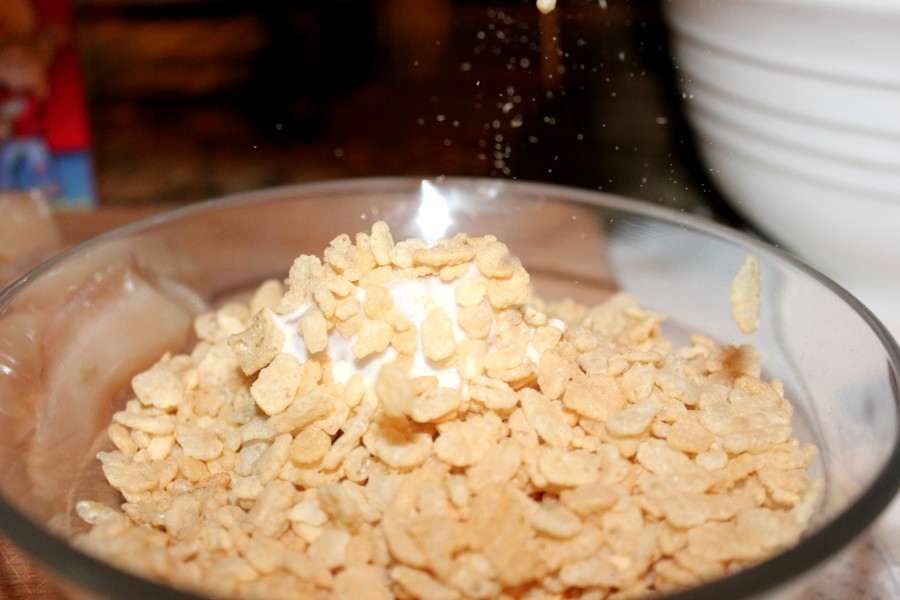 And into the hot (350 degree) oil they go, just a few at a time…
Let them cool on some paper towel …
And serve them in some adorable waffle cone bowls…
Then DIG IN!  ~Enjoy! 🙂