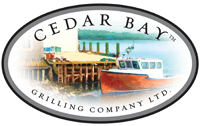 Bringing the best of Atlantic Canada to homes around the world!
Tucked away in the tiny South Shore hamlet of Blandford, Nova Scotia, overlooking the beautiful Atlantic Ocean, sits Cedar Bay Grilling Company™, a locally operated company producing a wide range of frozen salmon products, available in Retail and Food Service channels. Cedar Bay salmon products are easy to prepare, yet have a "gourmet" appeal to suit all lifestyles and tastes.
Cedar Bay Grilling has received many honors since opening its doors in 2009…
    Best Retail Product of the Year – Boston Seafood Show 2009

    Canadian Grand Prix award for Healthy Innovation and Originality, including the Heart and Stroke Foundation's Health Check – 2010

    First Place winner of the Small Business of the Year – 2012, Halifax Business Awards

    2-star "Superior Taste" rating – 2013, International Taste & Quality Institute

    Finalist selected out of hundreds of entries – 2014, Hotelympia Innovation Awards, UK

    Export Achievement Award – 2016, the Lunenburg Queens Business Excellence Awards

    Finalist selected out of hundreds of entries – 2018, Seafood Excellence Awards, Seafood Exhibition North America (SENA)
A healthy offering for your menu that is fast, convenient and has great plate appeal. We've placed a portion of top quality Atlantic Salmon with award-winning rubs and spices on a pre-soaked cedar plank. There is no prep work – just thaw, remove from packaging, and place on the grill or in the oven. The result is an eye-catching, upscale entrée in as little as 8 minutes. It looks great, delivers a unique cedar smoke aroma, and tastes delicious!
INGREDIENTS: ATLANTIC SALMON (FISH), BROWN SUGAR, WATER, CRACKED BLACK PEPPER, SEA SALT, DRIED BASIL, GRANULATED GARLIC, PAPRIKA, DRIED TARRAGON, DRIED LEMON RIND.
ALLERGEN ALERT: CONTAINS FISH. MAY CONTAIN TRACES OF MILK, EGG, WHEAT, SOY, SHRIMP, SCALLOPS, MUSTARD AND SULPHITES.
And now for the delicious Everything Bagel Ball with Cedar Bay Grilling's Cedar Plank Salmon!
Sometimes you just want a simple, impressive ball of cheese!!
.. and by "ball of cheese" I mean a succulent, sweet, cedar plank salmon-filled, creamy ball of cheese…rolled and coated in only the BEST seasoning known to man > uhhmm.. EVERYTHING BAGEL SEASONING!
That's right! Whip out this beautiful ball at your next get together, and you will be the shining star of the night! 
What you'll need: (double for a larger ball!)
1-8 oz block of cream cheese.. room temp.
2 cups of fully cooked salmon.,, such as Cedar Bay Grilling Company's – Cedar Planked Atlantic Salmon
1 tbsp. of either dried basil leaves or dill weed… onion powder., garlic powder (to taste)
1 cup of Everything But The Bagel Seasoning.. any brand
Crackers and/or bagel chips for serving
plastic wrap
Instructions:
Shred the cooked salmon (making sure not to include the skin)…
In a med/lg bowl, combine the salmon, cream cheese, spices…
Mix it well…
Plop it onto some plastic wrap, and form it into a ball…
Unwrap the ball, and coat it generously in the bagel seasoning…
Then wrap it up again, and into the fridge for at least 30 minutes, or until ready to serve.
Serve cold…
And DIG IN! ~Enjoy! 🙂