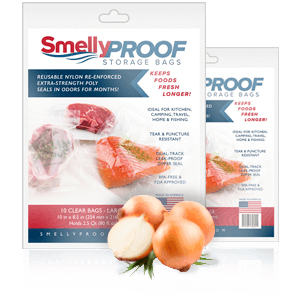 Keep your life smelling fresh and clean. Our unique odor proof bags are made with a special medical grade material approved by the FDA and USDA that keeps odors trapped inside sturdy locking zippers. Every bag you use is highly durable–puncture resistant and moisture repellant–making Smelly Proof Bags reusable and helping you save money.
Consumers can use our smell proof bags in many different applications – from storing food products that produce strong odors – onions, anyone? – to sealing dirty gym clothes away and keeping their odors at bay in a sealed odor proof bag for transport so that you can wash them. In that sort of situation, use of a Smelly Proof Bag may even help you to prolong the time between washes of your gym bag itself – because the less-than-pleasant smells of sweat and body odor have been trapped inside a durable, reusable Smelly Proof Bag, and they haven't come into contact with the inside surfaces of your tote bag.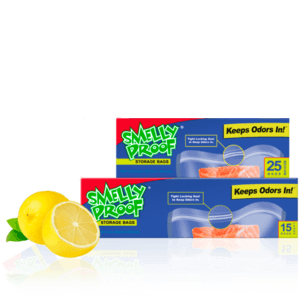 You can even use this bag for camping, holding worms and bait for a fishing trip (or the fish that you've caught on that trip) or to seal up the remnants of tobacco use. Our odor bags are suitable for use with food products, but you can use these bags in many different activities – probably almost anything you can think of.
Smelly Proof Bags come in a wide variety of sizes, so there's no problem that's too big or too small; whether it's a rotten egg, pet snacks or even a collection of stinky diapers, let our smell proof bags whisk these odors away. Available sizes range from 2" by 3", 6" by 4", 7.5" by 6.5", all the way to our oven bags , which measure 23" by 18". These bags are available in boxes of 10, 25, and for the extra small bags, even quantities of 100. The last thing we'd want is for you to reach for an odor proof bag and realize that you've run out!