Based in sunny Southern California, SMILE! SOXTM is independently owned and part of the Keepers International family.
Founded in 1954, Keepers is a pioneering wholesale distributor of premium-quality, high-fashion socks.
Sixty-five years ago, our team of Sock Enthusiasts began by serving independent apparel and shoe stores along with larger regional department and sporting goods stores located on the West Coast. Much has changed since then, but the demand for comfy, durable and attractive socks most definitely hasn't – precisely why we've provided millions upon millions of feet with the happiest wearing experience possible over these past six and a half decades.
Today the socks we design and produce are sold in your favorite brands of Dress, Casual, and Sport styles for Men, Women, and Kids, and are available at stores all around the world.
We're proud of our history and the products we sell. Our utmost goal has always been to provide consumer satisfaction through our attention to quality, comfort, fit, and fashion. And now we're bringing that same commitment to excellence to kids (and parents) with our latest venture:SMILE! SOXTM.
SMILE! SOXTM was born from a dream to have more fun, inspire happiness, and express joy every day of the week – through socks. After all,"Nothing You Wear Is More Important Than Your SMILE!"
So welcome to SMILE! SOXTM and let the smiles begin!
Put A SMILE! On Your Feet And Have Fun!
Each SMILE! SOX

TM

set contains 6 pairs with 6 different expressions.

Great for Party Favors or Birthday Gifts.

Special Quantity Discount: 15% OFF plus FREE Shipping when purchasing 5 sets or more.

FREE Shipping on orders of $25 or more.

Each SMILE! SOX

TM

 set has 6 pairs of hilarious fun expressions: Smiley! • Goofy! • Happy! • Grumpy! • Jolly! • Winky!

Party Favors, Birthday Gifts & Get Well Gifts

Ready to give kids Party Favors, Birthday Gifts and Get Well Gifts that they will absolutely love!
You can be sure that kids of all ages will leave with a SMILE!
Have fun – mix and match SOX by wearing two expressions at the same time!

Quantity Discount: Buy 5 sets or more for 15% OFF plus FREE Shipping! (each set contains 6-pair).
Meet The SMILE! SOX

TM

 Family
"Nothing You Wear Is More Important Than Your SMILE!"
We are sock ENTHUSIASTS! For more than 65 years we've dressed your feet with fashion, comfort and function but wanted to do something more – something FUN. That's where the idea of SMILE! SOXTM was born. Why not make socks that bring joy to people and inspire happiness? If putting on your socks in the morning brings a smile to your face, what better way to start the day. Make the world a happier place.
If you see someone without a SMILE!, give them one of yours!
SMILE! SOXTM lift your spirits, promote happiness and brighten everyone's day. In a world that isn't always rosy, we all need more reasons to SMILE!
Meet The SMILE! SOXTM Family
And just in time for HALLOWEEN:  Check out these adorable PUMPKIN SOX! Too cute!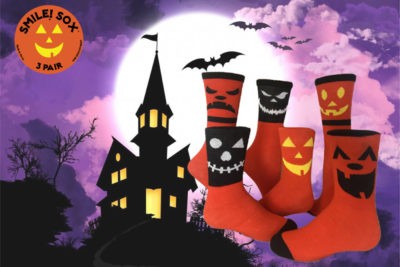 Wear a different SMILE! SOX

TM

 expression everyday and show the world how you're feeling.
Put a SMILE! on your feet and have some fun!