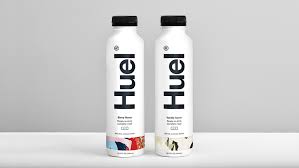 "Plant-based foods" are the hot topic for consumers around the world.  From burgers at major restaurant chains to "meatless Mondays" at home, consumers are seeking healthy alternatives that also respect the environment.
I wanted to let you know that Huel, which is plant-based, is now the fastest growing nutrition brand in the world.  Huel is a perfectly balanced and nutritionally complete meal that you can prepare in under one minute.  The company recently introduced its new chocolate Ready-to-drink (RTD), delivering a delicious, complete and affordable meal in a handy bottle.  It contains all 27 essential vitamins and minerals, making it the perfect meal whether on-the-go, at home, in school or at the office. 
The brand is huge all around the world and has sold over 50 million meals across 80 countries.  Huel sells a wide variety of Ready-to-drink meals and powders (including gluten-free options), making nutrition fast, easy and affordable. 
Key features of Huel include:
–    It's Easy: Huel is a perfectly balanced and nutritionally complete meal that you can prepare in under one minute
–    Nutritionally Complete: Huel Powder is a nutritionally complete food that is high in protein and fiber, low in sugar and salt, rich in phytonutrients and contains all 27 essential vitamins and minerals
–    Plant-based and Lactose/Soy/GMO-Free: It contains no lactose or any animal products, no soy and no GMO
–    Affordable: Huel starts at just $2.35 for a 400-calorie nutritionally complete meal and bulk and subscription discounts can be enjoyed by anyone for as low as $1.95 per meal
–    Huel is Food: Huel is far superior nutrition to most conventional diets. Huel can replace any meal or even as a between-meal snack. In this way it can be an add-on improvement to your diet to ensure you're giving your body what it needs.
–    Zero food waste: Because you only use the Huel that you need to consume, and because Huel powder has a 1-year shelf life, Huel produces zero food waste
–    High manufacturing standards: Huel's facilities and equipment are held to the highest safety standards and regulations
–    Vegan/environmentally friendly: Being vegan and producing zero food waste means Huel has much less of an environmental impact on the planet than many other food products
50+ million meals sold to 80+ countries
Huel's mission:
To make nutritionally complete, convenient, affordable food, with minimum impact on the environment and animals.
The story of a food revolution
Humans and their ancestors have, for most of our history anyway, not had a consistent source of food. From our ape-like cousins Homo habilis 2.5 million years ago, right through to the end of the Stone Age – when Homo sapiens roamed around, we've had to consume only what we could find while on the move. We were hunter-gatherers, hunting everything from woolly mammoths to wild boar, while also foraging for berries, seeds, and vegetables.
It wasn't until 10,000 years ago that we started changing how we sourced our food. Humans began what is commonly referred to as the "agricultural revolution." In other words, we evolved from being hunter-gatherers and eating only what we could find, to domesticating animals, building farms and growing crops ourselves. Neolithic humans discovered they could also mill their food down into a powder for easier transportation and to increase the time the food would last. With food now available from a reliable and constant source, the time spent finding food could be spent doing other things.
Primed with this information, humans have continued to farm, mill, and powder food ever since.
Our story
Now, roughly 10,000 years later, in the Western world especially, human society has changed dramatically and is no longer ruled by a nomadic culture. Our food habits are also unrecognizable from what we once had. Instead of eating only what we can find, we now eat what we want, when we want, with the only limiting factors being time and money. Obesity, fast food, and tasty but nutritionally-deficient diets are commonplace, with over 70% of adults in the U.S now classifying as overweight or obese.
In 2012, this is something that Julian Hearn set out to combat with Bodyhack, a company he founded with the goal of creating a program that would help people get the optimum nutrition to aid their physical performance. In pursuit of this goal, Hearn put himself on a diet plan that required him to stick to a strict meal and exercise regime. This involved a lot of preparation, forcing him to carefully plan and prepare each meal to make sure that his body was getting exactly what it needed.
While he saw great results from this program, he found that it wasn't possible without dedicating almost 100% of his day to it. When he spoke about it to his friends and relatives, they all came back saying one thing: "I don't have the time to do that." Julian knew there had to be an easier way, and set out to create one.
The idea for Huel was born. A perfectly balanced and nutritionally complete meal that you can prepare in under two minutes.
What we're all about
While there's no doubt that Huel saves you time, we are committed to so much more:
Being supported by experts– Huel was not just formulated by the renowned nutritionist James Collier BSc (Hons), UK Registered Nutritionist. After taking part in a blind comparison of Huel and two other products, Rachel Clare BSc (Hons), UK Registered Nutritionist, recognized how great Huel was and approved it as well.
Being affordable– Huel starts at just $2.35 for a 500-calorie nutritionally complete meal, but bulk and subscription discounts can be enjoyed by anyone for as low as $1.95 per meal.
Zero food waste– Because you only use the Huel that you need to consume, and because Huel powder has a 1-year shelf life, Huel produces zero food waste. Our packaging also produces very little waste too.
High manufacturing standards– All our facilities and equipment are held to the highest safety standards and regulations.
Being ethical– All Huel products are 100% vegan and sourced sustainably and ethically. We also donate a percentage of all our profits to our charity partner Vitamin Angels to help people in countries where children and mothers suffer from malnutrition.
Being environmentally friendly– Being vegan and producing zero food waste means we have much less of an environmental impact on the planet than many other food products.
It's not just about us, though
We're thrilled with what Huel has become and how it has helped people. But we're also delighted with the community that has grown around Huel.
From busy parents to firefighters, Tae-kwon-do champions to world-record holders, explorers and tired office workers, our customers are what truly make Huel great.
Our Forum has become a bustling hub of people dedicated to helping and teaching each other. Whenever we've asked for feedback, our customers have responded passionately, meaning we've been able to implement lots of your great ideas.
So to all the Hueligans, thank you for helping make Huel what it is.
Meet the team
Huel Production Team
Huel Fulfilment Team
Huel Advisory Panel
Huel also has a team of advisors who help with key nutrition, product development and legislative issues.
Claire Baseley MA MMedSci RNutr
Claire is a UK Registered Nutritionist with 15 years' experience in nutrition. Qualified at the Universities of Oxford and Sheffield, Claire is an experienced industry and media nutritionist, specialising in nutrition for sport, baby and toddler and overall health and wellbeing. Claire works with a range of brands, setting nutrition strategy, advising on product development, nutritional communications, corporate social responsibility campaigns and regulatory issues (such as nutrition and health claims). Claire has worked with Selfridges Food Hall to help create a range of healthy snacks, advising on product formulation, labelling compliance and nutrition communications. She has also worked with Atlantic Multipower, writing a comprehensive training programme for staff across Europe on sports nutrition and product marketing, as well as facilitating the product development process.
Claire is also an experienced media nutritionist, offering expert commentary on news items on BBC Breakfast and Sky News, as well as featuring on Channel 4's Food Unwrapped and ITV's Save Money, Good Food. She is active across all social media platforms, including Twitter, Instagram,YouTube and LinkedIn and blogs regularly on her website. She enjoys sport, particularly resistance training, swimming and cycling in her spare time.
Anne Betty RNutr
Anne fell in love with nutrition science whilst studying for her Biomedical Sciences degree and since graduating has worked as a food technologist and nutritionist for over 17 years across food manufacturing and retailing in addition to being an organic processing inspector and a food tutor. Anne is a UK Registered Nutritionist specialising in nutritional analysis of recipes and menus as well as legally compliant food and nutrition labelling.
Barbara Bray MSc, MIFST, RNutr
Barbara is a UK Registered Nutritionist who worked for 15 years in the food industry in various roles, including procurement of fresh produce and technical management. Barbara is now a consultant providing technical and nutritional labelling advice, development and training to clients who include Bakkavor, Speciality Produce, Chester University and Exova (for 'Pret a Manger').
Mark Gilbert BSc CISSN
Mark has been involved in sports nutrition, supplements and clinical nutrition for over 20 years. He has a BSc in Nutrition and has held multiple certifications in sports nutrition, exercise science and pharmaceuticals. Over his career, he has worked for and with dozens of the world's top sports supplement companies with regard to product formulation, regulatory affairs and marketing and has formulated and patented products which have sold in excess of $1 billion.
Mark is a co-founder of FitnessGenes Ltd, owner of MuscleDiet and is a columnist and Advisory Board member for Muscle & Fitness, Flex and Muscle Insider Magazines. He has also worked with several top athletes, authored books on sports supplements, exercise and nutrition, is Vice Chair of ESSNA – Europe's largest Sports Supplement Trade Organisation – and is a director of Citizens for Health Choice.
Sarah King BSc (Hons)
Sarah is founder of Food for thought NPD and is a freelance new product developer with 20 years of experience in product development across both retail and supply environments with a real passion for taste, food and a skill for coaching and developing the people, teams and processes that she works with.
Sarah graduated with a honours degree from the University of Surrey and quickly moved into retail where she developed a large range of food products at Marks & Spencer and has since headed up product development and project management teams at both Innocent Drinks and Ella's Kitchen baby food. Sarah now works with a range of small to medium size brands and is passionate about helping them develop their product development strategy, developing and perfecting kitchen recipes, balancing great taste with nutritional content, and mentoring and developing team members. Sarah is a Member of the Thrive Mentor Scheme at Reading University, a career mentoring scheme that helps Reading students to ready themselves for the field of work.
Sarah loves food and cooking and has a passion for the outdoors; hiking, cycling and skiing.
Tavis Piattoly MS, RD, LDN
Tavis graduated with a Masters of Science in Kinesiology and Bachelor of Science in Nutrition and Dietetics. He is a US Registered and Licensed Dietitian and a member of the Collegiate and Professional Sports Dietitians Association (CPSDA), Academy of Nutrition and Dietetics (AND) and Sports, Cardiovascular and Wellness Nutritionist (SCAN) groups and has worked as a Sports Dietitian for over 15 years.
He is the co-founder and Director of Sports Nutrition education for My Sports Dietitian, which helps athletes improve their eating habits to enhance performance. He is also the Education Program Manager for the Taylor Hooton Foundation where he speaks to high schools, colleges and at Major League ballparks on good nutrition. Tavis also works with a number of other sports organisations as well as providing nutrition programs for boxing champions and a long list of current Olympic, NFL, MLB and NBA athletes. Tavis has worked with supplement companies on product formulation and lectures at conferences and Universities. He also serves as the Sports Dietitian for the Louisiana High School Athletic Association's Sports Medicine Advisory Board and is on Science Advisory Board for Examine.com and Nordic Naturals.
Sharon Palmer, RDN – "The Plant-Powered Dietician"
Sharon Palmer has created an award-winning career based on combining her two great loves: nutrition and writing. Sharon is an accomplished writer, editor, blogger, author, speaker, and media expert. In particular, her expertise is in plant-based nutrition, cooking, and sustainability.
Sharon has authored over 950 articles in a variety of publications, including Better Homes and Gardens, Prevention, and LA Times. Her book The Plant-Powered Diet: The Lifelong Eating Plan for Achieving Optimal Health, Beginning Today (The Experiment, July 2012) was a critical success, which was followed by her second book Plant-Powered for Life: Eat Your Way to Lasting Health with 52 Simple Steps & 125 Delicious Recipes in July 2014. In addition, she has contributed to several book chapters on nutrition and sustainability.
Want to learn more?
Need any more information about Huel? Be sure to email us at [email protected] or visit our forum.