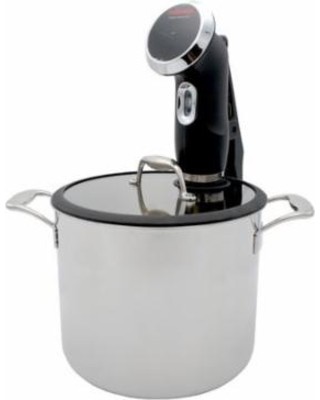 Chef Series Sous Vide Stockpot: The nearly 50 year old cooking method has made a comeback! With the Tuxton Chef Series Sous Vide Pot make food that tastes delicious without putting in the work. The Tuxton Sous Vide Stockpot features a specialty lid adapter hole that will fit most Sous Vide immersion cookers. This way you can set it and forget it without checking to see if the Sous Vide is still on! The innovative engineered Sous Vide Pot features a silicone and tempered glass lid that locks in moisture and heat, while allowing excess steam to vent. The vessel's tri-ply stainless steel construction ensures quick and even heating from base to rim, and insulates better than the standard pots in the average home kitchen. The result is a product designed to dramatically reduce water, heat and energy loss, all of which ensures your Sous Vide stays on as long as you need it to. And when not cooking with Sous Vide, the lid can be plugged and can be used as a stockpot.
Set it and forget it — for REAL! The Sous Vide Pot answers the biggest problem Sous Vide immersion cookers face today – how to keep the Sous Vide from turning off every 4 hours due to water evaporation. Forget running to your kitchen to check your Sous Vide is still on. Come home to a ready meal every time!
Fits all sous vide immersion cookers with a maximum of 2. 4″ Diameter such as the Enova precision cooker (both Bluetooth and Wi-Fi)

Silicone-rimmed tempered glass lid with removable stainless steel stopper and silicone-rimmed sous vide adapter helps limit water evaporation

Welded handles are smoothly and solidly attached to each vessel. This allows for seamless water circulation and s the highest possible water flow in the sous vide pot to ensure even cooks every time. Easy-to-clean and crevice-free, they are to last a lifetime

9. 8-Quart Tri-Ply stainless steel stockpot includes Measurement lines for easy measuring. Premium fine-grain polished stainless steel surfaces are easy to cook with, easy to clean.

Tuxton Home sous vide pot protected by U. S. Patent application no. D 29/639093. Additional patents may be pending in the U. S. And elsewhere.

Compatible with induction, electric, gas, halogen, and ceramic stoves

High performance professional Stainless Steel material resists rust and prevents corrosion; fine-grain polished surfaces are easy to cook with, easy to clean
Vessels are oven safe to 500°f. Lids are oven safe to 350˚f

Dishwasher safe: top rack recommended for lids

Lifetime

Tuxton Home's line of fine polished stainless steel cookware is compatible with all stovetops, ovens and dishwashers. Tuxton Home offers an array of durable and timeless products all offered with Lifetime guarantees. A Tuxton Home purchase will be sure to be a worthwhile kitchen investment.
OUR MISSION
To bring happiness into homes by creating memories through a community of shared cooking and dining experiences filled with ease and convenience.
OUR PROMISE
To craft durable & functional products in a responsible, sustainable way that are long lasting and can be passed down through generations.