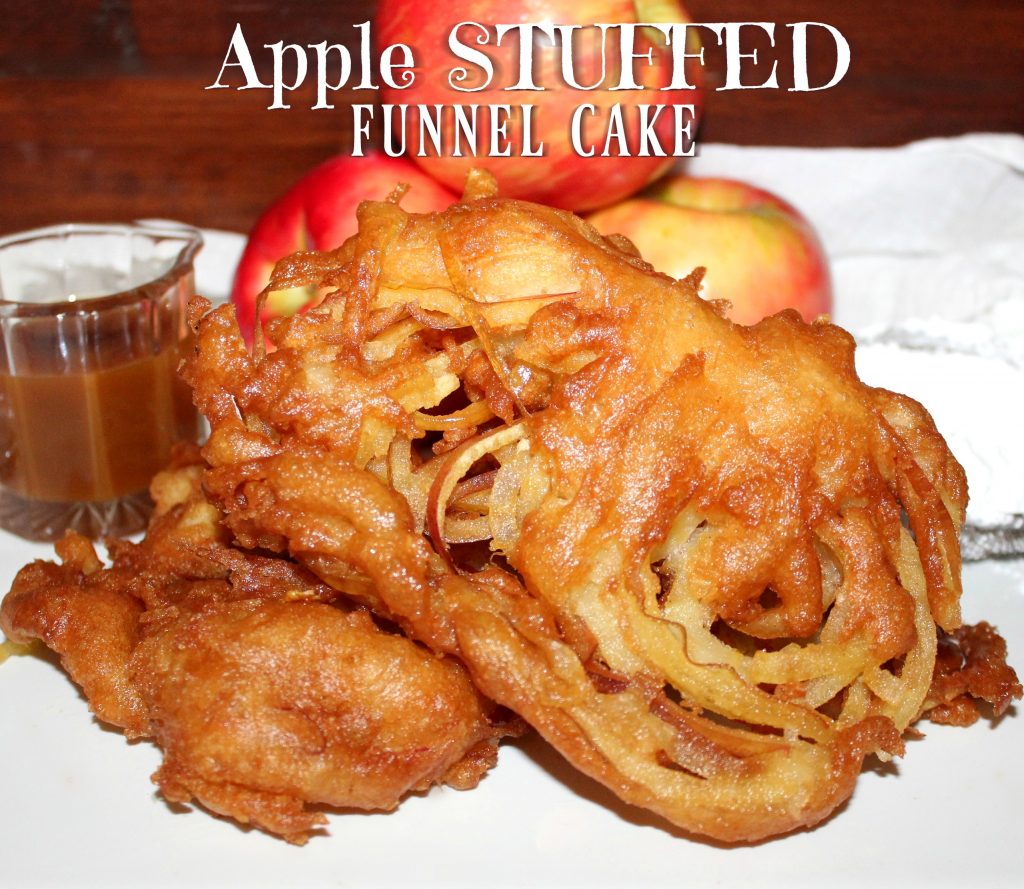 Imagine if you will, a culinary collision of the state fair and fall.  I'm talking about something fried like funnel cake, and something fall.. like apples..lol.
I've magically morphed our favorite fall fruit with our favorite fried fair fare and here we are.  .. Apple Stuffed Funnel Cake is not only easier to make than traditional funnel cake, it's also SO much tastier. Each bite of that crispy funnel cake is only made better by a tender, sweet, apple surprise inside… topped with some powdered sugar, and a drizzle of caramel.. and you will be the MVP VIP of Fall dessert faves!
No only is this super impressive, it's also incredibly easy.  Whip up a batch for that holiday party or dessert table, and have the recipe on hand.. trust me.  🙂
What you'll need:
2 cups complete pancake mix
3 med/lg apples
2 tbsp. sugar
approx. 1 cup water (to proper consistency)
2 tsp. vanilla extract
powdered sugar and caramel for garnish..optional
A spiralizer is necessary for this recipe.. they're a great, super versatile kitchen investment and very affordable (NOT SPONSORED.. just love it)  .. you can find them here >  SPIRALIZER! 
oil for frying
plastic wrap
Directions:
Spiralize those apples…
now place a pile of the apples into a flat circle approx. 3-5″ in diameter (funnel cake size..lol) …
Wrap each apple circle individually in plastic wrap…
stack 'em up and freeze those babies for at least 2 hours to whenever you're ready to make them…
Now whip up the batter by mixing the pancake mix with the water, and the vanilla until it's a cake-batter consistency…
When the apple circles are super solid…
Take only one out of the freezer at a time and gently coat it in the batter.. (THEY NEED TO STAY FROZEN UNTIL FRIED.. and they thaw SUPER FAST)
Fry them up just until evenly golden…
Drain them on a glass surface.. as they will stick to paper products~!  learned that the hard way..haha!
Let them cool…
Then top them with a nice dusting of traditional funnel cake flavor… powdered sugar…
And a drizzle of caramel.. if you're so moved to do so…
And then DIG IN!  ~Enjoy!  🙂