What's better than a nice, tasty cocktail? Only a nice tasty cocktail that's also a cake!
What you'll need:
1- 16.5 oz. box of pound cake mix
1 1/2 -2 tsp. Gin (or water)
3/4 cup tonic (or water)
fresh limes for garnish
whipped cream for garnish
Glaze:
1 cup powdered sugar mixed with a splash of YES COCKTAIL'S Tonic Syrup~ mix until thick.
Instructions:
Simply replace the water in the recipe with the Gin and Tonic.. bake according to the box instructions, let it cool, and drizzle the glaze over the top! …Serve with fresh lime and whipped cream! ~Enjoy!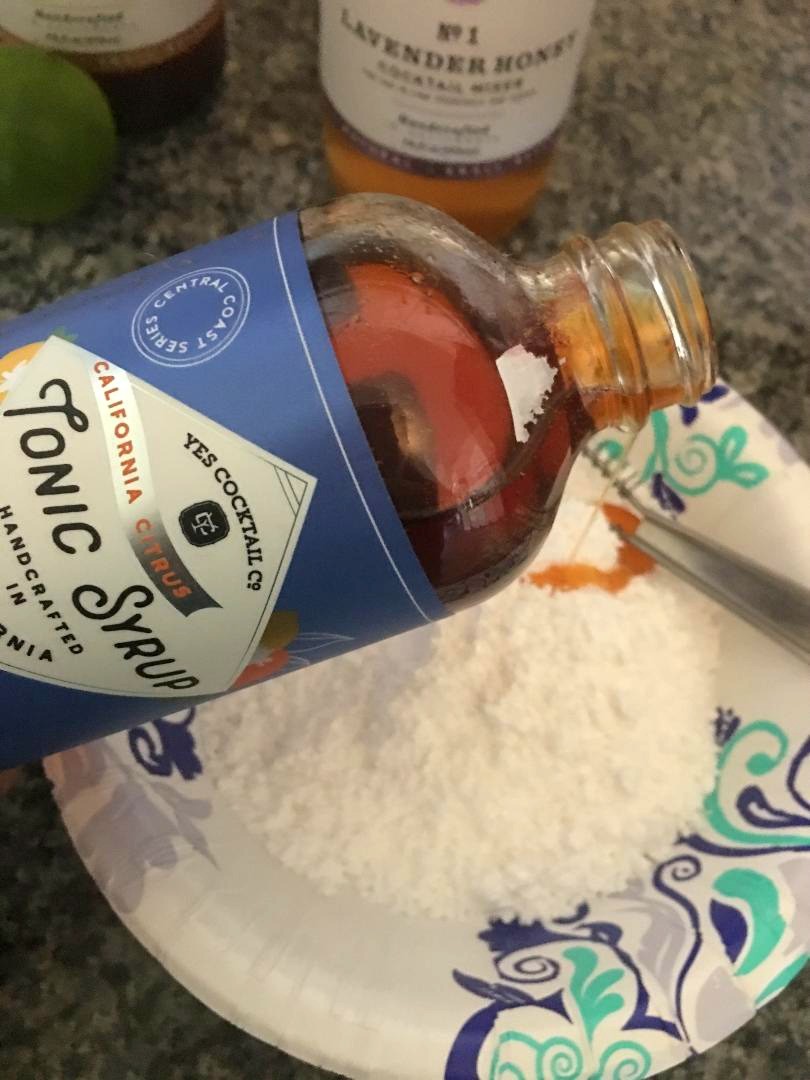 Thanks to YES Cocktail Co. I'm able to create delectable delights, such as this! 
Come visit us at our brand new tasting room and mixology emporium in beautiful Paso Robles! Join us for a tasting, a curated mixology class/experience, or just to grab a few of your favorite Yes Cocktail Co. products. We are open Monday-Friday from 10:00am-3:00pm. On weekends we are open by appointment only. To schedule an appointment, or to enquire about/schedule one of our mixology classes/experiences, just send an email to [email protected]. Cheers!
Our Story
Yes Cocktail Company was founded by avid travelers and lovers of cocktails, Lauren Butler and Brandon Alpert. The husband & wife team's entry into the mixology scene came from a unlikely source — an international children's theatre tour that took them all over the U.S. and abroad. They spent three years traveling the world, working with youth as theatre educators, actors and directors. When they weren't performing, staging musicals, teaching improv, or leading workshops, they made it a personal mission to enjoy the world's best bars and cocktails. The pair was always thirsty for a bit of the local flavor, from Bourbon in Kentucky to Aquavit in Denmark, they sampled anything and everything they could find. When they returned from their epic journey, they were disappointed to find that it was harder than expected to make these craft libations in the comfort of their home. The quality of the bar products just hadn't caught up with the craft distilled spirits. Most mixers and bars syrups they purchased were full of artificial ingredients, preservatives, and even high fructose corn syrup. The drinks they made at home simply paled in comparison to the incredible cocktails that had inspired these budding mixologists. So, they began crafting their own concoctions, with flavors inspired by their travels and produce from the abundant harvest of their new home, Paso Robles, California. From the very first batch, Yes Cocktail Co. has been focused on locally sourced, entirely natural ingredients, simply because the best cocktails require the best ingredients. And of course, the name Yes Cocktail Co. is all about saying, 'yes'– it's throwback to their theatre background (saying 'yes' is the first rule of improv) and also their life philosophy. Lauren and Brandon believe by saying yes to new ideas, flavors, experiences, travel, or even something simple as a cocktail, you can live a more joyful, adventurous life! Cheers!