It's FALL Y'ALL!

Mochi Ice Cream
It's what's inside that counts, right? Or what's on the outside? Only one way to find out. Grab a My/Mo. Feel the curious coolness in your hand. Stretch it. Squeeze it. Take a nibble. Take a bite. Sink your tongue in and savor the flavor. Lick the powder off your lips. Wrap up that one last creamy, mochilicious mouthful. Verdict? Sweet mochi exterior, or velvety ice cream interior? You may just need another to decide.
Pumpkin
Spice
Mochi Ice Cream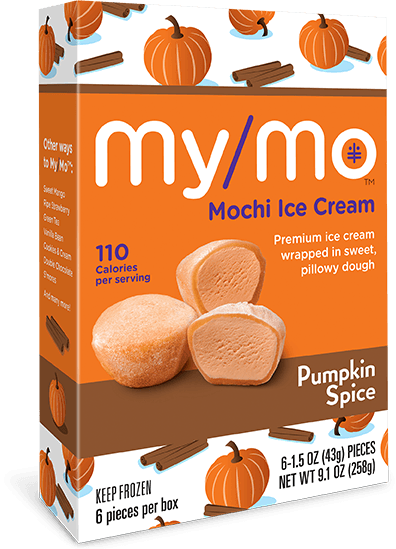 Your favorite girl band just got their newest member: Pumpkin Spice. A not-so-basic combo of real pumpkin, graham cracker crumbs and a sprinkling of holiday spices like nutmeg, cloves and cinnamon. They're like pillowy balls of creamy hallelujah!
Apple Pie
à la Mode
Mochi Ice Cream
Ooh la Apple Pie à la Mode! My/Mo Mochi Ice Cream adds a new kind of yum to your holiday snack. A droolworthy combination of cinnamon spicy apple filling inside creamy vanilla ice cream, surrounded by ooey, gooey pillowy mochi dough. Your holiday just got a whole new tradition.