Well..I had a couple of mini Pumpkins leftover, just staring at me…so I had to put them to good use!  I've never actually roasted my own Pumpkins before, and WOW, I was really missing out!  They're so easy, quick and delicious that I'm totally making this soup a new tradition every year!  I think I strayed a little bit from the typical Pumpkin soup recipes out there, but I really wanted to customize it to my taste and enjoy it!
~Luckily, it was amazing, because it made a TON!  So great because it's such a tasty and healthy un-indulgence after all the Halloween candy!!
Feel free to modify this method to your taste, but here's what I did for a giant pot of comforting, slightly spicy, sweet & creamy Pumpkin Soup.
What you'll need: 
A Blender or Food Processor.
Tuxton Home THBCZ2-SS9-B Chef Series Sous Vide Pot, 9.8 qt, Silver
9.5 QT Tri-Ply stainless steel stockpot includes measurement lines for easy measuring

Silicone-rimmed tempered glass lid with removable stainless steel stopper and 2.4" silicone Sous Vide adapter helps limit water evaporation

Premium fine-grain polished stainless steel surfaces are easy to cook with, easy to clean

Welded fixtures are smoothly and solidly attached to each vessel. Easy-to-clean and crevice-free, they are guaranteed to last a lifetime

Compatible with induction, electric, gas, halogen, and ceramic stoves and with most sous vide immersion cooker brands including: Chefman, Strata Home, Anova, Joule, Chefman, Strata Home, InstantPot, and more! Sous vide cooker unit not included.

Tuxton Home Sous Vide Pot Protected by U.S. Patent Application No. D 29/639093. Additional patents may be pending in the U.S. and elsewhere.

Note: The pot holds up to 9.8 qt (313.6 oz) if you fill up to the brim of the pot. 9.5 qt (304 oz) is more accurate for actual cooking since you need to allow more room for boiling and stirring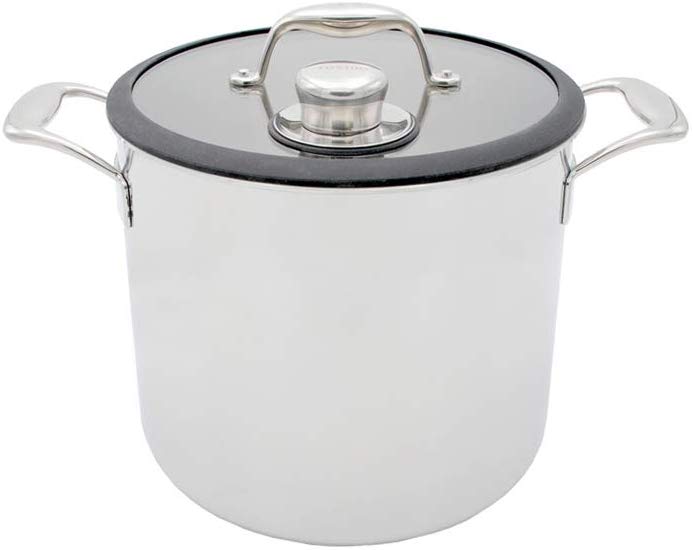 Two Medium Pumpkins~  
I say medium because these aren't those itty-bitty table-top Pumpkins..they're like Football size~~haha!  I didn't weigh them, but I should have.  Anyway, you'll want 5 cups or so of Roasted Pumpkin.
I also added 2 medium Apples as well for amazing added sweetness.  (optional)
1 quart Vegetable Or Chicken Stock
1/2 cup Heavy Cream
1/3 cup Maple Syrup
Dash of Ground Ginger
 Dash Of Pumpkin Pie Spice
Dash of Cayenne Pepper…A SMALL dash!
Pepper To Taste
 Salt To Taste
 Extra Cream, or Sour Cream For Serving
Directions:
On a sheet pan, roast the Pumpkins (Whole) with the Apples at 375 degrees for approx. 45 minutes.  It didn't take as long as I thought…
They're done when they're dark, and knife tender, the stems will just come right out.  Let them cool so you can handle them, and slice them down the center to open them..this is the best way to expose all of the seeds to scrape them out…
Isn't a roasted Pumpkin SO pretty~~  Who knew..lol!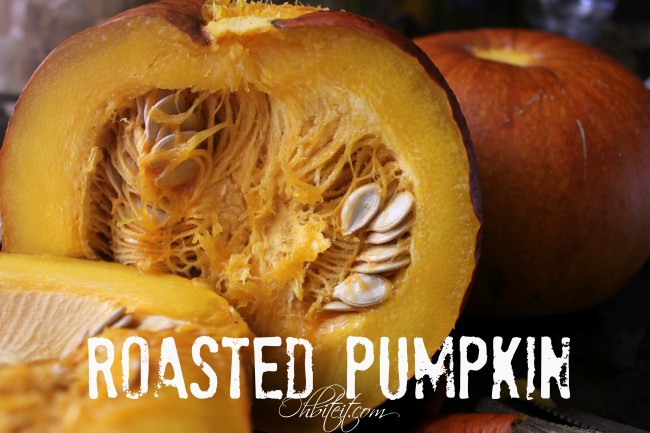 Now scrape out all of the seeds and 'guts'…  SAVE THOSE SEEDS~  I have an amazing Seed recipe coming up!
Remove the skin from the Pumpkins and Apples and add them into the Sous Vide Pot with all of the  Stock and Syrup until simmering.
Smash the big chunks…
Transfer the mixture to a blender or processor and puree until super smooth…
Back into the Pot, add in the spices, your faves…
Top it with an extra drizzle of Maple Syrup, or Sour Cream and dig in!  ~Enjoy!  🙂