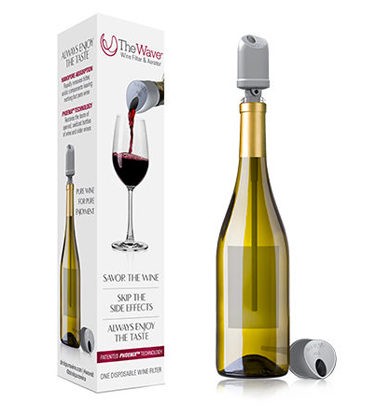 It's not just the kiddos who experience those back to school blues. Parents dread those exhausting evenings helping out their kiddos with homework, after school projects, signing teacher notes and making lunches. If you're like us, you're already reminiscing about those glorious summer nights where you could kick back, relax and drink your favorite wine. What's stopping you on a school night? Nobody wants to experience that dreaded headache the next morning battling to get the kids up and ready for the bus. So what's a mom to do?
Imagine no more headaches or other side effects that come after enjoying a glass of wine. Thanks toPureWine, you no longer have to suffer as it offers two unique filtration systems that eliminate the histamines and sulfites that cause wine allergies without altering the flavor of your delicious reds and whites.
PureWine offers a filter/aerator system, The WaveTM, for entire wine bottles and an individual filter, The WandTM, to stir into a single glass of wine. Take in the unique pleasures and health benefits wine has to offer and eliminate these common side effects:
  – Headaches
  – Congestion
  – Skin flush
  – Upset stomach
  – Hangovers
We can't take the headache out of back to school, but PureWine can help you enjoy your nightly wine once your day is through with no early morning consequences. Make The WaveTM and The WandTM your newest go-to wine accessories and be sure to gift them along with that obligatory dinner party bottle. 
With the holidays fast approaching, don't forget PureWine to avoid those post-celebration hangovers. Don't just give the gift of wine. With PureWine, you're giving friends and family the gift of health and happiness.