OUR MISSION
We understand the needs of curly hair and the difficulties managing it on a daily basis.
Curly hair is drier and more fragile than other hair types. It requires nourishing and penetrating ingredients to help hydrate and strengthen the cuticle from the inside out.
Our products are packed with high performance actives that restore moisture and life to dry lacklustre hair.
Our simple 3 step system cleanse, condition, define will give you beautiful, shiny and nourished curls. As nature intended.
OUR TRUTH
We care passionately about curly hair and the planet we inhabit.
We believe in sustainability and farmers being paid fairly- we use fair trade ingredients wherever possible.
We endeavour to protect and safe guard our environment. All our packaging can be recycled and product ingredients are biodegradable, making Bouclème safe for the environment as well as safe for your body.
We believe in the power of nature and are committed to seeking out naturally derived ingredients proven to deliver great results.
Bouclème products do not contain chemical nasties. Our 0% policy lists ingredients you will never find in our products. 
Our eco certified preservative is used in the minimum amount possible. It protects our carefully selected ingredients from developing harmful mould and bacteria, prolonging product shelf life.
We test our products on real curls, never on animals. We work with a panel of testers with different curl issues.
BEHIND THE BRAND
I created Bouclèmeout of a desire to have healthy, fr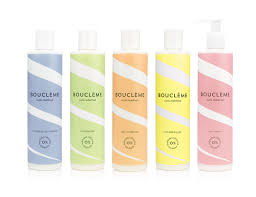 izz free curls using all natural ingredients. I was frustrated with the sulphate and silicone based curl products available. They stripped away moisture and weighed down my curls.
I wanted to create a range of products using pure natural actives that deliver moisture where it's needed and that with long-term use would improve the condition of curls
Bouclème natural curl care was born out of an authentic love and respect for curls, created by one curly for others.
MY CURL JOURNEY
I began to appreciate the beauty of curls in my 30's. Before that I battled against them, trying to make them what they were not (straight) and damaging them in the process.
When my 2 beautiful curly girls entered the world it was important for me to help them love their curls. I needed to be a curly role model for them to see the beauty in having a head full of curls. I was determined that they wouldn't wake up every day feeling cursed, as I did for far too long.
I hope we can empower you to embrace and love your curls too.
MADE IN THE UK
We are proud to be British.
The Boucleme range was conceived, created, and is manufactured in the UK.
We work very closely with a leading chemist and specialist perfumer based in the South West of England to create our nutrient rich formulations.
We use British suppliers wherever possible.