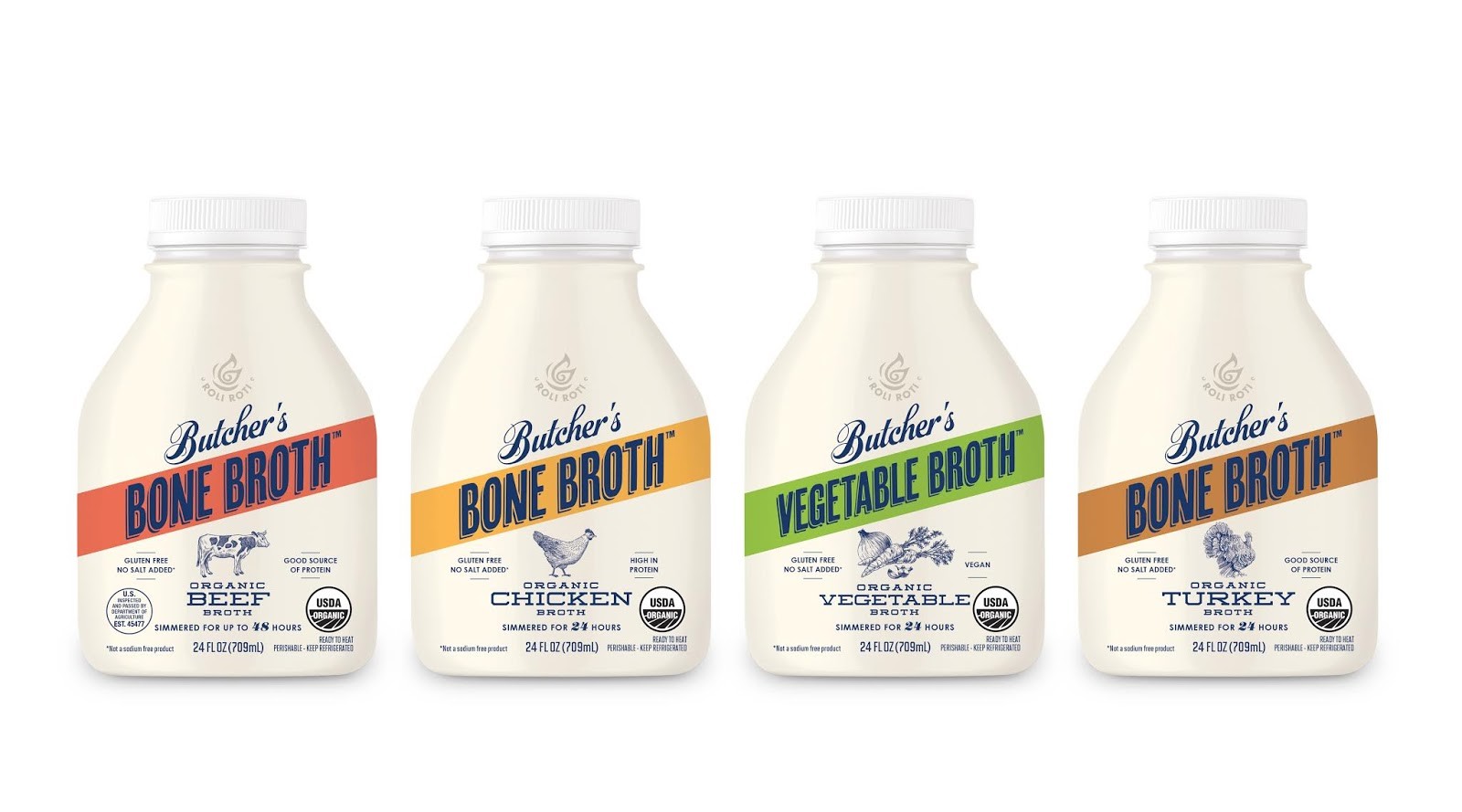 Paleo, Keto, and Whole30 compliant
No alliums
No salt added Never frozen, always fresh
Butcher's Organic Turkey Bone Broth is a seasonal offering from the Butcher's team. Sourcing from the best available turkeys, Butcher's Organic Turkey Bone Broth is a nutritious cooking ingredient that can be used for a variety of dishes, especially during the holidays, including gravy and stuffing.
Click here to be a part of our email list to be notified of when our Butcher's Organic Turkey Bone Broth is available for purchase.
*Continental US Only
Butcher's by Roli Roti is the retail brand of Roli Roti, a company that originally began as a food truck. Founded in 2002 by Thomas Odermatt, Roli Roti grew its single gourmet rotisserie food truck ("Roli Roti" stands for "Rolling Rotisserie") to a fleet of six and created the Butcher's by Roli Roti line of products in 2015, debuting with its organic bone broth.
The philosophy of Butcher's is simplicity. Our goal is to make convenient products that empower home cooks to make more delicious and nutritious food at home without any extra time or effort. You have better things to worry about.
About Thomas Odermatt
Thomas is a third-generation butcher hailing from Switzerland. Growing up in his family's award-winning butcher shop, Thomas literally has butchery in his veins. After moving to the Bay Area for university, Thomas opened Roli Roti, America's first rotisserie food truck.
Thomas' expertise goes far beyond just his food truck and his butchery mastery; if you ask him, he'll always say he's a farmer first. In fact, even as a butcher, Thomas believes in eating less meat and rather encourages just eating better quality meat and eating with the seasons. Caring deeply about agriculture and how we source our food, Thomas has established himself as a culinary fixture with long-standing relationships with some of the best chefs and farmers in the Bay Area because of his love and understanding of our food ecosystem.
Along with a small team, Thomas operates his own USDA facility in Oakland, California. He lives in Berkeley with his wife, daughter, and dog.