Be creative and get healthy. Avoid sugar. Add fizz to anything!
Our specially engineered system lets you carbonate almost anything. Now you can easily add tasty sparkle to water, juice, iced tea, cocktails, wine, and more! With Drinkmate, you can be creative and explore new sparkling drinks that weren't even possible to make before.  And you control what goes in them, so you can avoid excessive sugar and harmful chemicals.
Featured Product Collections
Carbonate anything indoors with Drinkmate's countertop unit, or add some sparkle to your life outdoors using our hand-held portable Spritzer!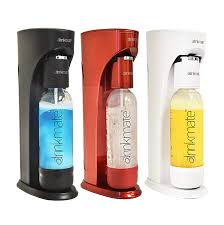 And we'll keep you carbonating with our refillable supplies and accessories