A STORY OF EXPLOSIVE GROWTH.


LITERALLY.
Kernel Season's was born, appropriately enough, at the home of the Maize and Blue. While a student at the University of Michigan, Brian Taylor was looking for ways to bring more flavor to his favorite snack, popcorn. He started to experiment with natural seasonings and ingredients, and shared his creations with friends in the dorm. From the responses he got he knew he had more than the perfect 3 a.m. snack.
Upon Brian's graduation in 1999, Kernel Season's got real. It became a real company that introduced itself in movie theaters by giving free samples to patrons looking for something more fun and adventurous than butter and salt. Soon people realized that the best popcorn, movie theater popcorn, was even better with Kernel Season's. The company took off as the demand for more flavors made with real ingredients ignited across the United States.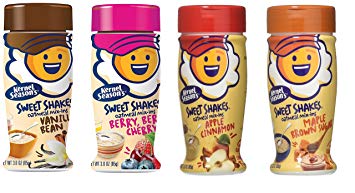 Today, Kernel Season's is America's number one brand of popcorn seasoning. It is available in over 15,000 stores nationwide including Walmart, Kroger, Target and Safeway. And you can still find us at over 3,000 theaters coast to coast. Want to catch a double feature?
Q: Can Kernel Season's be used on any type of popcorn?
A: Of course it can. Kettle popped is always fun, but if you're popping in the microwave or with an air popper we have a few tips so you get the best results.
Microwave Popcorn:
Generously sprinkle one capful on freshly popped popcorn. Reclose the popcorn bag and shake well.
Air-Popped Popcorn:
Spray freshly popped popcorn with Kernel Season's Spritzer or another butter/oil spray to help the seasoning stick. Generously sprinkle with one capful of seasoning and shake well.
Q: Should the popcorn be hot when I sprinkle on the seasoning?
A: It doesn't have to be hot, but the steam from the popcorn can help the seasoning stick.
Q: Can I use Kernel Season's on other foods?
A: Sure, that's a great idea. We have heard of people sprinkling our Kettle Corn seasoning on their cereal and our Nacho Cheddar seasoning on French fries and tater tots. You are only limited by your imagination.
Q: Can I mix flavors?
A: Absolutely, that's a big part of Kernel Season's fun. There are over 1.3 trillion possible combinations. (We haven't tried them all. We're just good at math.)