What better way to enjoy a nice, comforting bowl of Pho, than to ummm fry it?! Mmhmm..
I simply thought – why not?, and … here we are!
Everything we know and love about Pho, in an easy-to-eat, whimsical, and delicious bite!
What you'll need:
12 med/lg shrimp
JLS Foods: Fortune Gluten Free Ramen Noodles – 
Sriracha & Hoisin sauces for dipping
oil.. for frying
Cilantro, green onion, jalapenos, basil, and lime for flavor, and garnish
Instructions:
Boil the noodles, just until tender…
Let them cool…
Gently wrap the noodles around each shrimp (just a few strands of noodles per shrimp)
Now, fry them one at a time in the hot (350 degree) oil.., until evenly golden on all sides…
Let them cool, and sprinkle them with the enclosed seasoning packet…
Serve them with some sauce…
You dip, I dip… WE dip…
Don't forget all of the typical Pho goodies…And DIG IN! ~Enjoy!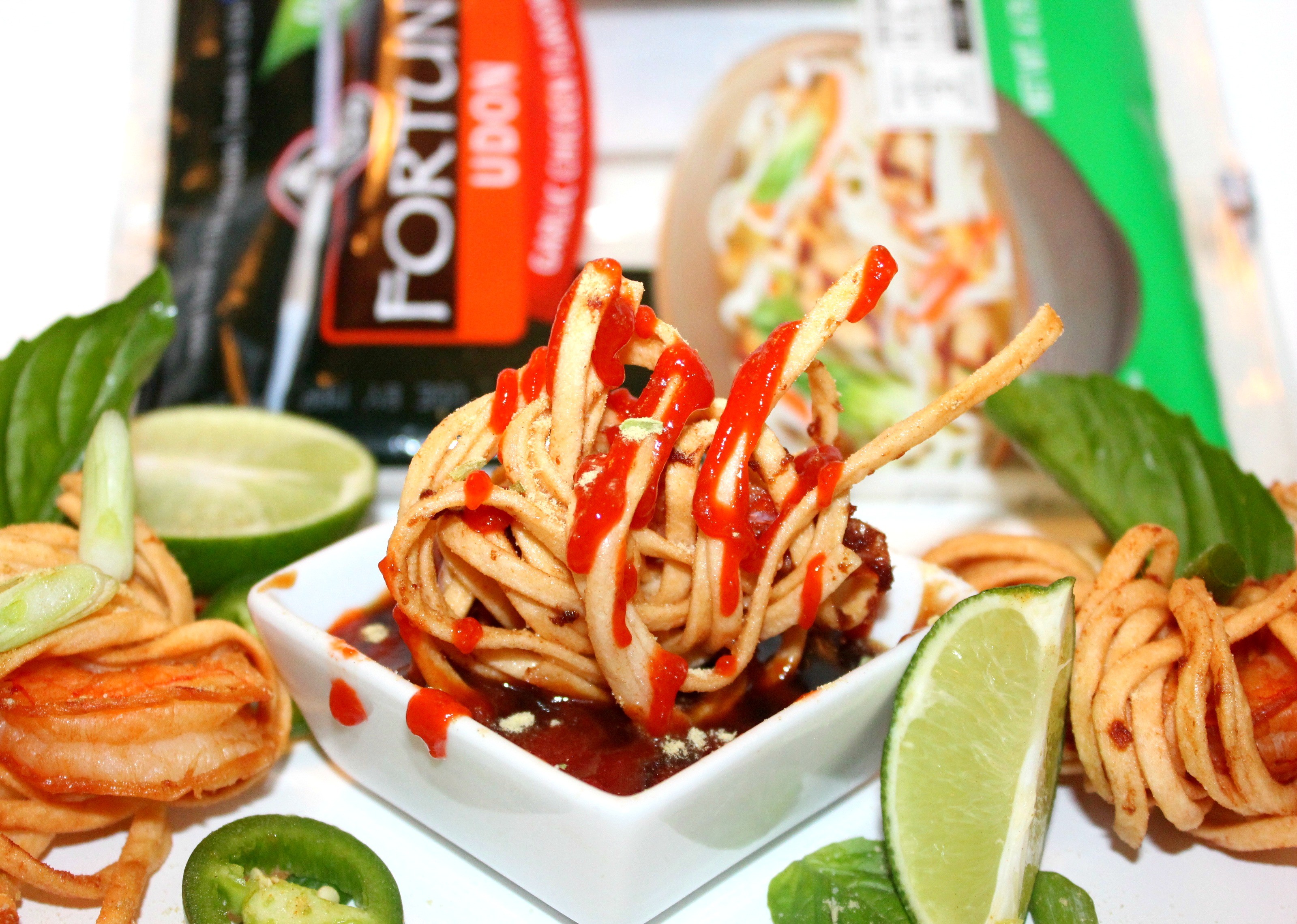 NOODLES
Now enjoy the finest restaurant noodles at home.  Let Fortune be your choice.  Pre-cooked,cholesterol-free, MSG free and ready to serve in just minutes.  Find them in your grocer's refrigerated produce section.
Inspire any recipe.  Add vegetables, protein and Fortune Yakisoba Stir Fry noodles with sauce packet and within minutes you have a complete nutritious and delicious meal without a lot of effort.  Stir fried or microwaved, their versatility and great taste always satisfies whether it be Asian or fusion.

Our Udon Fortune noodles are perfect for those wonderful, quick soups in five flavor packets.  Pre-cooked and microwaveable, they fit easily into busy family lives.  Fortune udon noodles contain no MSG, no cholesterol, and they contain added flaxseed to provide 130 mg of ALA Omega-3 per serving.
Fortune Noodles – your partner in all of your noodle recipes.
These Fortune Gluten Free noodles are NEW to market, shelf-stable, and can be found in Asian Dry Grocery Sections in grocery stores! 
**You can purchase Fortune Gluten Free Noodle products at Albertsons, Von's, Lucky's, Safeway, Carr's, Dierbergs Markets, and Cub Foods**